Location
United Wireless Arena & Boot Hill Casino & Resort Conference Center
4100 West Comanche Street
Dodge City, KS 67801
Sales Have Ended
Ticket sales have ended
Bummer! We're all sold out. If you wish to be added to a wait list please email events@cropquest.com or call 620-225-2233. Cheers!
"Maximizing Yield While Optimizing ROI: Randy Shows How"
About this event
Crop Quest is proud to bring record-breaking corn and soybean yield producer Randy Dowdy to Dodge City, KS! As a first-generation farmer, there was no preconceived notion that there's only one way to do it. There was no standard that he had to do things a certain way. There was no one holding him back.
Randy's presentation won't just focus on obtaining high yields. Instead he will share how his way of thinking led him to learn that the fundamental basics of any crop can be applied to maximizing return on investment.
Join us for:
Presentation and Q&A session by Randy Dowdy.
Networking opportunities to discuss pressing topics with fellow growers and the Crop Quest's Precision Agronomy Team.
Continental breakfast & prime rib lunch included!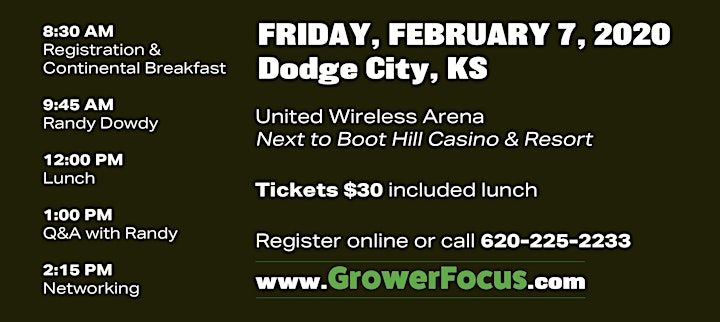 During the seminar, Dowdy will focus on return on investment for trying new practices. As a farmer, he realized that one of the hardest things to do is to change, adapt and be willing to try new things that lead to success. Margins can be razor thin, but not adapting to new and better practices can be even more detrimental.
Come listen to Randy tell his unique story and challenge your way of conventional thinking on your operation.