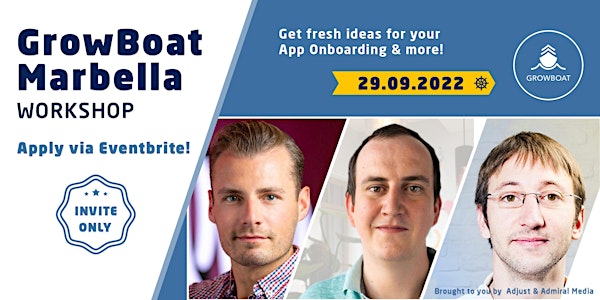 GrowBoat Marbella - The Growth Workshop
GrowBoat Marbella - The Growth Workshop 29.09.2022. With Thomas Petit and Tobias Boerner. An invite-only in depth workshop.
When and where
Location
Marbella to be defined 29604 Marbella Spain
About this event
The GrowBoat brings the brightest minds of the digital marketing industry together for work & fun! This time in Marbella!
Brought to you by Adjust & Admiral Media.
This is an invite-only, free event, where you can enjoy our Growth Workshop, a private BBQ, 4 hours of sailing on a catamaran with 25 people from the industry, exclusive dinner by the beach and morning hike the day after.
You will experience a day full of learnings, input and discussions together with:
In the 4 hour workshop our experts will deep dive into your app growth challenges and cover the following topics:
1. Engagement & CRM
It's a long way from installation to a truly dedicated user. We will highlight the journey, share strategies on how to get users to integrate your app into their daily lives, how to turn a user into a long-term user, and share our learnings on how to smartly increase the CLV of your users.
We talk about different communication channels like push messages, in-app communication and email marketing and tell you how to set up and combine these channels in the right way to massively increase the success of your app.
2. Paywall Optimization
The paywall is a sensitive topic. On the one hand, you want to monetize the user to make your business successful, but on the other hand, you must not overwhelm or discourage a user. We share our learnings that we have generated through years of A/B testing.
In addition, we will discuss concrete case studies of the workshop participants and discuss them together. So in the end you have concrete approaches that you can test in your app to optimize your paywall?
3. Personalized Customer Journey
A good customer attorney is the most important thing to increase the CLV of the users and thus to have a successful business. But communication with the user always resembles a tightrope act. It's about finding the perfect balance between communicating with the user often enough so that he integrates the use of your app into his natural behavior and not annoying him with too much communication.
We'll explain how you can find that balance. One of the best ways to do this is through personalized communication. As soon as the user thinks that the message is really meant for him personally, he will accept it better and have a higher connection to the app. We will discuss how you can do this in your communication.
4. App Onboarding
App onboarding is one of the user's first touchpoints with your app. This is where the foundation of the relationship with the user is laid, which is why this step is so incredibly important. If the onboarding is smart, intuitive and inviting, the user will start using your app with a positive feeling. This can be crucial to your success.
We share our experience here and tell you the most successful tricks. We will also look at concrete examples from the workshop participants and discuss how exactly you can improve the onboarding of your app.
5. Growth Management
Growth is the key to success for apps. We will show you successful ways to increase your app's user base, acquire new customers and turn existing users into brand ambassadors to achieve potential growth.
6. Case Studies
The workshop should live up to its name. It is not only about giving you input on our experiences but we want to make sure that you can take away concrete ideas for your app and for your challenges.
Therefore every workshop participant is allowed to share their biggest challenge with us and we will then discuss it in smaller groups and develop solution strategies. This way we make sure that you not only learn something but also take away concrete things for your challenges.