About this Event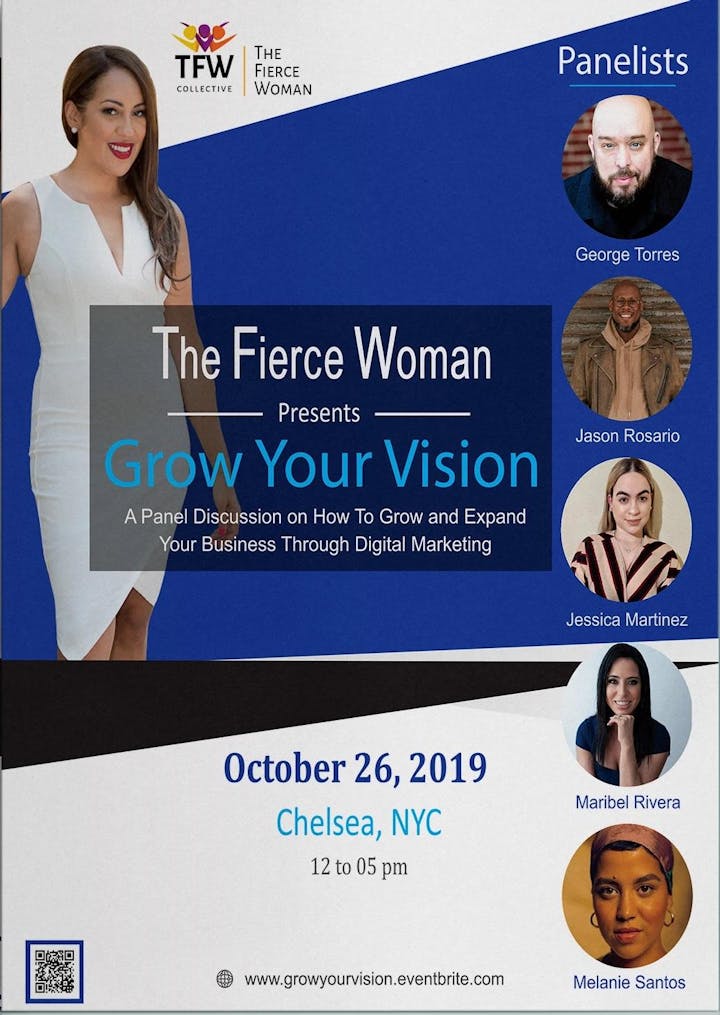 Are you a corporate professional, creative, small business owner, start-up, or simply interested in learning how to leverage digital platforms to grow and expand your business or brand? Do you want to learn how to use LinkedIn to land your next job? Do you want to learn how to use Google Ads to generate more leads to your business and attract more clients/customers? Do you want to learn the best platform to use for your industry and career level? If so, then join us October 26th as The Fierce Woman presents it's first in a series of panel discussions designed to help you take your business and career to the next level.
Join our panelists as they discuss and demo how strategically using digital platforms helped them develop their businesses. They will share which platforms work best for them and how to use digital marketing to create authentic content that empowers and connects consumers to your businesses,services, and/or products. If you're serious about leveling up, register today!
This event is open to both Women AND Men.
Food will be sponsored by Mott Haven Bar.
Open Bar from 12-5 pm which includes wine, beer, and soft drinks.
Sweet Treats sponsored by Cakepops by Keyla and Lushy Treats.
Panelists:
Melanie Santos: Melanie Santos is the NYC-based wellpreneur, speaker, writer, and intuitive creator behind MelanieSantos.co – a personal development brand focused on creating opportunities to break the barriers surrounding mental, physical, and spiritual wellness. Whether she's designing thought-provoking products, writing captivating newsletters, or leading digital workshops, Melanie candidly shares her journey with the masses. Her goal is to shift the perception of wellness, build community, and empower people to connect with themselves, get comfortable with their shadows, invest in their health, and align with their highest selves.
Jason Rosario: Writer, producer, and creative entrepreneur. Jason Rosario is the Executive Producer and host of the Yahoo! News original, "Dear Men", a web series that explores the evolution of manhood. He is a social entrepreneur,cultural creative, and storyteller. In 2017 he founded The Lives of Men (TLoM), a creative agency and diversity accelerator that looks to challenge and redefine traditional norms of masculinity while helping brands authentically promote diversity, foster inclusion, and impact culture through their products and content.
Jessica Martinez: Jessica Martinez is a passionate and innovative project management consultant for Google Corp. who values authentic and genuine business relationships. Ms. Martinez's strong project management and planning skills, ability to understand budgets, and manage multi-million dollar portfolios has been essential to her success in her roles as a project and program coordinator. She understands well the challenges major corporations and organizations face and is determined to be a change agent blazing a trail for others to follow. A graduate of the Fashion Institute of Technology Jessica fuses her education,creativity, and business acumen to provide her clients with innovative solutions to manage and grow their businesses.
Maribel Rivera: Maribel Rivera is an innovative, adaptive and focused independent marketing and corporate event consultant who understands how to develop successful campaigns and programs to create long term relationships. She has a genuine passion for developing effective sales and marketing campaigns for social engagement which will nurture openness, thought leadership and new connections. She actively listens to her clients to understand their needs and shape effective marketing strategies. Her clients include University of Florida Levin College of Law, Oasis Discovery, Divergent Legal, Bryan University, eDPM Advisory Services, Celeritas, BBA Technical, and many more. Maribel Rivera was previously the Vice President of Marketing & Operations at The Cowen Group helping to produce over 100 live and virtual events a year. Prior to joining The Cowen Group, Maribel worked for Merrill Corporation and Nortel Networks with an emphasis on sales operations.
George Torres: George Torres is an award-winning bi-lingual social media / cultural consultant, who in the late 90's, captured attention on the internet with his personal mission statement of "connecting Latinos to their culture". George has always drawn inspiration from his personal connection to his cultural heritage. Having been raised alternately between New York and Puerto Rico, he was a living embodiment of the Nuyorican experience earning him the nickname "Urban Jibaro". George's creative vision is the blueprint for Brooklyn based Sofrito Media Group and it's growing portfolio of new media products and services. He has almost 20 years of experience developing branded projects that appeal to the Latino / Hispanic segment. These include the longest-running online blog Sofrito For Your Soul, Radio Capicu as well as Capicu Poetry & Cultural Showcase, a partnership that develops and produces live cultural events. In addition, through social media mastermind classes, George trains entrepreneurs and their support staff to embrace effective and measurable storytelling and relationship-building culture in their businesses.