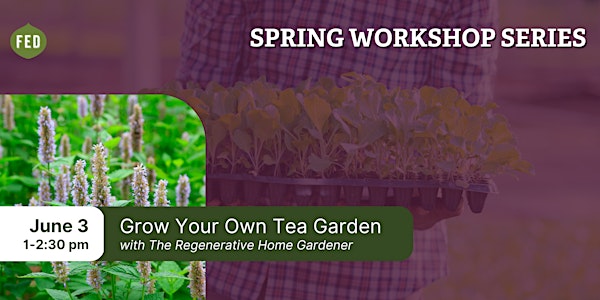 Grow Your Own Tea Garden
Are you a tea fanatic? Learn how to grow your own herbal tea at home!
Date and time
Saturday, June 3 · 1 - 2:30pm PDT
Location
Greater Victoria Public Library - Central Branch 735 Broughton Street Victoria, BC V8W 3H2 Canada
About this event
Grow Your Own Tea Garden is the second workshop in FED Urban Ag's Spring Workshop Series! Join us in FED's Urban Learning Garden (in the courtyard of the Central Branch of the Greater Victoria Public Library) to brush up on your gardening know-how.
Are you a tea fanatic? Learn how to grow your own tea garden!
Join Stephanie Jacobs of The Regenerative Home Gardener to learn everything you need to know about growing and making your own tea. You'll learn:
Which kinds of plants you can grow for tea in your garden on southern Vancouver Island
How to successfully grow these plants in your garden
The best ways for harvesting and drying your plants to use for tea
What plants from your garden can help with common ailments like upset tummy, sleep, and cold and flu
Participants will gain hands-on experience transplanting tea plants into the garden, have the chance to enjoy a homegrown herbal tea, and will leave with plant starts that they can use to start their own tea garden!
About The Regenerative Home Gardener
Stephanie Jacobs started down the plant path six years ago, learning how to grow veggies in her backyard. She has since studied and worked as a farmer and herbalist, and owned Fireweed Farms for the past two years. Stephanie is a strong advocate for the connection between ecosystem health, land stewardship and resilient food systems. She believes that community involvement and education play a critical role in building a more resilient future. Stephanie teaches workshops on herbal medicine, lawn to garden conversions, soil health, and is the founder of The Regenerative Home Gardener, an education initiative that aims to teach gardening and resiliency building skills in an hands-on way. She is also the Business Operations Manager at the Sandown Centre for Regenerative Agriculture, serves on the Board of Directors for Haliburton Community Organic Farm and is the co-chair of the Victoria Urban Food Table. Stephanie's goal is to help people get their hands in the soil and build a deeper connection to food, health and the natural world.
About FED Urban Agriculture
FED Urban Ag is a registered charity that is working to address food security in southern Vancouver Island by promoting sustainable food systems and enhancing community engagement. FED does this by creating garden spaces, delivering educational programs, and advocating for urban agriculture within our community.
By partnering with growers, restaurants, community organizations, and beyond, FED is transforming our cityscape into a vibrant foodscape.
IMPORTANT: Please get in touch if you are no longer able to attend so we can make your space available to someone else.
FED's Spring Workshop Series is made possible thanks to: