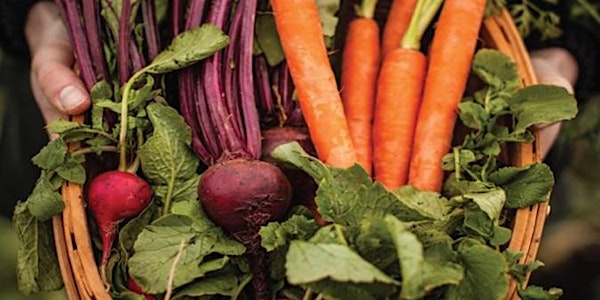 Multiple dates
Grow Your Groceries Winter Cohort 2023
Learn to grow and preserve your own food using efficient and affordable organic methods!
By Ideas for Healthy Living
Date and time
February 15 · 6pm - May 3 · 7:30pm PST
Refund Policy
Contact the organizer to request a refund.
Eventbrite's fee is nonrefundable.
About this event
This very popular course typically sells out quickly, so please register ASAP to reserve your spot!
By beginning this series in the winter season, students will be able to gain knowledge in time for them to take advantage of the full 2023 growing season.
This course will cover all aspects of home gardening for food production as well as seed saving, perennial food forests and fruit production, eco-cooking/waste reduction, and four classes devoted to preserving the food after harvest. The first 6 weeks will be somewhat based on the Seed to Supper program, an award winning curriculum developed by Oregon State University with the goal of providing a comprehensive backyard gardening course for households on a budget. This program is followed by two independent classes: Perennials (fruits, food forests etc) and Seed Saving. The final four weeks are dedicated to preserving the harvest. Class is designed as a cohort in which a student group completes the program together. The program focuses on low cost, minimal outside inputs, labor and resource saving, high yield, and regenerative practices.
By enrolling in the 12 week program, you may take advantage of a steeply discounted rate of $140 which includes 20 packages of organic seed (valued at $60+)-this rate also includes all ticket fees. If you are low income, we do have a limited number of partial scholarships available--please contact us for details.
To enroll in the series, select the first date and General Admission ticket for $140. Although this may look like it only includes the Feb 15th class, it does include the entire 12 week series.
This cohort will not meet in person but utilize remote instruction via Zoom. This will be our sixth cohort offered in this manner and feedback from participants has been very positive. One benefit of remote instruction is that all sessions will be recorded, creating an opportunity for participants to make up a missed class at their convenience. We utilize Google Classroom to post a HUGE collection of downloadable/printable resources and links for videos and supplies, as well as class recordings, so although we intend for this class to be attended by participants each week, it is totally possible to keep up with the course at your own pace by watching the class recording videos and utilizing the resources on Google Classroom. Very flexible for folks with scheduling conflicts!
Class begins February 15th and meets each Wednesday evening at 6 pm with most classes running about 90 minutes. The 12 week series wraps up with the final class on May 3rd. The descriptions below are in order for the class series.
Healthy Soil-We will take a look at soil building, container gardening, compost, fertilizing, bed making, and more.
Garden Planning-This class will address site, layout, crop rotation, planting chart, choosing crops, and more.
Planting-What's the best way to plant seeds? We'll explore direct seeding vs indoor planting, discuss best transplanting techniques, additional info on containers, and more.
Caring 1-In this class we'll look at watering techniques with a focus on low cost low maintenance options, utilizing vertical growth, and how to maintain soil health throughout the season.
Caring 2-We will focus on weeding and how to minimize the need for this, learn about integrated pest management to help prevent problems, common pests and diseases, and what do to if you have them.
Seed to Supper Harvesting: This class begins with some information on best practices-how to harvest in a manner to extend the life of the plant and get more food. We'll also look at Eco-Cooking and explore ways to reduce waste in the kitchen.
Perennials-plant it once and harvest each year! Perennials are a terrific choice for the backyard gardener as they are planted once and continue to produce each year. We'll look at fruits best suited for backyard production as well as edible food forests which focus on interplanted perennial fruits, vegetables, and tubers.
Seed Saving- Learn the basics of seed saving and discover which types of seed may be saved and how to process, cure, and store seed.
Water Bath Canning-Learn which foods can be safely preserved using the water bath canning method. This class will cover the water bath canning process, including selection of produce and preparation of jams, jellies, canned fruits, and tomatoes.
Pressure Canning- Learn to use the pressure canning method for low acid foods including vegetables, meat, and fish. We'll discuss why some foods require pressure canning, and look at supplies required for this type of food preservation. Pressure canning can be intimidating, but this class will help you gain the skills needed for safe preservation.
Fermentation and Pickling-This class will cover fermentation basics for foods like sauerkraut, and quick pickling process for many different types of vegetable and fruit pickles. We will also cover preservation methods for both fermented and quick pickles.
Freezing, Drying, Root Cellaring and Microclimate Storage-Learn about food storage and preservation methods including freezing, dehydration, and using root cellars or other more readily available microclimate storage in your home. We will also look at different designs for root cellars and basic construction methods. Instructor has lived with a root cellar for twenty years and can offer practical advice and information.
About the organizer
Ideas for Healthy Living offers a range of programming to improve health and food access in Skagit County.  Instructor Jennie Bryan-Goforth is trained as a Food Safety and Preservation Specialist through WSU, is a former Master Gardener, and in her non-WSU life has been an organic farmer for nearly 20 years.