| | |
| --- | --- |
| Grow Your Business without Selling! A Two Part Workshop Series | |
Event Details
Grow Your Business Without Selling - Sofia Business Workshop Series
Learn to apply a new marketing paradigm of authenticity, confidence, and joy by attending the Value Clarity and Authentic Marketing Workshops at Sofia University. This workshop series will be of interest to anyone involved in business, coaching, or therapy, as well as students of business and psychology.  Attend either one or both!  
You will learn how to:
Rise above selling to new confidence and joy in attracting and retaining clients.

Develop a foundation for growth through authentic, confident, communication and engagement, as well as joyful expression in your work and service.

Learn the process of "enrolling" in which you help the prospective client express his or her values.

Develop your authentic marketing strategy and take the steps to implement it.

Use extreme confidence to get clients and feel good about It!
---
WORKSHOP #1: September 9, 10:00 AM - 6:00 PM 
1069 E Meadow Circle Palo Alto - Room Great Sophia
Achieving Value Clarity
In any business, achieving value clarity is the essential foundation of authenticity in leadership, marketing, and organizational culture. In this workshop, you will engage with who you are, and examine how that gets expressed in what you do, as well as what you count. Knowing what to count provides the foundation for metrics to drive productive action. This provides a foundation for developing metrics and performance indicators of things that matter most to you personally and in business. Value clarity provides the foundation of a new paradigm for growth through authentic, confident, communication and engagement, as well as joyful expression in your work and service.

About the Instructor: Somik Raha holds a PhD in Decision Analysis from Stanford University with a dissertation titled "Achieving Clarity on Value." While there are lots of good analytic methods to optimize value, Dr. Raha's research has focused on understanding what it is we truly value -- figuring out how what we count can get us toward what truly counts for us. Dr. Raha is Head of Product and the Director of Nonprofit Practice at SmartOrg, Inc. His work on values has influenced the way SmartOrg applies analytics -- to take complexity off the table so people and organizations can focus on who they want to be. He is now writing a book on "Deep Counting" which explores how metrics can be used to express our deeper nature.

---
WORKSHOP #2 : September 23, 11:00 AM - 7:00 PM
1069 E Meadow Circle Palo Alto - Room Gaia
Authentic Marketing
Are you needing more clients, but you're failing to complete your marketing each week?
Does standard selling turn you off, and you want to do something better?
Marketing is essential to success in your business and your career. Much of conventional marketing has been criticized as inauthentic, and sometimes even manipulative. So how can you grow your business in a way that truly reflects who you are and the value you create? Deeply knowing why you do what you do provides a foundation for extreme confidence in your communications and outreach activities, so that people truly resonate with what you offer. In this workshop, you will create and refine messages, and develop actionable strategies and plans to get your messages out for value-creating growth. Rather than selling, you will learn the process of "enrolling." Now, you can help the prospective client express his or her values. The essence of "enrolling" is "Don't sell—help." Your supportive listening sets up your next comments as relevant to the person's values. You offer what you do in a congruent way. Instead of pushing or trying to convince the prospective client, you are helping the person, and you feel great during the entire process. No more will you be overcoming resistance, you will have sidestepped the whole "selling" process. Use the strategies you learn and the work you accomplish in this workshop to gain more clients today!
Check out Tom's video to learn more about the course. https://www.youtube.com/watch?v=QiHSCIKjyc4

About the Instructor: Tom Marcoux lives from the heart and helps others do so as an Executive Coach and Spoken Word Strategist. He leads teams (U.K., India, USA), guides clients and inspires audiences (at Linkedin, Sun Microsystems, IBM and more). A Member of the National Speakers Association for 16 years, Tom has been a college professor (Academy of Art University) and guest lecturer (Stanford University). He directed a feature film that went to Cannes Film Market, and was winner of a special award at the Emmys. Author of 43 books, Tom was designated, by The San Francisco Examiner, as "The Personal Branding Instructor." Tom's latest book is Amazing You. Tom's well-received online course is "Get the Big YES: Use Extreme Confidence to Get Clients and Get It Done!"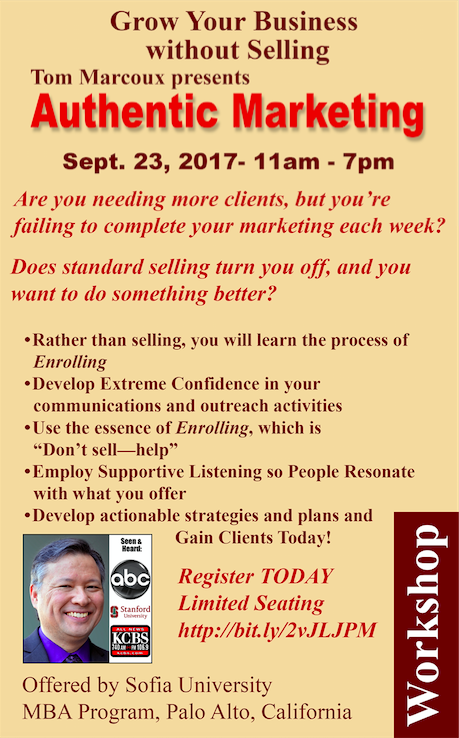 Save This Event
When & Where

Sofia University
1069 East Meadow Circle
Palo Alto, CA 94303


Organizer
Sofia University MBA program
In the Sofia MBA program, you begin to sew the seeds of your future growth from the moment you start.  You will gain practical knowledge and skills to apply immediately in your projects and business ventures.  Sofia's transpersonal, transformative approach to business education will provide you with the foundational business skills and deep perspective necessary to make meaningful change in your world.  Sofia's MBA curriculum is built on three pillars:
Exceptional interpersonal skills and emotional intelligence

Solid knowledge of business fundamentals

Value-driven decision-making in organizational settings
The three pillars are woven into courses throughout the curriculum. They stand on a foundation of self-knowledge and value clarity, which underpins the Sofia program.
Grow Your Business without Selling! A Two Part Workshop Series