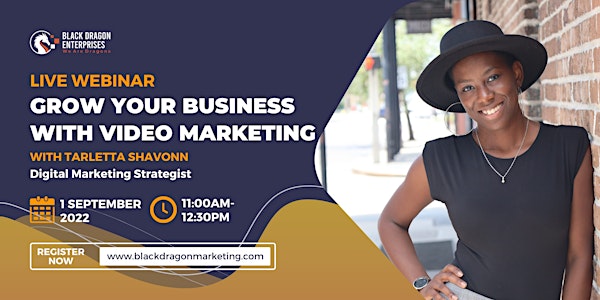 Grow Your Business with Video Marketing
The world has gone digital. That, we know. Get ahead of the competition by adding video marketing as part of a robust marketing strategy.
About this event
This webinar is best for:
Business owners looking to grow faster in a digital-first world
Solopreneurs looking to save time while standing out from the competition
Marketers looking for new ways to give their clients better results
Do you still need video if you're already posting on social media? Absolutely!
Having a website and being present on social media have become standard practices in a post-pandemic world.
In this webinar, we'll walk you through the foundations of using video as part of a powerful marketing strategy to suit your audience and introduce you to some time-saving, high-converting, hacks to help you start putting video to work for your business.
Things you'll learn:
How video can boost all of your other marketing strategies
How to create quick and easy videos that convert
How to leverage the #2 search engine in the world
Your Host: Tarletta Sha'vonn
Hey guys! I'm a digital marketing strategist and the CEO of Black Dragon Enterprises. I love learning new things and spend most of my free time dancing, preferably salsa.
I've been in marketing for the last 3 years, so I got started just before the pandemic. In that time, there's been no shortage of new and innovative ways for businesses to show up online. In this webinar, I want to share with you some of the tips and trips I've learned when it comes to using video and why we know it's not going anywhere.
We know that business can be sink or swim, adapt or die. Don't be late to the party!
There will be about 20 minutes for Q&A at the end. Participants will also receive our Video Marketing Audit Worksheet to help them get started!
Be sure to follow us on social media for more tips, tricks, and updates.