Description
What does it mean to be a "certified" minority- or woman owned business? What is required to receive this designation, and how will it help grow your business? Learn about the various government and private entities that provide certifications and have programs to support Minority/Women and Disadvantage Business Enterprises. Discover how to use these certification programs to boost your business.
Resource Partners Include:
Business Link North Carolina (BLNC)
City of Raleigh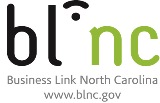 Reasonable accommodations for persons with disabilities will be made if requested at least two weeks in advance.