Description
ROADMAP TO EXPORTING SUCCESS
With 95% of the world's consumers living outside of the United States, connecting to global markets is smart business. But where do you begin on your journey to exporting? Join us for a panel discussion to learn about resources available to help companies export and hear from Sun Surveillance, an Upstate company that utilized these resources to expand into global markets.
When: Thursday, November 29, 2018 | 11:30 a.m.- 1:00 p.m.
Where: Westin Poinsett | Gold Ballroom | 120 S Main Street, Greenville, SC 29601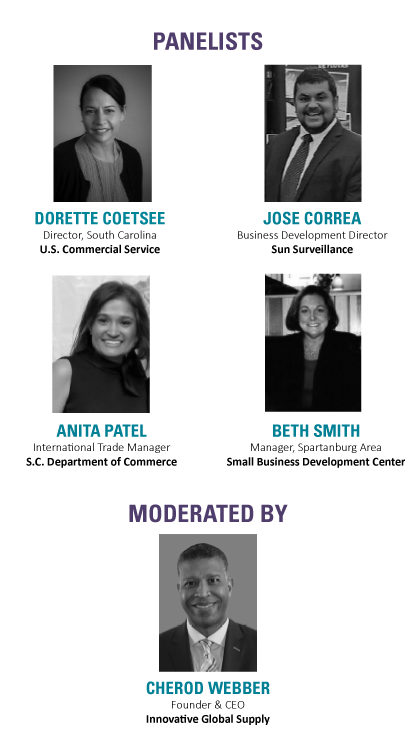 Space is limited. Please RSVP by November 26.
_______________________________
PHOTOGRAPHY NOTICE: Please be advised that by participating in the Upstate SC Alliance's events, you are automatically authorizing the Upstate SC Alliance (hereinafter "UA") and its employees, agents or assigns to use your photograph, company's brand or other likeness for purposes related to the mission of the UA, including but not limited to: publicity, marketing, websites, other electronic forms of media, and promotion of both the UA investor program and the Upstate South Carolina region.