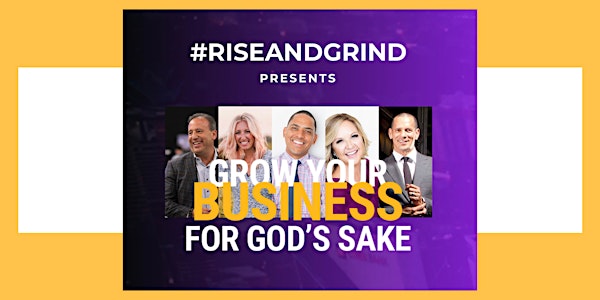 Grow Your Business For God's Sake!
The most power-packed 3 days in the history of your business. "Grow Your Business For God's Sake!" is a one of a kind 3-day event
When and where
Location
Central Bank Center 430 W Vine Street Lexington, KY 40507
Refund Policy
Refunds up to 7 days before event
Eventbrite's fee is nonrefundable.
About this event
#Riseandgrind Presents:
Grow Your Biz For God's Sake
Grow Your Business for God's Sake! is a business conference helping business people and professionals take their businesses to new heights, while doing it for Him and with a missional mindset to give back and make an impact.
Come celebrate the 1000th episode of Rise and Grind!
Bringing together like-hearted & like-minded leaders, influencers, and entrepreneurs to educate & energize their missions in the marketplace with faith founded teaching.
A 3-day experiential event intended to ignite your business and magnify your legacy.
Beyond motivation and inspiration, this is an activation conference!
It's not too late to buy your in-person tickets!
NOW AVAILABLE $97 Virtual Access Tickets for LIVE Access to all speakers!
Rising to the call...
November 5-7, 2021
Lexington, Kentucky
Early Registration & Welcome Nov. 4th for VIP
- Discover How To Use Your Uniquely Purposed Identity
- Design Your Creative Brand & Message
- Deploy Your Successful, Firmly Founded, Business
Meet Your Hosts:
Glenn Lundy & Tamra Andress
He is a husband to 1, a father to 8. Host of the wildly popular Facebook Live show #RiseAndGrind and top Clubhouse group Breakfast with Champions. He's been seen at places like Hustle and Grind Con, Grow Your Business For God's Sake! and many more stages across the country. Glenn has been spotlighted on ABC, NBC, and CBS, and is an expert in dealership culture development, and leadership training. With 20 years experience in the automotive industry, Glenn led a dealership from 120 cars a month to an 800% increase in sales in five years, becoming the 2nd largest used car franchise in the country. His unique style makes him one of the most coveted GM's in the business. Glenn has the unique ability to help identify the areas for growth in your store, and teach creative ways to invoke your dealerships spirit. With a background in sales, and finance, he uses his skill sets to create growth, as well as tapping into the mental side of human development.
Tamra Andress is a rising thought leader in spiritual entrepreneurship. She is an ordained minister and Purpose Activator on a mission to free and propel entrepreneurs globally to make their uniquely purposed Kingdom Impact. Her Fit in Faith Podcast is globally ranked and regularly topping the Spiritual, Religious and Business charts. Her heart is to illuminate joy and activate people from the inside out using testimonials and tools to sharpen mission driven leaders in the marketplace. She speaks to thousands weekly through Clubhouse and live show audiences and is also a published author of multiple anthologies. She is a consistent contributor to well-known magazines, podcasts, conferences and summits. Tamra has utilized her entrepreneurial and relational expertise to align 1000's within their business for prosperity and profit. She has over a decade of first-hand experience with start-ups and non-profit development and serves within advisor positions for emerging companies. Her most treasured role in developing the kingdom is as a wife and mama of 2. And the most exciting thing about all of this is…He's just getting started!
Top 5 reasons you must attend:
Gain access to pivotal tools, resources and best practices with foundational core values from experts around the nation.
Networking with a rock-solid, rooted community, supporting and celebrating one another. Together our impact multiples.
Cultivating and equipping emerging entrepreneurs and leaders with aligned marketplace insight to support your vision.
Practical application and training for faith-based leadership execution to reach your God-given potential.
Catalyze your purpose driven mission in the marketplace
What to expect?
Kingdom Culture
Experiential Learning
Application to amplify personally and professionally
Musical Expression and Worship Experiences
Surprise Celebrity Guests
Speaker Showcases
Expert Panels
Red Carpet Experiences
Tickets:
$149 - 1 Day Pass
$279 - 2 Day Pass
$349 - 3 Day Pass
$799 - VIP all-day speaker access and private VIP lunch
NOW AVAILABLE $97 Virtual Access Tickets for LIVE Access to all speakers!
Schedule (Subject to change)
Emcee: Frank Lopes
Thursday:
Set-up all day - if you want to come volunteer - you're welcome to!
VIP Early Registration - 4-5:30pm (2nd floor lobby)
Friday Schedule:
5am Live Rise and Grind Final Show
8:15am registration
8:30am doors open
9am start
5pm close the day
Friday Speakers & Entertainers:
Glenn Lundy
Tamra Andress
Scott Simons
Krystelle
Steven Kuhn
Dpak
Dave Meltzer
Amilyla Antonetti
Rory Gardiner
Danelle Delgado
+ Panel of Experts
The Session Collective
Tony with the Keys
Saturday Schedule:
8:15am registration
8:30am doors open
9am start
5pm close the day
7 - 9 pm - multi-artist concert!
Saturday Speakers & Entertainers:
Glenn Lundy
Tamra Andress
Brian Benstock
Judge Graham
Coach Lamont
Andrew F Carter
Shaka Dyson
Eric Mitchell
Heather Parady
+ Panel of Experts
The Session Collective
Tony with the Keys
Kentucky Dom
Chang3
Sunday Schedule:
8:15am registration
8:30am doors open
9am start
2:30pm close the day
Sunday Speakers & Entertainers:
Glenn Lundy
Tamra Andress
Brian Hess
Mighty Mel
Alexander Gonzalez
Albert Couture
Anthony Hart
Darian Sanders
The Session Collective