Description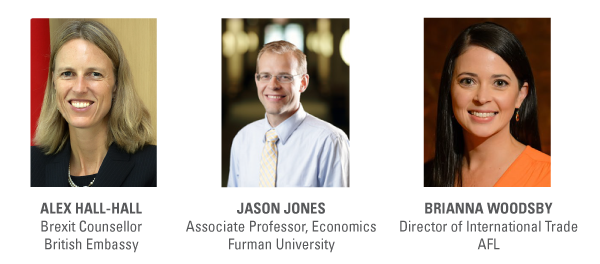 Since the formation of the European Union in 1993, companies in the United States have been able to use it as a gateway for trade in Europe. With the common set of regulations, companies have been able to easily move goods, services, and personnel across borders.
Enter: Brexit. The European American Chamber of Commerce - Carolinas and Global Competitiveness Council invite you to learn about the potential reaction U.S. companies may have to Brexit. How are companies in the Upstate bracing for the impact? And what does this mean for the U.S. and British economies? Join us for this interactive panel discussion to find out.
When: Thursday, April 11, 2019
Program: 4:00 - 5:00 p.m.
Networking Reception: 5:00 - 6:00 p.m.
Where: Upstate SC Alliance, 124 Verdae Boulevard, Suite 202, Greenville, SC 29607
Space is limited. Please RSVP by Thursday, April 9th.

----------
PHOTOGRAPHY NOTICE: Please be advised that by participating in the Upstate SC Alliance's events, you are automatically authorizing the Upstate SC Alliance (hereinafter "UA") and its employees, agents or assigns to use your photograph, company's brand or other likeness for purposes related to the mission of the UA, including but not limited to: publicity, marketing, websites, other electronic forms of media, and promotion of both the UA investor program and the Upstate South Carolina region.