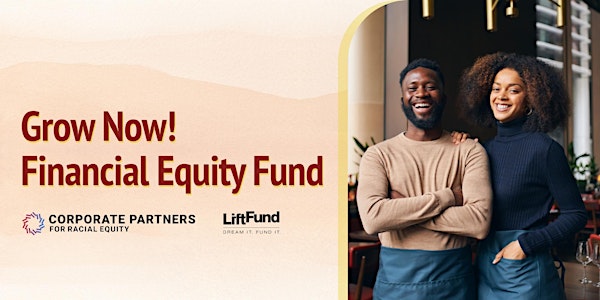 Grow Now! Financial Equity Fund Info Session
Join LiftFund and the Women's Business Center as we share an exciting new funding opportunity!
About this event
The San Antonio Area Foundation and Corporate Partners for Racial Equity have partnered with LiftFund to support Black small business owners in Bexar County through the Grow Now! Financial Equity Fund.
Applications open Monday February 6th at 9 AM and closes Wednesday February 22nd at 5 PM CT.
Join our info session on Wednesday, February 15 at 2:30 PM to learn more about eligibility requirements.
About the SA WBC
The Liftfund Women's Business Center is dedicated to supporting entrepreneurs, especially women and minorities. The LiftFund San Antonio Women's Business Center is funded in part through a Cooperative Agreement with the U.S. Small Business Administration. This institution is an equal opportunity provider and employer. Reasonable accommodations for persons with disabilities will be made if requested at least two days in advance. Contact SA WBC Customer Service at 888.215.2373 ext. 3000 or wbc@liftfund.com.
Are you new to the Women's Business Center? We invite you to sign up for our Entrepreneur Orientation. This is perfect place to start for anyone new to the Women's Business Center. We've packed tons of great resources and information into this 1-hour session. From pre-venture to established businesses, you'll find plenty of valuable information as well as next steps and special WBC Insider tips.
If your business operates within our service area (see below), then we'd love to help! Sign up HERE.