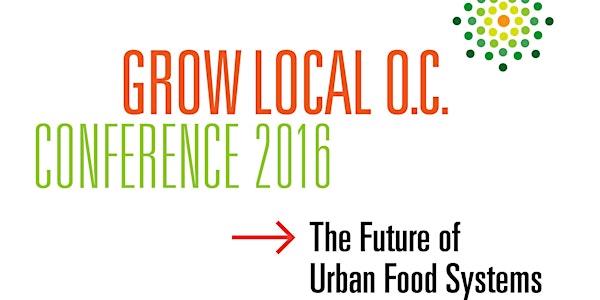 Grow Local OC Conference: The Future of Urban Food Systems
When and where
Location
California State University Fullerton 800 North State College Boulevard Fullerton, CA 92831
Refund Policy
Contact the organizer to request a refund.
Description
Slated for Thursday, November 10 (Conference Day) and Friday, November 11 (Future Farm Field Trip) at California State University, Fullerton, the Grow Local OC: The Future of Urban Food Systems Conference presented by Seedstock and the OC Food Access Coalition will focus on the community and economic development potential of urban and local food systems efforts in Orange County - to improve food access and health outcomes, connect people to their food, and create new jobs and business opportunities by employing innovative business models and farming systems of the future.
To learn more, visit http://growlocaloc.com/conference
November 10 (Day 1): Grow Local OC Conference Day
Attendees will convene in Portola Pavilion A-B at the Titan Student Union at California State University, Fullerton in Fullerton, CA for a series of panels and keynotes that will address the positive community and economic development outcomes that can result from the creation of healthy and vibrant urban food systems. Confirmed speakers for the November 10 conference day include:

Karen Ross - Secretary of the California Dept. of Food and Agriculture
Tim Alderson - Vice Chairman of Solutions for Urban Ag
Nate Storey - CEO of Bright Agrotech
Rachel Surls - Sustainable Food Systems Advisor for UC Cooperative Extension
Farmer Glenn Tanaka - Owner of Tanaka Farms
Ed Horton - President and CEO of Urban Produce LLC
Chef Adam Navidi - Future Foods Farms, Oceans & Earth Restaurant and Chef Adam Navidi Catering
Rishi Kumar - Co-founder and Director of The Growing Club
Mark Lowry - Director of the Orange County Food Bank
Frank Fitzpatrick - Owner of 5 Bar Beef
Kimi McAdam - Asst. Dept. Administrator for Food and Nutrition Services, Kaiser Permanente
Derek Lutz - Assistant Vice President, American AgCredit
Anna Maria Desipris - The Honeybee Hub / The Ecology Center
Christina Hall - Executive Director of OC Food Access Coalition
Erik Cutter - Managing Director at Alegria Fresh
Megan Penn - Executive Director of Orange Home Grown
Jeremy Samson - School Garden and Chapter Chair, Slow Food OC
Dwight Detter - Executive Director, Slow Money SoCal
Colin and Karen Archipley - Co-founders of Archi's Acres and AISA (Archi's Institute for Sustainable Agriculture
Aaron Fox - Asst. Professor, Urban & Community Agriculture at Cal Poly Pomona
Chris Higgins - General Manager at Hort Americas
Sara E. Johnson - Director of the Urban Agriculture Community-based Research Experience (U-ACRE) program at Cal State Fullerton
Siebe Streekstra - Account Manager West at Grow-Tech LLC
November 11 (Day 2): Future Farm Field Trip - SOLD OUT
The second day of the event offers a "Future Farm Field Trip." Participants will have the opportunity to tour a diversity of innovative urban and state-of-the-art agriculture operations across Orange County - from an aquaponic community garden to an indoor vertical hydroponic farm and more - that are utilizing innovative growing systems and business models to grow the local food marketplace in SoCal. Participants will be treated to lectures and sessions that examine urban farming and community garden operations that are embracing innovative supply chain models to both increase food security and take advantage of the growing market demand for local food.
Presently scheduled stops on the field trip include:
Irvine-based Urban Produce is an indoor vertical farming operation that uses advanced hydroponic technologies in a controlled environment. Urban Produce currently grows and sells organic microgreens that are available throughout southern California
Riverbed Farm in Anaheim is an aquaponics community farm that uses minimal water to operate and produces over 2,000 pounds of food for underserved residents.
Future Foods Farms, located on 25 acres in Brea, California, produces all organically grown products in several 2,000-4,000 square-feet greenhouses and is one of the largest aquaponic farms in the state.
Alegría farm supports more than 60 cultivators growing over 50,000 plants utilizing hydroponic and natural, nutrient-dense configurations. The farm's resource-efficient technologies demonstrate how urban microfarms can supply communities with locally grown, fresh produce while reducing transportation and preserving natural resources.
Ticket Refund Policy: Cancellations at least four weeks prior to the conference (prior to October 10, 2016) will receive a full refund. You will receive 50% of your initial payment if your refund is requested between October 11 - October 25, 2016. There will be no refund issued if cancellation occurs after October 26, 2016.
Thank you to our sponsors:

Kaiser Permanente
Garden Tower Project
U-ACRE
OC Food Access Coalition
Grow-Tech LLC
Bright Agrotech
American AgCredit
Agra Tech, Inc.
Dosatron
Oceans & Earth
Tender Greens
UC Irvine
Orange Home Grown
Association for Vertical Farming