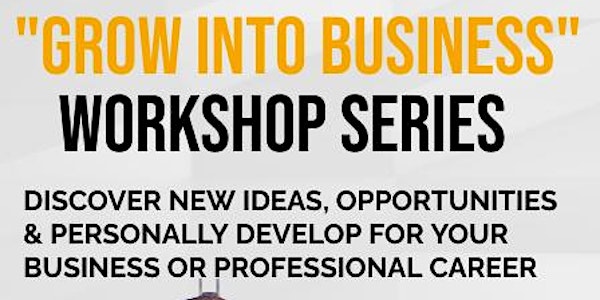 Grow Into Business
Join our 6-week workshop series for entrepreneurs and learn essential skills to take your business or career to the next level.
Date and time
Thursday, June 1 · 7 - 9pm EDT
Location
The Bronx Collab 3866 White Plains Road Bronx, NY 10467
Refund Policy
Contact the organizer to request a refund.
Eventbrite's fee is nonrefundable.
About this event
"Grow Into Business" Powered by The Bronx Collab and United Agency
"Grow Into Business" is a 6-week course designed to provide participants with the knowledge and skills they need to either start or grow their own businesses or Career. The course covers a range of topics including personal and business development, public speaking, marketing and networking, the next steps, partnerships and sponsorships, and how to get funding.
$60 for each course and the schedule is as follows:
Week 0 - May 11th: Business Huddle
FREE EVENT: Let's kick-start your business by starting off the Work-shops with a business huddle and start giving you incite into your own business firsthand before we weave into each course. This way we can know what are your needs, blindspots, share ideas, and more.
Week 1 - May 18th: Personal and Business Development
The first week of the course focuses on personal and business development. Participants will learn how to identify their strengths and weaknesses, set goals, and create a plan to achieve them. They will also learn about the importance of self-care and how to manage their time effectively.
Week 2 - May 25th: Marketing and Networking
The third week of the course focuses on marketing and networking. Participants will learn how to identify their target market, create a marketing plan, and use social media to promote their business. They will also learn how to network effectively and build relationships with potential customers and partners.
Week 3 - June 1st: Public Speaking
The second week of the course focuses on public speaking. Participants will learn how to prepare and deliver effective presentations, overcome nerves, and engage their audience. They will also learn how to use body language and vocal techniques to enhance their communication skills
Week 4 - June 8th: What Now? The Next Steps
The fourth week of the course focuses on the next steps participants need to take to start and grow their businesses/careers. This includes creating a business plan, identifying potential challenges, and developing strategies to overcome them. Participants will also learn about legal and financial considerations, such as registering their businesses and managing their finances.
Week 5 - June 15th: Partnerships and Sponsorships
The fifth week of the course focuses on partnerships and sponsorships. Participants will learn how to identify potential partners and sponsors, create mutually beneficial relationships, and negotiate agreements. They will also learn how to leverage partnerships and sponsorships to grow their business and reach new customers.
Week 6 - June 22th: How to Get Funding and know your finances
The final week of the course focuses on how to get funding for a business. Participants will learn about different funding options, such as loans, grants, and investors. They will also learn how to create a compelling pitch and present their business idea to potential investors.
Overall, Grow Into Business is a comprehensive course that covers all the essential topics for starting and growing a successful business or career. Participants will gain valuable knowledge and skills that they can apply immediately to their own business or career ideas.
About the organizer
United Agency is about teamwork. Nothing motivates people or an organization more than regular live or virtual events to celebrate, rejuvenate, and educate agents at all levels of the field. Events reconnect people and organizations for mutual support, to share advice, to exchange knowledge, and to celebrate accomplishments.