GROW (Gospel "Reaching Out 2" the World): Concert, Raffle & Auction

Multiple Dates
Event Details
GOSPEL "REACHING OUT 2" THE WORLD
(GRO2W)
CONCERT, RAFFLE and AUCTION
Saturday, May 17th at 2 PM and 6 PM
Hosted by
University of Oregon Gospel Singers
and
Shepherd of the Valley Lutheran Church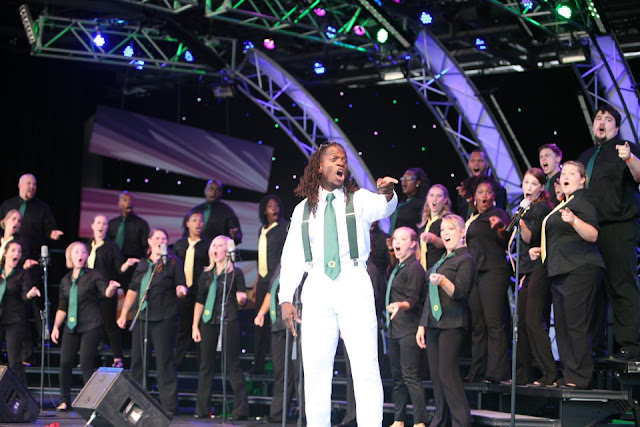 U of O Gospel Singers performing their National Award winning set at the Walt Disney World Gospel Choir Fest in 2011.
Gospel "Reaching Out 2" the World (GRO2W), is a Concert, Raffle and Auction.  It will bring new & upbeat Gospel music LIVE to Beaverton, Oregon.
The Concert

will feature the 

University of Oregon Gospel Singers,

 a two time National Champion Gospel Choir.  They will be opened by the hosting Shepherd of the Valley Choir.  The music will be high-energy and spiritual in nature, while including movement, intricate harmony and irresistible rhythm that is sure to get you dancing on your feet!  There will be two concerts: 2:00 PM (CHILDCARE AVAILABLE), and 6:00 PM.
There will be a

Silent Auction

b

efore, during and after each concert,

with a wide array of items to bid on.  The 6pm concert will also include a

Live Oral Auction 

at Intermission with Alan Cattron.  A complete list of Auction items will be available online

here.  Doors will open 30 mins early for the bidding.
Finally,

the Raffle

drawing for five nights at "The Pines Resort" in Sun River, OR will happen at the end of the 6pm Concert.  Raffle tickets are available

now

and at the event for $5 a piece, or $20 for 5.  Please contact Jim Tabor for more info through

music@sovlutheran.com

.
GRO2W will help raise necessary funds for the University of Oregon Gospel Singers, two time National Champion Gospel Choir, as they host a four day multicultural Music and Dance event this spring, and support the ministries of SOV.  Last year, the two groups raised over $25,000 for the U of O Gospel Singers to travel to China in what was an unprecedented cultural exchange. They sang on the Great Wall of China and several concert venues to share the gift of uplifting spiritual music with the country.   This year, the U of O Gospel Singers will host a four-day Multicultural Musical Masquerade on the UO Campus, hosting music and dance professionals from around the world to perform and teach about music and dance forms from minority cultures.  Funds raised at the concert will help them cover the costs of housing, food, and other accommodations for the visiting artists.  These are fees that cannot be covered by the University of Oregon. The group must raise $10,000 before the event in late Spring 2014.
Funds will also contribute to Shepherd of the Valley's vision of Reaching UP, Reaching OUT and Reaching IN.  More specifically the money will go to support the church's growing music program (UP), to support the church's Christian Preschool, Kid's of the Kingdom, and offering scholarships to families in need in the community (OUT), and to supporting the recovery of Pastor Randy, who recently suffered a major stroke and is currently on medical leave (IN).
GRO2W will be held at Shepherd of the Valley Lutheran Church in Beaverton, OR as part of the church's mission to "reach out" to the community and bless others.
Reservations must be made ahead of time, due to limited space.
MORE INFO ABOUT THE U of O GOSPEL SINGERS:
The U of O Gospel Singers is an auditioned group of 20-25 singers of mixed racial, religious, and cultural backgrounds who gather to study and perform predominantly African-American Sacred music. They travel with a dedicated eight piece band.


The group has sung all over Oregon in many different venues including schools, churches, libraries and the state capitol building.  They are a recognizable performance group in the community, having opened for and performed with such artists and public figures as the Eugene Ballet, Lyle Lovett, Smokie Norful, and Dr. Maya Angelou, to name a few. Recently the group traveled across the country to Orlando, FL where they were 

back to back National Champions

 at the Walt Disney World Gospel Choir Fest in 2010 and 2011.  Last year, the group became the first EVER Gospel Choir to travel to China and perform for their audiences.



"

Taking this gospel music to China was an unprecedented cultural exchange as the people of China were not accustomed to gospel music (sacred music indigenous to the U.S.)."  

Andiel Brown

, a former Duck football player and alumni of the 

School of Music and Dance

, is their esteemed and fearless director.  The group will be singing at the Great Wall of China, two universities, and a professional performance hall. "We have had the opportunity to do something 

even greater, something more profound than ever before."
The event will be open to the public, and tickets should be reserved ahead of time.  Reserve your ticket for the event by clicking above, or email music@sovlutheran.com.  There is a $15 suggested donation per person, or $40 for a family.
Come on out and support the "GROWth" of Gospel music in Oregon!
LISTEN AND WATCH UO GOSPEL SINGERS PERFORM THE NATIONAL ANTHEM HERE:


WATCH UO GOSPEL SINGERS TOUR OF CHINA RECAP HERE: 
WANT MORE?  FOLLOW UO GOSPEL SINGERS ON FACEBOOK HERE.
CHECK OUT THESE LINKS TOO:
Gospel Singers perform at Walt Disney World's "Night of Joy" in Orlando, FL.
Where

Shepherd of the Valley Lutheran Church
17625 NW Cornell Road
Beaverton, OR 97006


Multiple Dates
Add to my calendar
Organizer
Shepherd of the Valley is a congregation of the Evangelical Lutheran Church in America (ELCA), located in Beaverton, Oregon.  A caring community, touched by Christ, touching others for Christ.  Sunday services 8:30am & 11:00am.
MISSION:
Provide a safe and accepting place to celebrate God's grace. Invite and engage the curious. Reach out to the world in love and service. Strive to be an example of how the Lord would live in today's world.
KIDS OF THE KINGDOM PRESCHOOL & KINDERGARTEN:
Kids of the Kingdom Christian Preschool and Kindergarten 
welcomes your child to grow in God's love and learn about the world 
around them. We believe all children are precious gifts of God, 
created in His image and loved unconditionally by Him. Visit KOK at:
kok.sovlutheran.com
.
LOCATION:
We are located on the North side of Cornell Road near the intersection of Cornell Road and 173rd, adjacent to the Bronson Creek Park.
Shepherd of the Valley Lutheran Church
17625 NW Cornell Road 
Beaverton, OR 97006