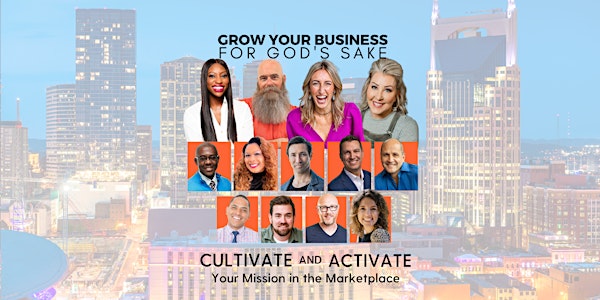 GROW for God [Grow Your Business for God's Sake!] Conference
The most power-packed conference in the history of your business. "Grow Your Business For God's Sake!" is a one of a kind 3-day event
When and where
Location
Citipointe Church Nashville 7533 Lords Chapel Drive Nashville, TN 37211
Refund Policy
Contact the organizer to request a refund.
Eventbrite's fee is nonrefundable.
About this event
F.I.T. in Faith Media presents...
Grow Your Biz For God's Sake
Grow Your Business for God's Sake! is a business conference helping business people, creatives, and professionals take their businesses to new heights, while doing it for Him and with a missional mindset to give back and make an impact.
Bringing together like-hearted & like-minded leaders, influencers, and entrepreneurs to educate & energize their missions in the marketplace with faith founded teaching.
A 3-day experiential event intended to ignite your business and magnify your legacy.
Beyond motivation and inspiration, this is an activation conference!
Rising to the call...
November 3-5, 2022
Citipointe Church
Nashville, Tennessee
Schedule (subject to change)
DAY 1 (Thursday): Doors open at 8am Thursday - 9am-5pm
DAY 2 (Friday): Premier only Mastermind 8:30-10:30am, Doors open for GA and VIP at 10am - 5pm, JoyFULL VIP Party 5:45pm-8pm
DAY 3 (Saturday) Doors open 8:30am - 9am-1:15pm (with lunch hour on site 1:15-2:15pm if desired)
**lunches to be served on site daily, VIP and Premiere included in ticket, GA to be purchased.
- Discover How To Use Your Uniquely Purposed Identity
- Design Your Creative Brand & Message
- Deploy Your Successful, Firmly Founded, Business
Top 5 reasons you must attend:
Gain access to pivotal tools, resources and best practices with foundational core values from experts around the nation.
Networking with a rock-solid, rooted community, supporting and celebrating one another. Together our impact multiples.
Cultivating and equipping emerging entrepreneurs and leaders with aligned marketplace insight to support your vision.
Practical application and training for faith-based leadership execution to reach your God-given potential.
Catalyze your purpose driven mission in the marketplace
What to expect?
Renewal of your passion for your business
Meeting like-hearted people from around the world
Worship and music experiences will refresh your walk with God
Meet experts face to face in breakout rooms
Actionable tips and tricks to create momentum in your business
Opportunities to share your message with others
Giveback
Roc Solid Foundation: Play defeats cancer.
Help us build hope for the 16,000 kids diagnosed with cancer each year.
Each year, Roc Solid builds hope for thousands of families who are fighting pediatric cancer.
2022 Ticket Pricing:
$1297 - Premier Access PREMIER Party - Concert featuring Nashville Recording Artist Abby Robertson, book signing, food and beverages, DAILY Lunch, coffee & beverage station throughout the conference, Catered Networking MASTERMIND, ​Professional Headshots​, PREMIER seating, Conference recording, Premier Swag bag
$997 - VIP Seating at event, Conference Recordings, VIP Swag Bag, and private VIP lunches each day
$497 - 3-Day Conference Access - Swag Bag, Conference Access
$147 - Virtual Conference Access
Want to share your company with the attendees?
We have many levels of sponsorship you can be a part of. To share your message with thousands of business people just like you, contact brenda@tamraandress.com.
Speakers
TAMRA ANDRESS - Tamra Andress is a top thought leader in spiritual entrepreneurship, a speaker and 2x best selling author. She's the founder of F.I.T. in Faith Media Co. and an ordained minister on mission to activate purpose-driven leaders personally and professionally with their broadcasted messages and businesses through publishing, podcasting and play. Her F.I.T. in Faith Podcast is globally ranked in the top 1% of the spiritual, religious, and business charts with over 200 interviews of founders, innovators and trailblazers. Her most treasured role is wife and mama - and will surely never leave her presence without an added measure of joy! 
PATRICE WASHINGTON - Patrice C. Washington has been making money educational yet fun since 2003. She is a featured columnist, television commentator, radio host, author, speaker and leading authority on personal finance, entrepreneurship and success for women and youth. Patrice's practical and sometimes sassy wisdom on money matters has been featured by national brands including NBC, The Huffington Post, GEICO Now Magazine, Upscale Magazine, Experian, HelloBeautiful.com, Bankrate.com and BlackEnterprise.com. Each year, conference coordinators, churches and colleges nationally have trusted Patrice to entertain, empower and educate thousands on personal finance, business and success. Find out more at www.bookthemoneymaven.com.
HOPE CARPENTER - Hope Carpenter is the cofounder of Redemption Church, a megachurch that started in Greenville, South Carolina, and now has additional campuses in San Jose, California, and the Dominican Republic. Additionally, the church reaches people around the world through its television ministry (seen on Hillsong Channel three times a week and on Daystar every Monday, to over 450,000 weekly viewers), ministry app, ministry database, YouTube channel, speaking events, conferences, and Hope Carpenter Ministries, where Hope travels to minister to women all over the world, including the Dominican Republic, Pakistan and Argentina. Hope is an author and recently released her acclaimed new book, "The Most Beautiful Disaster". Hope and her husband, Ron live in San Jose, California, and Greenville, South Carolina.
BRIAN HESS - Brian is the founder and President/CEO of The Pavement Group. His passion in life is first and foremost his family, and they make me more motivated than ever to help people and make a difference in their lives. My passion to serve clients in a unique data-driven way that is custom fit to their exact needs is what drove our team to form The Pavement Group. Our company was founded with the mission of solving our clients problems at the root of where the start and when you work with our team you will experience exactly how what we do is completely different from anyone else in our industry.
ANTHONY HART - I am just a real dude who is blessed to be called boo, daddy, pastor, veteran, podcaster, and pioneer. These are not titles but terms of endearment and positioning moments in my life to seek out my God-given purpose:
- Boo to the amazing, talented, driven, beautiful Morgan Hart.
- Daddy to one humble, intelligent son and two patience cultivating daughters.
- Pastor at Greenbrier Community Church in Chesapeake, VA (goGCC.org)
- Veteran of the United States Navy after 21 years of service.
- Voice of the IN THE RED podcast which is seeking to bring fresh perspectives through stories of people who don't look like you, act like you, or sound like you. This is that uncomfortable place where we are challenged and we can truly see that we are stronger together than apart.
- Pioneer who pursues taking the message of Jesus out of the confines of an inanimate church building and into every area of life through the intimate connection with believers and their testimonies.
ERIC NEWMAN - Eric D. Newman is a passionate entrepreneur, speaker, and visionary leader. In 2009, he founded Roc Solid, an organization that inspires hope for every child and family fighting pediatric cancer. Roc Solid partners with more than eighty five children's hospitals to deliver Ready Bags for families and has built more than one thousand play-sets for children throughout the country who need a safe place to play and a reason to smile.
A husband, father, and pediatric cancer survivor himself, Eric understands the battle a family faces when their child is diagnosed.
TONY DISILVESTRO - Tony DiSilvestro has been a passionate entrepreneur since the age of eight when he started his first business. He is now an award-winning entrepreneur, a successful real estate investor, franchise owner, and an internationally renowned business and leadership trainer.
He is also part of Vision which is the top 125 business owners in the area, and is also a member of EO. He has founded over thirty-one thriving companies involving the restaurant industry, residential and commercial construction, SAAS training co, manufacturing, and global coaching and consulting.
He was recognized as Entrepreneur of the Year by Distinction Magazine and awarded Best Concrete Houses 2020 in the World by ICF Homes. Tony is also frequently invited to universities to speak to aspiring entrepreneurs. His vision is to see businesses succeed.
GLENN LUNDY - He is a husband to 1, a father to 8, and the host of the wildly popular Breakfast with Champions Club on Clubhouse. He's been seen at places like Hustle and Grind Con, Grow Your Business For God's Sake! and many more stages across the country. Glenn has been spotlighted on ABC, NBC, and CBS, and is an expert in dealership culture development, and leadership training. With 20 years experience in the automotive industry, Glenn lead a dealership from 120 cars a month to an 800% increase in sales in five years, becoming the 2nd largest used car franchise in the country. His unique style makes him one of the most coveted GM's in the business. Glenn has the unique ability to help identify the areas for growth in your store, and teach creative ways to invoke your dealerships spirit. With a background in sales, and finance, he uses his skill sets to create growth, as well as tapping into the mental side of human development.
RAMON RAY - Ramon Ray is a leading expert on small business success and personal branding. He's the founder of SmartHustle.com, author of Celebrity CEO and graduate of the FBI Citizens Academy.
Ramon was fired from the United Nations, which was a blessing as it propelled him to full-time entrepreneurship.
He's testified to Congress, interviwed President Obama, was with Ivanka Trump at the Global Entrepreneurship Summit in India and has spoken at the White House about personal branding.
KEVIN MULLENS - 5X Author, Executive Movie Producer, Keynote Speaker, co-owner of Navan Global, listed as top 10 entrepreneur to watch in 2021 by yahoo finance, featured in Forbes, NY Wire along with 200+ other articles, Sports & Entertainment business advisor at Aquarius Vision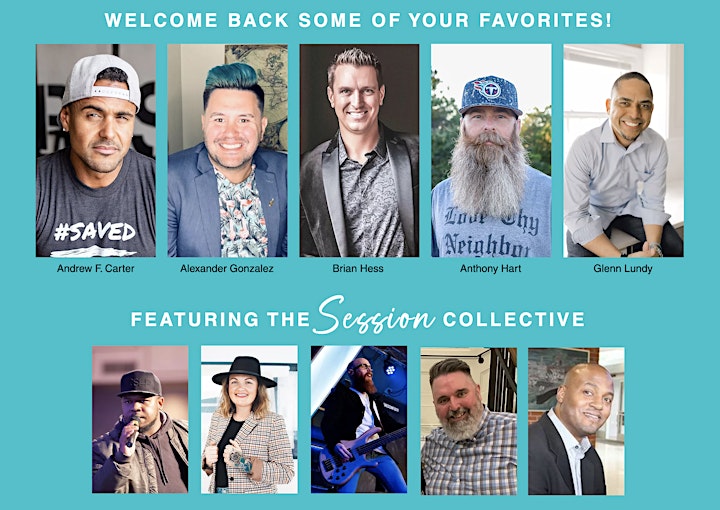 Follow us here:
Follow Tamra on Clubhouse - https://www.clubhouse.com/@tamra.andress
REFUND Policy: No refunds within 75 days of event (August 18th). Eventbrite Fees are nonrefundable. Tickets may be transferred to another attendee by emailing janis@tamraandress.com.