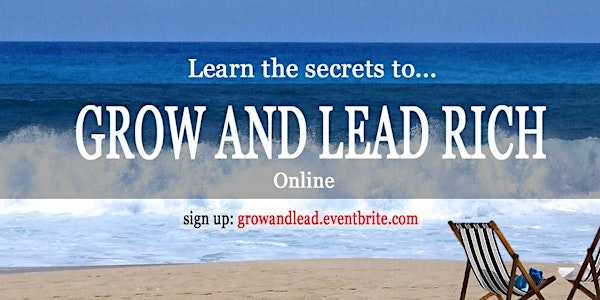 GROW AND LEAD RICH! LIVE!
You are just a few ideas away from wealth!
About this event
Stop Procrastinating!
Millionaires perform similar habits and behaviors that help them make millions... FIND OUT WHAT THEY ARE!
Daniel breaks down in detail the mindsets that make people rich and how you can do the same in this FREE LIVE WEBINAR. 
STOP WASTING TIME!
Learn about the techniques that help people become rich.
Help cultivate the discipline and consciousness that boost peoples wealth.
AS A BONUS: Free Resources will be provided, and gain the opportunity to arrange a Free 1on1 Growth Breakthrough Session with Daniel!
Run time is approximately 45 min, users are open to ask questions.
Daniel is a lawyer, executive coach, investor, artist, and collector of rare books.
Go from doing Nothing, to doing Something!
Accelerate your Growth at www.growandleadrich.com
Delivered VIA Browser: https://growandleadrich.com/zoom (NO DOWNLOAD OR REGISTRATION REQUIRED)
OR
VIA Zoom: https://zoom.us/j/95181650656