Description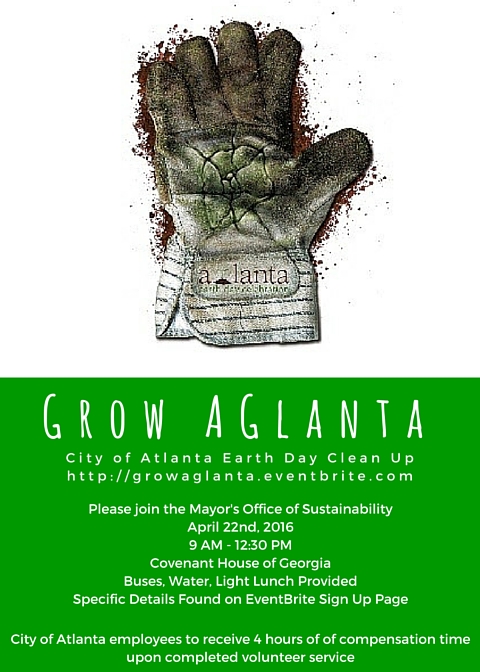 Earth Day - Grow Aglanta is a service opportunity open to individuals and teams from the City of Atlanta and interested corporations and other organizations to grow edible plantings with homeless teens at the Covenant House of Georgia. City of Atlanta employees will receive four hours of comp time to participate in Grow AGlanta once they are approved to do by their supervisor and complete the volunteer work. Please wear suitable clothing, closed toe shoes, and remember sunscreen and water. Water, water bottles and light snacks will be provided.
At the Covenant House, City Employees will construct a new greenhouse for youth residents as they build a social enterprise of selling vegetable starts. Other activities will include building raised bed gardens, harvesting spring gardens, and garden lessons from the resident urban farmer, Cullen Brown.
Some volunteers will be working with culinary writer and chef, Nealey Dozier Thompson, as she prepares a farm-to-fork culinary lunch experience for the first 50 employee volunteers.
Buses will provide transportation for volunteers to and from City Hall to the worksite, with a pick-up time of 9 AM and return time of 12:30 PM.
After completing projects, volunteers are welcome to enjoy a light lunch in Covenant House's cafeteria prepared by Chef Neally D. Thompson with ingredients provided by Atlanta Harvest and the Mayor's Office of Sustainability.