Description
Doors open at 6:30-mingle through the exhibits, meet Santa and the Easter Bunny and reminisce. Our Presentation Program, including a fashion show, begins at 7:30..

Come join us in celebrating the impact of the Grover Cronin family on the Waltham community. For many years the Grover Cronin department store supported citizens with employment, philanthropy and cultural events. Meet the grandson of Grove Cronin: Phil Cronin and other family members. Remember and reminisce about the days when Moody Street was a celebrated shopping destination.
Have your picture taken with Santa and the Easter Bunny at the same time!
$25 General Single Admission
$45 General Pair Admission
$5 discount per person for Museum Members purchases (either the Charles River Museum or The Waltham Museum).
A beer, wine, and non- alcoholic beverage cash bar will be available
IMPORTANT DIRECTIONS AND PARKING INFORMATION FOR THE CHARLES RIVER MUSEUM
There is NO Museum Visitor Parking at the Francis Cabot Lowell Mill complex. You will be subject to tow by the Mill.


If you are coming to the Charles River Museum for the first time, it is helpful to follow the directions, map and advice below:
While the Museum's address is 154 Moody St. in Waltham, we are not right on the street but rather at the far end of the Francis Cabot Lowell Mill complex.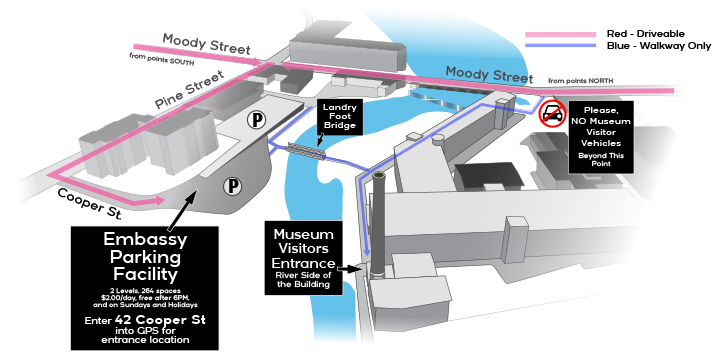 Because there is no Museum Visitor parking at the Mill, we recommend using the many public lots in Waltham. The one closest and most accessible to the Museum is the Embassy Parking Facility off Pine St. Enter 42 Cooper St into your GPS to locate the entrance to the lot. To then reach the Museum, cross the footbridge which crosses the Charles River and then keep to your right along the Mill. A brief 2-5 minute walk will bring you to our Visitor Entrance. The Charles River Museum is directly under the factory smokestack.
Please DO NOT BRING VEHICLES DOWN THE LANDRY WAY PATH. It is restricted to Emergency Vehicles ONLY and is a DEAD END with no turnaround.

If walking coming from Moody St itself, enter at the pathway immediately North of the Moody St Bridge next to Enterprise-Rent-A-Car. Follow to the right alongside the Charles River and down Landry Way along the river side of the Mill.
If you need further assistance or information, the Museum phone number is 781-893-5410
We look forward to seeing you at the Museum!