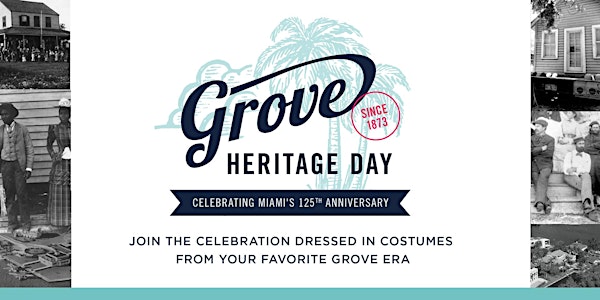 Grove Heritage Day in Honor of Miami's 125th Anniversary
Dress in costumes and celebrate Coconut Grove's role as Miami's legacy village on Saturday, July 31 in honor of Miami's 125th anniversary!
When and where
Location
Coconut Grove Playhouse 3514-3518 Main Highway Miami, FL 33133
About this event
Make plans to join us for a day of celebration honoring Miami's original neighborhood! The event starts at the historic Macedonia Baptist Church and continues down Charles Avenue onto Main Highway and throughout the Business Improvement District.
Enjoy live music, entertainment, Commodore Munroe's Tea Party at The Barnacle State Park, a vintage car show and more. End the day at the Coconut Grove Woman's Club for an old-fashioned cocktail party and other treats. Stay tuned. More details will follow next week!
We hope to see you on Saturday, July 31st from 10:00 a.m. to 6:00 p.m. as we partake in Miami's 125th Anniversary!
About Grove Heritage Day
Miami is celebrating a big birthday this summer and its original neighborhood is taking us back in history for COCONUT GROVE HERITAGE DAY, an experiential, interactive street fair that encourages the community to dress in fun costumes depicting their favorite era as they frolic through Coconut Grove
The celebration of Coconut Grove's role as Miami's legacy village will take place on Saturday, July 31, 2021 culminating a week of events honoring Miami's 125th anniversary of incorporation. All five Miami commission districts will hold their own celebrations throughout the week. GROVE HERITAGE DAY will strive to be the grand finale.
Coconut Grove was founded in 1873 predating Miami's incorporation on July 28, 1896. Unique to the Grove is the still evident and living history of early African-American and Bahamian culture.
Event attendees can participate in a number of activities as part of GROVE HERITAGE DAY including:
A panel of leading historians on the history of Coconut Grove:
An interactive "living history" series with actors and legacy family descendants in period attire participating in re-enactments and presentations, interacting with patrons throughout the day
Ambulating performers acting continuously throughout the event route, including actors in 3-5 minute theatrical vignettes, modern and African dance groups, junkanoo, marching band, stilt-walkers, drum circle and representation of King Mango Strut
Student art exhibition sponsored by the Dade Heritage Trust, themed "What Coconut Grove-Miami Means To Me"
Graphic presentations of noted historic figures, places and events on freestanding backdrops or installations throughout the event sites and route Antique car installation, motorcade crawl and exhibition
Curated craft-novelty and food vendors

Location:

Coconut Grove's Village Center and Village West, points covered for moving and stationary events:

Charles Ave from Douglas Rd. (SW 37 Ave) east to Main Hwy North along Main Hwy to McFarlane Road

McFarlane Road to The Coconut Grove Women's Club