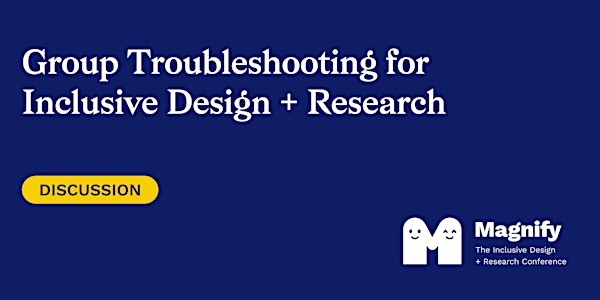 Group Troubleshooting for Inclusive Design + Research
Improve your inclusive processes by joining with a group of fellow designers and researchers for a collaborative group discussion.
About this event
About the session:
Join a group of designers and researchers on Zoom for a one hour session to discuss challenges and questions others have.
How it works:
Through a google doc, participants can write questions they have.
Once all questions have been written down, the group votes on which ones they would like to discuss.
Five minutes is spent on each question from most popular, with the group deciding on whether to continue talking about a question for 5 minutes longer.
What you will get out of it:
You will be apart of a collaborative community that is invested in inclusive design and research
You will learn from other people's experiences on how to tackle inclusive design
You will be able to provide your perspective to help others in the group as well
About Magnify:
Magnify began as an inclusive design and research conference, but is now running community events in 2022.
Magnify was built off of the ethos that we live in richly diverse societies, yet this diversity is not often reflected in products, services and systems offered. Through inclusive design and research, we can identify and prioritise those who are currently being left out or face the most barriers in our problem space.
Through this online and international gathering, we hope to cultivate a community of practice of designers and researchers that grapple with questions that attendees bring.