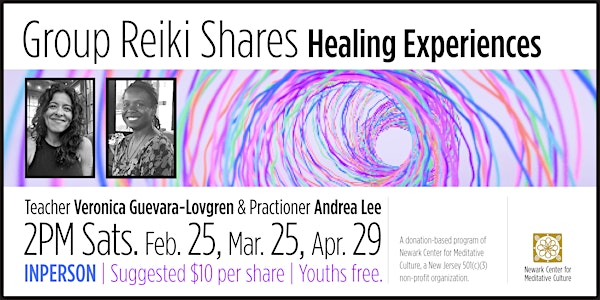 Multiple dates
GROUP REIKI SHARES: Healing Experiences
A guided Reiki experience and mini energy healing treatment, Q&A, and tea with teacher Veronica Guevara-Lovgren and practitioner Andrea Lee.
By Newark Center for Meditative Culture
Date and time
January 28 · 2pm - April 29 · 3:30pm EST
Location
Newark Center for Meditative Culture 2 Park Place Newark, NJ 07102
Refund Policy
Contact the organizer to request a refund.
Eventbrite's fee is nonrefundable.
About this event
Important Note
When registering select the first date only that you will attend. You will then choose all dates you plan to attend when you fill out order form. You can also choose to register individually for each workshop if you are not sure about the second date.
Basic Info
IN-PERSON | 2:00-3:30pm | Saturdays, Jan. 28 and Feb. 25 | Location NCMC 2 Park Place, 2nd Floor, Medicine Room, Newark NJ | Adults $10 suggested per experience | Youths under 18 Free, but must be registered and accompanied by adult.
Details
In our world, we experience and feel the weight of collective energy. The global and daily stressors of life surround each of us. Group Reiki is an opportunity to gather in the sacred space of the community to receive energetic healing and restoration to help find our individual and collective understanding of our lives.
These 75-minute sessions are perfect for anyone interested in experiencing Holy Fire® Reiki energy healing. Each session, co-facilitated by Veronica and Andrea, begins with a guided experience, and each person will receive a mini Reiki energy healing treatment. Afterward, participants are invited to share their experiences, ask questions, and mindfully drink tea together.
How to experience: While Reiki is known as a hands-on practice, participants who do not want touch can receive treatment hands-off (hovering). While some students might be seated for the experience, most prefer to lie down. Scroll down to read more About Reiki.
What to bring: Dress comfortably and in layers for sitting and a little mindful movement. If you like have paper and pen available to document your experience. Yoga mats and blankets will be provided but feel free to bring your own.
Training: For those interested in training in Level I Reiki later in 2023, these workshop experiences are a way to begin to learn about Western and traditional Japanese Reiki practices.
Covid Guidelines: It is up to each individual as to whether they wear a mask. Do not attend in-person if you have flu-like symptoms or have tested positive recently for covid. Please respect each other's choices. NCMC does not take any responsibility for any pursuant illness.
Babies/toddlers: Must be held by an adult and do not need to be registered. (We ask that you go to the adjoining room if they fuss until they quiet down.)
Facility Concerns: The Center is on the second floor with no elevator or wheelchair access.
____________________________
About Reiki
Reiki is a Japanese healing technique for relaxation and stress reduction that can help open up the ability to heal ourselves naturally. We are all made up of energy, and terms like chi, ki, or prana might sound familiar, and are ways to describe our life force energy. This life force energy flows through the vessels of all living beings. When our life force energy is blocked, we might experience physical, mental, and emotional symptoms. Reiki is a way to address these blocks and support our well-being and bring us back into balance. The healing experience is hands-on or hands-off (hovering) and can be experienced in-person or online.
However, Reiki is also a spiritual path and practice that brings us back home to the true self and loving self. It helps us move away from the limiting culturally-created self and into the extraordinary authentic self. This self reflects our beautiful and loving inner nature.
____________________________
Bio-notes
Veronica Guevara-Lovgren is a Jivamukti Yoga instructor, Holy Fire® Karuna Reiki Master, Usui Reiki Master, and ICRT Animal Reiki Master. Veronica has also received training in Radiant Child Yoga, Restorative Yoga, and Yoga Nidra through Ohana Rising Yoga School. Veronica created Tres Ositos Yoga and Reiki to share and increase access to Reiki and yoga at no cost or by donation. For a very long time, Veronica did not always have the means to access these practices, and she is committed to ensuring others do. She is also a dedicated vegan and advocate of plant-based and cruelty-free living. Veronica is also the Executive Director of Student Services at Ocean County College and working on a doctorate in Educational Leadership with a focus on Community Colleges.
Andrea Lee is a Preschool Assistant Teacher at Montclair Cooperative School in her hometown of Montclair, NJ. She is an intern organic farmer at Rabbit Hole Farm in Newark where she resides. She is a senior disciple of Reverend Jaganath Carrera, Spiritual Head and Founder of Yoga Life Society. She recently completed seminary training and was ordained a Yoga Life Minister. She performs Kirtan with Mirabai Catherine Moon and is a certified Yoga instructor and Level 2 Reiki practitioner.
Both are serve as board directors with Newark Center for Meditative Culture.
____________________________
A donation-based program of Newark Center for Meditative Culture, a New Jersey 501(c)(3) non-profit organization.
About the organizer
NCMC is a diverse urban meditation community serving the Greater Newark Area NJ