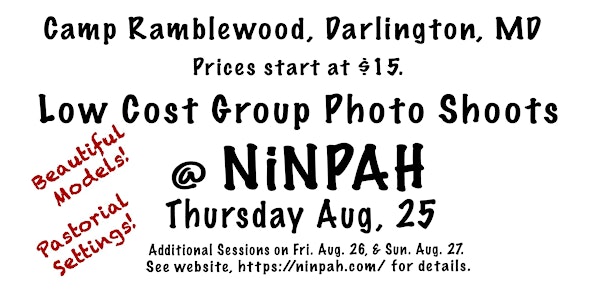 Group Photo Shoots @ NiNPAH (Thursday)
GROUP SHOOT TICKETS (THURSDAY) This is your chance to photograph professional models in a low-cost, group situation. Prices start a $15.
When and where
Location
Camp Ramblewood 2564 Silver Road Darlington, MD 21034
Refund Policy
Contact the organizer to request a refund.
Eventbrite's fee is nonrefundable.
About this event
GROUP SHOOT TICKETS (THURSDAY)
(Scroll Down for Additional Info.)
(Friday & Saturday Group Shoot Tickets are on their own respective pages. )
Most of the activity at NINPAH is with one-on-one photography (one model & one photographer). However, we have several group shoot sessions, (one model posing for several photographers). The number of paying photographers varies, when there are more photographers, the price per photographer is usually lower. For NiNAH 2022, the number of photographers is usually between 4 & 6. We try to have 1 or 2 staff members on-site to keep order, & collect/check tickets. They also make sure everyone has a chance to give directions to the model & (slightly) vary the location or poses. Please note that early purchase tickets are least expensive. Some of the early tickets cast as little as $15ª.
Only 20 of the models will be involved in group sessions, the rest of the models are only available for one-on-one modeling. We are planning 6 or 7 group sessions each day. If a model becomes unavailable, your group session ticket will be refunded. Through Eventbrite, if purchased online, on-site if purchased on-site.
You MUST have a NiNPAH 2022 ticket to attend the group shoots. (Either a one-day ticket or a "Grand Slam Ticket.") They are available at, https://photographer2022.eventbrite.com/
Group Shoot tickets are currently available ONLY on Eventbrite. Starting August 24th, group shoot tickets will only be available at NiNPAH. Tickets sold at NiNPAH will be cash only. They may be priced either higher or lower than online tickets.
Please Note, models expect, deserve , & rely on tips, to survive. If their service has been satisfactory or better, please remember to tip.
Get your Group Shoot Tickets NOW, while the early tickets are available at incredibly low prices!
ª Eventbrite fees are additional.
(Scroll Down for Additional Info.)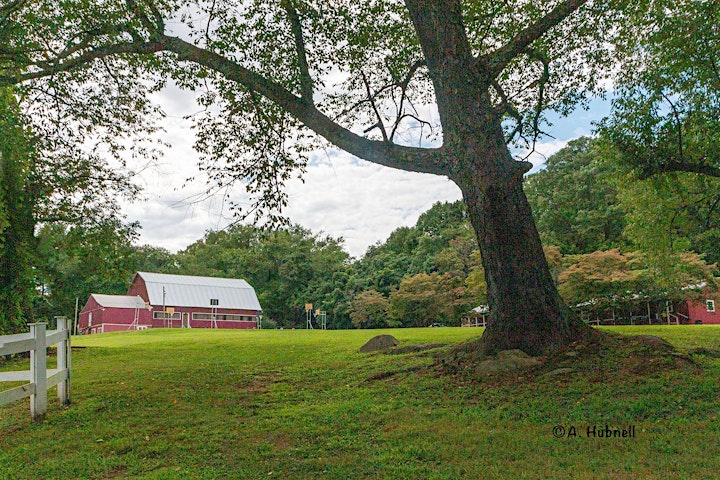 CURRENT & TENTATIVE GROUP SHOOT SCHEDULE (Expect changes)
(Scroll Down for Additional Info.)
(In no particular order. √ = †ickets currently Available, Sold out in italic, as of 8/3/22)
√ Kazzy Fri 9 AM
Laura Bradley Fri 10 AM
√ Ophelia Bloom Fri 4 PM
Inked Panda Fri 4 PM ??
√ Rebecca Lawrence Fri 5 PM
√ Ivy Millz Fri. 9 AM
———
Betsy Marie Sat 10 AM
√ Bella Amelia Sat 10:00:00 AM
√ Cristina O Sat 3 PM
√ Ameeka Moore Sat 5 PM
Kiti Khaos Sat 5 PM
Caitlin Zielinski Sat 6 PM
√ Emily Crane Sat 9 AM
———
√ Lee Von Lux Req Thur 5 PM
√ Adlee Ray Th 10 am
Eva Thur 10 AM (closed)
√ Pretzelle Thur 4 PM
√ Anastasia Maye Thur 5 PM
√ Cat Ross Thur 5 PM
Pictures of all of our models are on our website, https://ninpah.com
Regrettably, Eventbrite (like FB & IG, inter alia) does not appreciate the frank, accurate, & detailed, depiction of beautiful young women (or men) as presented by our members. Their sandbox, their rules. I choose not to deface images to garner their approval, please see our website for pictures.