RECONNECTING: REBUILDING RELATIONSHIPS IN A POST PANDEMIC WORLD with featured presentation, Socialization 101: Post Pandemic Etiquette
About this event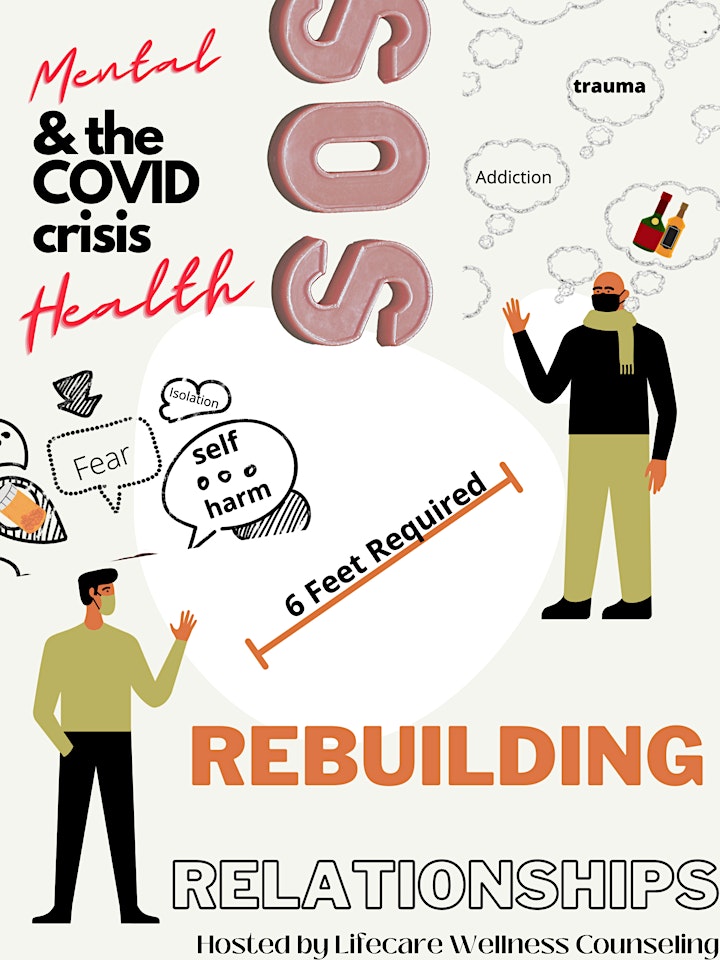 re·con·nect. (rē′kə-nĕkt′) v. re·con·nect·ed, re·con·nect·ing, re·con·nects.: v.tr. To cause to become connected again: To meet or come into contact again after a long absence: Example: the two childhood friends reconnected at a high school reunion.
About this event
This 60-minute group counseling session will focus on the current and potential long-term effects on mental health of physical and emotional isolation created by the COVID19 worldwide pandemic. As we prepare for a second round of quarantines, mandates, and restrictions, it is vital that we create a safe space NOW where we can come together (virtually, if needed) to process our experiences and emotions resulting from the pandemic.
Topics discussed will include depression, anxiety, trauma triggers, death anxiety, fear, aggression, domestic violence and self-harm which has developed or worsened due to the effects and stress of the pandemic. This is a safe place to discuss any concerns relevant to the topic, and will provide support, interventions, action plans, and individualized resources to increase the participants' resiliency and improve overall mental health wellness.
HIPAA | Privacy Policies
NOTICE OF INFORMATION PRACTICES AND PRIVACY STATEMENT:
Lifecare Wellness Counseling & Consulting
1830 4th Street | Tuscaloosa, Alabama 35401
205-462-37832 | info@lifecarewellness.org
Professional ethics and Alabama law indicate that confidential information is
controlled by the client. This means that, as a rule, information shared in sessions with a
counselor will be held in confidence.
These are the exceptions to this general rule:
• In the case of an emergency where the counselor believes the client is at risk of
hurting her/himself or another person, the counselor may breach the
requirement of confidentiality.
• Alabama law requires that child abuse in any form be reported to the
Department of Human Resources or other authority such as a Juvenile Judge.
• Alabama law also requires elder abuse in any form to be reported to
Department of Human Resources or other authorities.
• In the event of a medical emergency involving the client, the counselor may
divulge certain PHI in order to obtain the needed services for said client.
• In the event of a court order, the counselor is required to release all information,
and no more than, stipulated in the order.
How We Collect Information About You
Lifecare Wellness Counseling & Consulting and its employees and volunteers collect data through a variety of means including but not necessarily limited to letters, phone calls, emails, voicemails, and from the submission of applications that are either required by law or necessary to process applications or other requests for assistance through our organization.
What We Do Not Do With Your Information:
Information about your financial situation and medical conditions and care that you provide to us in writing, via email, on the phone (including information left on voicemails), contained in or attached to applications, or directly or indirectly given to us, is held in strictest confidence.
We do not give out, exchange, barter, rent, sell, lend, or disseminate any information about applicants or clients who apply for or actually receive our services that are considered patient confidential, restricted by law, or specifically restricted by a patient/client in a signed HIPAA consent form.
How We Do Use Your Information:
Information is only used as is reasonably necessary to process your application or to provide you with health or counseling services which may require communication between LWCC and health care providers, medical product or service providers, pharmacies, insurance companies, and other providers necessary to verify your medical information is accurate and determine the type of medical supplies or health care services you need. This is including, but not limited to, or to obtain or purchase any type of medical supplies, devices, medications, or insurance.
If you apply or attempt to apply to receive assistance through us and provide information with the intent or purpose of fraud or that results in either an actual crime of fraud for any reason including willful or un-willful acts of negligence whether intended or not, or in any way demonstrates or indicates attempted fraud, your non-medical information can be given to legal authorities including police, investigators, courts, and/or attorneys or other legal professionals, as well as any other information as permitted by law.
Information We Do Not Collect:
We do not use cookies on our website to collect date from our site visitors. We do not collect information about site visitors except for one hit counter on the main index page (www.lifecarewellness.org) that simply records the number of visitors and no other data. We do use some affiliate programs that may or may not capture traffic date through our site. To avoid potential data capture that you visited a diabetes website simply do not click on any of our outside affiliate links.
Limited Right to Use Non-Identifying Personal Information From Biographies, Letters, Notes, and Other Sources:
Any pictures, stories, letters, biographies, correspondence, or thank you notes sent to us become the exclusive property of LWCC. We reserve the right to use non-identifying information about our clients (those who receive services or goods from or through us) for fundraising and promotional purposes that are directly related to our mission.
Clients will not be compensated for use of this information and no identifying information (photos, addresses, phone numbers, contact information, last names or uniquely identifiable names) will be used without the client's express advance permission.
You may specifically request that NO information be used whatsoever for promotional purposes, but you must identify any requested restrictions in writing. We respect your right to privacy and assure you no identifying information or photos that you send to us will ever be publicly used without your direct or indirect consent.
*For the purposes of best practices, Lifecare Wellness takes extreme caution to ensure confidentiality and adhere to HIPAA regulations in all settings. Therefore, any information provided at registration or attendance of group counseling will be kept in the strictest confidence.
Protected Healthcare Information "PHI", including name and other identifying information, is hidden from view when registering for a Lifecare Wellness event and no other attendees or online viewers can view your name or identifying information.