Description
Business doesn't need to be so hard ..... does it?
Business can be extremely frustrating, lonely and tough as a business owner. Everything is on you. Well if you're tired of merely surviving then this may be an answer for you. It's time to redress the balance you have working IN and focusing ON your business, and that means business growth. Ready to take more cash, win more deals, vastly improve your bottom line and start to achieve what you know your business is capable of doing then ActionCLUB is for you.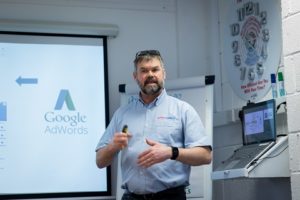 ActionCLUB is a group coaching programme that meets every fortnight designed to build a solid foundation for your business in all the fundamental areas of your business. It's an immersive and interactive rolling programme of group coaching and accountability sessions that will lead you through the key components required to run a successful and profitable business.
You'll learn how to:
Improve your business knowledge so you can earn more.
Develop solid relationships with like-minded business owners.
Become a better leader, motivated, inspired and focused on your business.
Understand and define your niche in the market place. Establishing your Unique Selling Proposition to establish a powerful and competitive selling machine.
Dramatically increase your lead generation and conversion rate.
Understand the value of customer acquisition and the value of life long loyalty.
Become a master of your finances, master your cash-flow and profit margins.
Build a winning team fully engaged with you and the business.
Systemise your business, create high-level leverage so the business can run without you.
Vastly improve efficiency and productivity across the delivery of the business, the team and you.
This is an investment in your future
Joining ActionCLUB and the group coaching programme you'll master not only what needs to be done but also how to do it. You'll also implement new strategies each and every time we meet meaning there will be no excuses as to not implementing your new learnings. We guarantee you'll gain the knowledge and motivation to create a commercial profitable enterprise that can work without you.
When you join ActionCLUB membership you get ...
Fortnightly attendance - 2 1/2 hour group coaching session.
Quarterly 1:1 coaching session to discuss your business goals for the next quarter.
Limited to 10 members per group to ensure we can focus on you and your business challenges and opportunities.
Private chat group to ask questions, share learnings and successes.
A sales referral opportunity with the trusted group of ActionCLUB members.
Workbooks and additional learning materials.
Complimentary refreshments.
Attendance at our quarterly GrowthCLUB 90 day planning day.