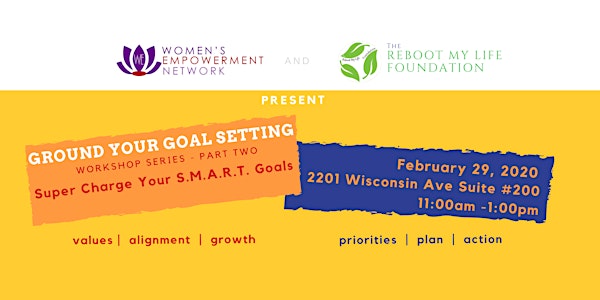 Grounding Your Goal Setting Workshop Series
Location
MakeOffices DC
2201 Wisconsin Ave NW #200
Washington, DC 20007
Refund policy
Contact the organizer to request a refund.
Eventbrite's fee is nonrefundable.
This workshop will help you set a workable path to achieve specific, measurable, achievable/attainable, relevant, and timely goals.
About this event
SUPER CHARGE YOUR S.M.A.R.T. GOALS - (Grounding Your Goal Setting Workshop – Session II)
You made the resolution.
You set the S.M.A.R.T. goal.
Now What?
Making a change and leveling up begin with action. Making up your mind and having the goals to get you there are only the beginning.
Did you set the same goals this year that you had last year and wonder why you haven't achieved them?
Do you know what you want for yourself but feel alone?
Do you struggle with getting started?
Have you considered giving up or not setting goals at all?
Are you unsure what to do first with your SMART goal?
Do you have the experience and skills it takes, but believe your progress is slow or limited?
By now, you've gotten over the hype of New Year's resolutions and maybe you've already set a SMART goal for yourself. You did it and we're proud of you. Here's your opportunity to move beyond and really get to a new level.
In our first Grounding Your Goal Setting session, we focused on creating alignment and making sure you have the right goals based on your values and what's truly important to you. Here's where we ignite that and make it real.
Part two of our Grounding Your Goal Setting series walks you through how to super-charge your goal-setting, and give a boost of energy to the impact of achieving your goals, and the journey that gets you there.
WE ARE GOING TO TAKE YOU FROM AMBITION TO MISSION ... AND SUPERCHARGE YOUR SMART GOALS
Designed to help you set a workable path to achieve specific, measurable, achievable/attainable, relevant, and timely goals – in a space of accountability that we all need to succeed, this workshop will help you:
Understand the mystery of the four winds and why knowing which way its blowing matters most to your goals.
Know your own emerging talents and developing strengths that make achieving your goals possible.
Set SMART goals based on your authentic self – who you really are and what matters most to you.
Develop a plan for connecting mentors and resources to make your dreams come true.
Realize when to ask for help or offer help in reaching goals.
Make progress faster with a true sense of calm and effortlessness.
Achieve your goals without being overwhelmed.
BONUS: In case you missed it, we'll recap all the nuggets uncovered in the first explosive and enlightening workshop. It's not too late. Join us now, even if you didn't attend session one.
Writer, Coach, and Speaker Michon Lartigue will facilitate the workshop. Michon's work revolves around a heart-felt desire to help individuals and institutions tap into their strengths and gain clarity in achieving goals. Her core mission is to highlight issues that are difficult to address and to infuse more inspiration into the world.
Registration Fee:
Early Bird Special: $20
General Admission: $25
Register here.