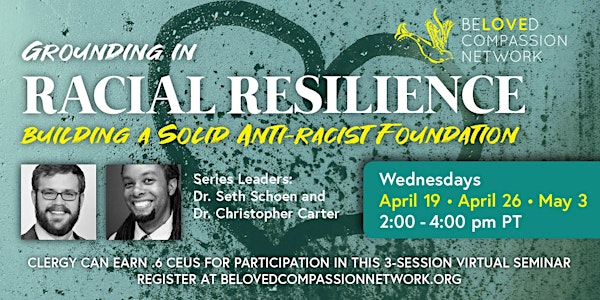 Grounding in Racial Resilience: Building a Solid Anti-Racist Foundation
Cultivate compassion and take action to dismantle systemic racism, heal the wounds it has caused, and start building an anti-racist world!
By BELOVED Compassion Network
Date and time
Wednesday, April 19 · 2 - 4pm PDT
Refund Policy
Contact the organizer to request a refund.
Eventbrite's fee is nonrefundable.
About this event
Race affects nearly every aspect of our daily lives, with systemic racism giving rise to economic and social inequalities, political marginalization, and normalized discrimination along racial lines.
In order to confront and dismantle the racism built into the structures of our society, we must go beyond just avoiding racial bias or expressing our righteous anger about racist thinking, actions, and systems.
To move forward in healthy and healing ways, we must become actively anti-racist.
And we need a strong foundation that can motivate us and sustain us for the long journey of reconciliation, connection, and justice ahead. We believe compassion is the key!
In Grounding in Racial Resilience, a 3-session interactive virtual seminar presented by BELOVED Compassion Network and BELOVED Way, we will engage in facilitated conversations, experiential exercises, and contemplative practices to cultivate compassion to fuel and shape our efforts to be actively anti-racist.
Led by highly-sought after anti-racism experts Dr. Seth Schoen and Rev. Dr. Christopher Carter, Grounding in Racial Resilience will equip you to:
better understand racism, racialization, white privilege, compassion, and our interior movements (our emotions, thoughts, and internal reactions),
cultivate grounded awareness of the world around you and within you, and how race plays a role,
and cultivate the compassion needed for sustainable anti-racist efforts.
Join us for these crucial conversations and let compassion lead the way to an anti-racist future!
Pricing
This 3-session seminar is offered with a suggested donation of $60-150 — a significant discount from the typical rate offered to the general public, thanks to a special partnership.
Following the concept of GracEconomics, we invite you to contribute what you can to support this program. Those who contribute at a higher level make it possible for others to participate at their own level. To inquire about partial scholarships , please email dale@belovedcompassionnetwork.org.
Materials
To enhance your experience in Grounding in Racial Resilience, please purchase your own copy of the following material(s):
Compassion in Practice: The Way of Jesus by Frank Rogers, Jr. (2016)
Optional but recommended: My Grandmother's Hands: Racialized Trauma and the Pathway to Mending Our Hearts and Bodies by Resmaa Menakem (2017)
About the organizer
BELOVED Compassion Network (BCN) is a nonprofit 501(c)(3) organization dedicated to teaching the practice of compassion for self and others.