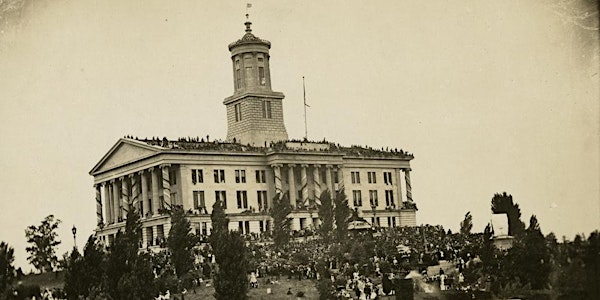 Grounded in Tradition: The Tennessee State Capitol
When and where
Location
Tennessee State Library and Archives 403 7th Avenue North Nashville, TN 37243
Description
Tennesseans take great pride in their magnificent State Capitol building. Architecturally, it is one of America's premier statehouses and still the working home of state government. Its builders believed in the classical ideal of a democracy informed by learning and saw themselves as the heirs to that tradition. They sought to embody lofty aspirations in this public structure.
On Saturday, July 13, the Tennessee State Library and Archives will host a free workshop entitled "Grounded in Tradition: The Tennessee State Capitol" by Assistant State Archivist Dr. Wayne Moore.
Hear the stories of those who labored on the Capitol, from the unpaid prisoners to William Strickland himself, from 19th century African American stonecutters and Irish masons to the 21st century Rock City crews. These and other new facts about the Capitol emerge from the wealth of records at the State Library and Archives.
Dr. Wayne Moore has employed these original sources and images from the collections of the Library and Archives to write a new history of Tennessee's finest historic building.
The workshop will be held from 9:30 a.m to 11 a.m. CDT Saturday, July 13, in the Library and Archives auditorium. The Library and Archives is located at 403 Seventh Ave. N., directly west of the Tennessee State Capitol in downtown Nashville. Free parking is available around the Library and Archives building.
Although the workshop is free and open to the public, registration is required due to limited seating.