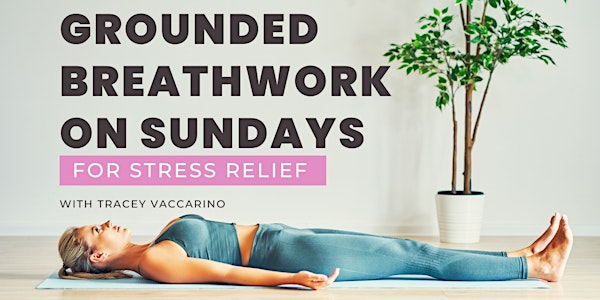 GROUNDED Breathwork on Sundays
Join Grounded every Sunday for a breathwork experience that is transformational and out of the ordinary.
Refund Policy
Contact the organizer to request a refund.
Eventbrite's fee is nonrefundable.
About this event
Join Grounded Breathwork every Sunday as we journey together and explore our inner world. Through the breath, we can experience expanded states of consciousness that allow access to repressed emotions and limiting beliefs that can be released while also creating new neural pathways. Before each journey, we explore the underlying conditioning and distortion patterns that we can choose to remove so that we can live as our limitless Self.
The mission of Grounded is to hold space for the shedding of conditioning and distortion patterns so that we can reclaim our sovereignty and raise our frequency resonance.
Virtual Breathwork Contraindications
Breathwork can result in physical and emotional release.
Disclaimer of Liability: The information and content available are intended for informational purposes only. It is not intended to diagnose, treat or cure any disease or condition. Individuals should consult a qualified healthcare provider for medical advice.
IMPORTANT: Please make sure that you have no contraindications as listed below. If you have any contraindications you will not be able to join the class at this time.
Pregnancy
Detached Retina
Glaucoma
High Blood Pressure
Cardiovascular Disease including angina, previous heart attack or stroke
Diagnosis of an aneurysm in the brain or abdomen
Diagnosis of bipolar disorder, schizophrenia or previous psychiatric condition
Epilepsy
Severe PTSD or traums
Taking any medication that alters brain chemistry-anti-anxiety, anti-depressant, ADD, OCD medications, etc.
Actively using recreational drugs
Osteoporosis
Seizures or other brain/neurological conditions or disease
Diabetes
Severe asthma
Recent surgery or stitches
Hospitalization for any psychiatric conditions or emotional crisis within the last 10 years
If you are on the contraindication list, you are not a candidate for the full breathwork technique. Please do not continue to partake in class if you have any of the contraindications listed above. We are happy to discuss gentle breathwork with you. You may email us at hello@groundedwellness.life