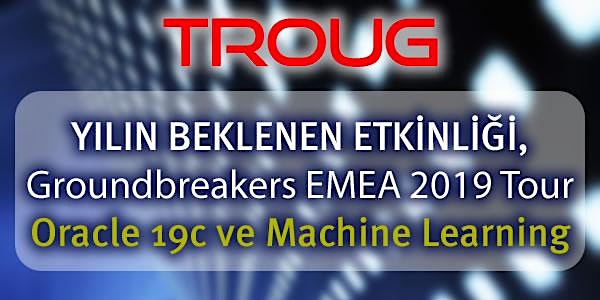 Groundbreakers EMEA 2019 Tour, İstanbul
When and where
Location
İTÜ Teknokent, ARI3 İTÜ Teknokent, ARI3 Konferans salonu. - İstanbul, - 34320 Turkey
Description
Oracle veritabanı ve ürünleri hakkında yepyeni bilgiler.
Makine öğrenmesi uygulamaları hakkında uygulamalar.
Büyük veri ve veri mühendisliği önerileri.
Katılım Sınırlıdır, bir an önce kaydınızı yaptırın!
Misafir Konuşmacılar;
Sandesh Rao
Introduction to Machine Learning – From DBA's to Data Scientists
Troubleshooting tips and tricks for Database 19c
Heli Helskyaho
The Basics of Machine Learning
Machine Learning explained with Examples
Kamran Aghayev
Move your Data Warehouse to Oracle Big Data Cloud Service
From DBA to Data Engineer – How to survive a career transition?
Ve birbirinden değerli TROUG uzmanlarının sunumları..