GROUND WAR: When Playing Fields Become Battlefields (Pesticide Documentary)
About this Event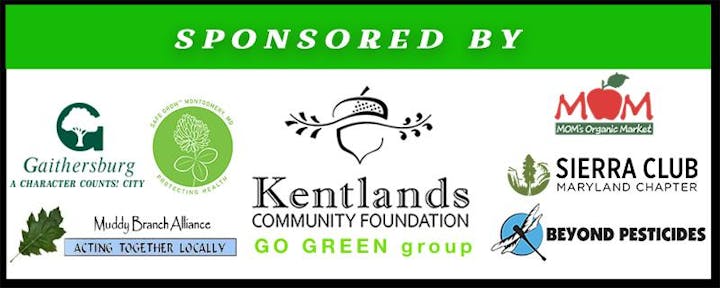 We'll notify waitlist registrations as space opens up.
Stay tune for a future screening of Ground War! Because the screening has been so popular, we are working to bring Ground War to the area again. Please be sure to sign up on the waitlist so you'll be the first to be notify of the next screening.
------------
Must Watch! What's the true nature of the chemical war with the ground, exposing our kids, washing off in waterways, and affecting wildlife?
http://groundwar.org #GroundWarDoc
Kentlands Community Foundation's GO GREEN program is pleased to host a free showing of the Maryland premiere of the environmental documentary GROUND WAR with the support of the City of Gaithersburg, Beyond Pesticides, MOM's Organic Market, Muddy Branch Alliance, Safe Grow Montgomery, Sierra Club Maryland Chapter. Please RSVP to reserve tickets.
ABOUT THE FILM: Ground War is filmmaker Andrew Nisker's investigation into the death of his father. Nisker's inquiry takes him deep into the world of golf, chemical lobbying, and citizen activism. Through his investigation, Nisker learns that the rampant use of pesticides around the world may be far more damaging than we understand.
What chance do we have at creating a safer world for our children and ourselves? The answer may lie with the incredible people he encounters along his journey.
Recent Montgomery County legislation that limits pesticide use in lawns is part of this documentary, along with highlighting local Safe Grow Montgomery group's advocacy on this law. This film was shown earlier this spring at the DC Environmental Film Festival.
Door open at 6:15pm, light refreshments and wine will be served as part of a fundraiser. Come early to visit and talk to sponsors and activists, and pick up relevant information at the sponsor tables, followed by 7:00pm documentary showing.
Post Screening Discussion: There will be a discussion after the film, moderated by Alex Stravitsky-Zeinddin of Kentlands Community Foundation GO GREEN group and
Andrew Nisker, Director of Ground War
Julie Taddeo, Safe Grow Montgomery Founding Member;
Jay Feldman, Beyond Pesticide Executive Director;
Paul Tukey, Glenstone Museum Chief Sustainability Officer;
Mary Travaglini, Montgomery County DEP Organic Lawns & Landscapes Program Manager;
Donations will be accepted for the filmmaker Andrew Nisker to assist in bring this important film to more communities.
More information about the documentary and the trailer, visit: http://groundwar.org
Showing is free, however seating is limited. Please RSVP .
Email questions or cancellations to SafeGrowMC@gmail.com.
Like or Share this event on Facebook.
If you are interested in hosting a screening in your community, please contact Take Action Films.
By registering, you may receive communications from the event sponsors. You can unsubscribe with the sponsors at any time, or send an email to SafeGrowMC@gmail.com by June 30th.