Ground Operations: Battlefields to Farmfields

Sunday, November 10, 2013 from 6:00 PM to 8:00 PM (MST)
Event Details
FREE Film Screening—Ground Operations: from Battlefield to Farmfield
For more info www.lamontanita.coop or facebook.com/veteranfarmerproject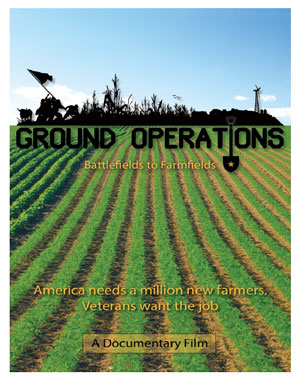 The Veteran Farmer Project presents Ground Operations: Battlefields to Farmfields, a documentary film that champions the growing number of veterans who are reclaiming their lives with new careers in organic agriculture. See this film and meet local veteran farmer heroes at this community celebration of Veterans Day.
This event is co-sponsored by the City of Albuquerque, Downtown Action Team and the City Veteran Affairs Department, VA's Behavioral Health Recreation Therapy Department and VA Office of Patient Centered Care and La Montanita Co-op. For more information contact Robin at robins@lamontanita.coop, call her 505- 217-2027, go to www.lamontanita.coop or facebook.com/veteranfarmerproject
GROUND OPERATIONS: Battlefields to Farmfields is a documentary film and national tour of audience engagement events featuring the film, farm-fresh food and farmer-veteran speakers in selected theaters and community venues. It won the Audience Favorite award at DocUtah International Film Festival and Best Solution at the Cinema Verde Environmental Film Festival.
The mission of Ground Operations is to strengthen the growing network of combat veterans transitioning into sustainable farming and ranching, and to build the resources necessary for them to create healthy new lives for themselves and food security for communities everywhere.
America needs a million new farmers. Veterans want the job!
SYNOPSIS:
Veterans from the wars in Iraq and Afghanistan face a difficult transition to civilian life, marked by high unemployment, prescription drug addiction and staggering suicide rates. They need a place to deescalate from the high-velocity impact of combat. They are service-driven people who need a new mission. Coincidentally, half of American farmers have reached retirement age and the USDA is calling for one million new farmers and ranchers in the next 10 years to fill the coming gap. Agriculture's problem is the veterans' solution. Ground Operations follows an ensemble of young men and women who tell us why they joined the military, how the war changed them, how they've struggled to return home and ultimately, how they found organic farming and ranching to be the answer to a dream. These veterans blow the lid of any stereotypes and you'll be rooting for them all the way to your local farmers market. In a world full of problems, Ground Operations is a story about solutions.
TRAILER: www.groundoperations.net
JOIN THE CONVERSATION:
www.groundoperations.net/blog
wwwfacebook.com/GroundOperations
When & Where

Kimo Theater
423 Central Avenue Northwest
Albuquerque, NM 87102


Sunday, November 10, 2013 from 6:00 PM to 8:00 PM (MST)
Add to my calendar
Organizer
La Montanita Co-op is a community-owned, consumer cooperative with three (and a forth coming soon) locations in Albuquerque, one in Santa Fe, and one in Gallup. All stores offer fresh organicproduce, bulk foods, local organic beef, lamb and other meats and cheeses, fair trade products and a wide variety of natural and organic groceries, freshly prepared deli foods, natural body care, vitamins and supplements.
The Co-op continues its decades long commitment to local farmers and producers with its regional Co-op Trade Food-Shed Project. This initiative is creating wholesale markets and providing product pick-up and distribution, supply delivery service and refrigerated storage for local farmers and producers. With over 1100 local products from approximately 400 local producers and 20% of total purchases and sales in local food, the Co-op is a leader in the local foods movement.
While we serve over 14,000 Co-op member owners, we also seek to serve the larger community through ongoing education on the importance of the cooperative economic model and on the links between food, health and the environment.