Ground Operations: Battlefields to Farmfields
Description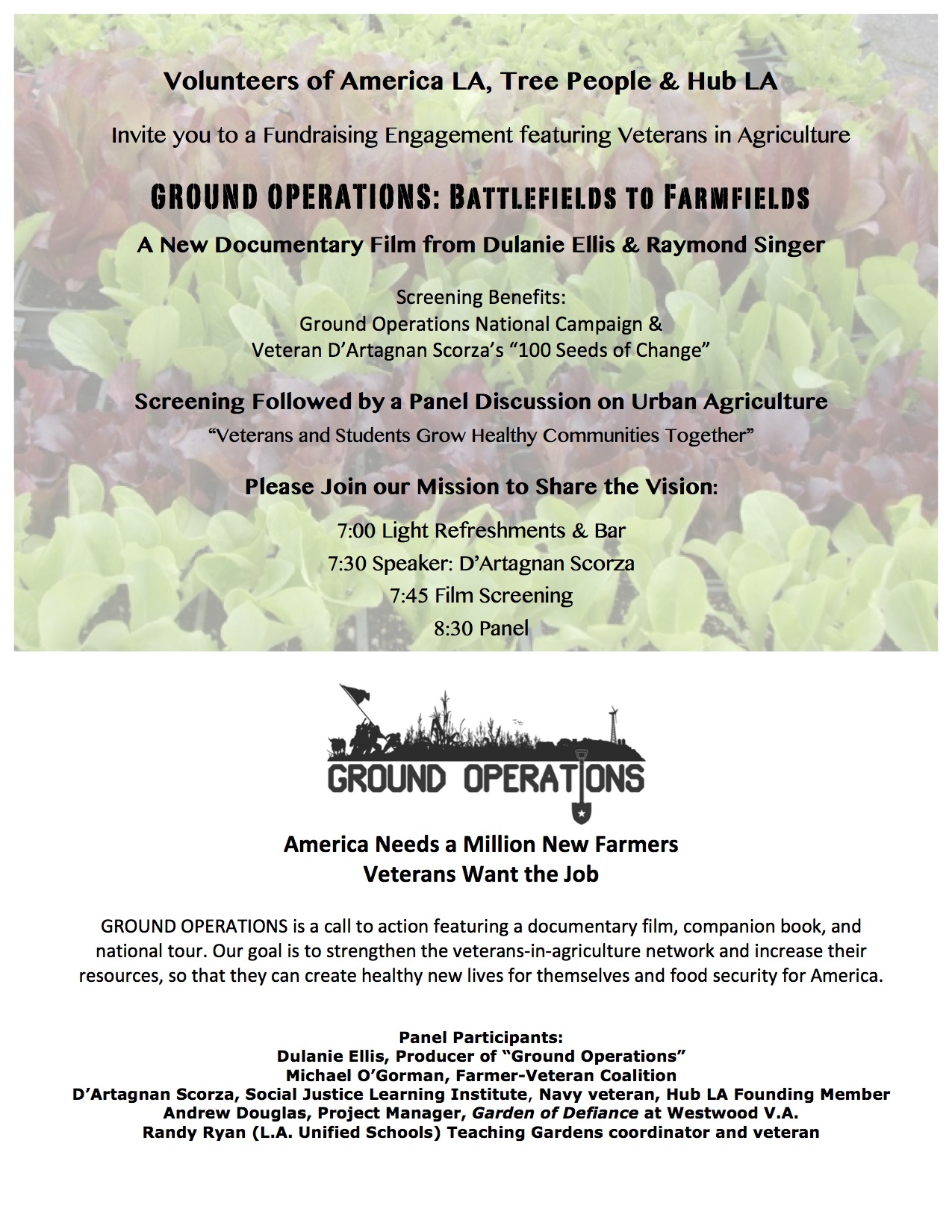 View GROUND OPERATIONS Trailer Here
NOTE: RSVPs essential due to limited seating.
$10 parking lot, or free street parking. Enter building though parking lot, Hub LA is on the 3rd Floor.
Hub LA: A new kind of membership club dedicated to the individuals and teams building the local, sustainable economy in Los Angeles and beyond. Focused on providing a curated member experience, Hub LA provides a much- needed outlet to an underserved demographic of modern day professionals, Impact Professionals, creating positive societal and environmental impact through their work in the world. Anchored by a physical space, the Hub offers members access to 4,000 square feet of creative industrial space in the heart of the Arts District to meet, work, collaborate, attend events, and socialize. www.thehubla.com
Social Justice Learning Institute "100 Seeds of Change": SJLI advances social justice in order to empower and uplift underserved communities so that we can achieve equity. The "100 Seeds of Change" initiative is committed to building a healthy, beautiful, safe, and self-sustaining local food system by creating 100 community, school and home urban gardens throughout Inglewood.
Volunteers of America: A non-profit human services organization committed to serving people in need, strengthening families, and building communities. Responding to the challenges facing veterans returning from Afghanistan and Iraq is a top priority at VOALA.
Tree People: An environmental nonprofit that unites the power of trees, people and nature-based solutions to grow a sustainable future for Los Angeles. Simply put, our work is about helping nature heal our cities.
Metabolic Studio: Aims to transform resources into energy, actions and objects that nurture life. The organization works passionately with veterans housing initiatives in the Los Angeles area.
Organizer of Ground Operations: Battlefields to Farmfields