You're invited to an incredible five-course wine dinner featuring Suzanne Groth, President & CEO of Groth Vineyards & Winery
About this event
THE BUNGALOW FIVE-COURSE GROTH WINE DINNER
Join us for the final culinary event of 2021 featuring Groth wines accompanied by Chef Alfonso's delicious paired cuisine - featuring Suzanne Groth, President CEO of Groth Vineyards & Winery.
Thursday, November 11th - 6pm - $130* per person
On Thursday, November 11th, The Bungalow Restaurant family and Suzanne Groth, President & CEO of Groth Vineyards & Winery invite you to an incredible five-course wine dinner. Our last culinary event of 2021, it will showcase some of the refreshing wines Groth Vineyards and Winery has to offer, paired with Chef Alfonso Pineda's special pairing menu.
Founded in 1982, Groth Vineyards & Winery is a family-owned company with deep roots in the Oakville American Viticultural Area, home to Napa Valley's largest concentration of top Cabernet Sauvignon producers. They farm sustainably with the dual goals of producing the highest-quality, most elegant wines they can - while caring for the estate for future generations. The featured wines of the evening will also be available for purchase at a very special price. *This intimate culinary wine dinner event will sell out. Only (50) tickets will be available.
CHEF ALFONSO'S SPECIAL FIVE-COURSE WINE DINNER PAIIRING MENU
Tray Passed Appetizers
Ahi poke on sliced cucumber
Goat cheese crostini
Pulled pork sliders with pickled red onion
2020 GROTH SAUVIGNON BLANC
Appetizer Course
Halibut ceviche with chile, lemon & sea salt
2020 GROTH ESTATE WHITE BLEND
Second Course
Slow roasted wild king salmon with goat cheese risotto
2019 GROTH CHARDONNAY
Third Course
Whole roasted beef tenderloin with buttermilk whipped potatoes & Groth cabernet reduction
2017 GROTH OAKVILLE CABERNET SAUVIGNON
Dessert Course
Valrhona chocolate mousse torte
2017 GROTH RESERVE CABERNET SAUVIGNON
*Gratuity + Tax Included. **Processing Fee Not Included. No Substitutions.
This event is 21 and over. No refunds. Please drink responsibly.
Attire: Warm Cocktail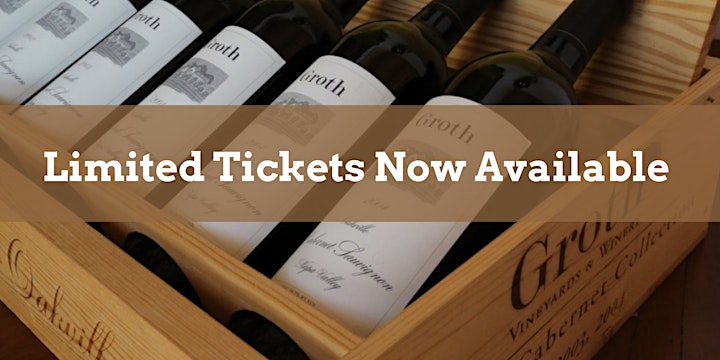 Organizer of GROTH Wine Dinner
People In The Know...Dine At The Bungalow!
(949) 673-6585