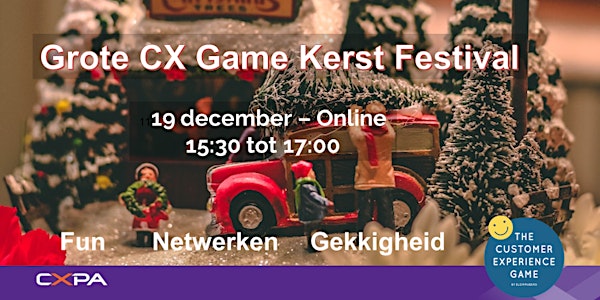 Grote CX Game Kerst Festival
Ja hoor. Het is bijna kerst. En je wilt wel even iets anders doen dan werken. Dus. Meldt je aan voor 1,5 uur Fun, Netwerken en CX gekkigheid
About this event
Heb je zin in anderhalf FUN, NETWERKEN, en CX Gamen? Kom dan naar onze net-even-iets-andere Grote CX Game Kerst Festival
Zet zelf iets lekkers te borrelen koud (of warm je Gluh Wein op), zoek een kersttrui of muts. Of als je dat allemaal iets te gek is; kom gewoon gezellig meedoen met de CX Game.
Als host hebben we de super toffe Kerstster Babs Asselbergs en ze wordt geholpen door haar Kersthulp Nienke Bloem, moet het wel tof worden; toch?
Inloop 15:15, lekker netwerken en alvast in de sfeer komen
Start 15:30. Echt vette KickStart, dus bereid je vast voor. We gaan gebruik maken van de CX Game, leren van alles over CX en maken op een toffe kerst manier contact met elkaar.
Klaar: 17:00 en ach, er zullen vast mensen willen blijven hangen. En dat mag ook!
Meld je snel aan! Je ontvangt de Zoom link de dag voor de sessie.
Greetz, Babs en Nienke
ps. We spreken deze middag Nederlands