Come see the Groovy Movies exhibit at Del Ray Artisans gallery featuring artwork inspired by motion pictures!
About this event
Come see art inspired by the movies—from American Film Institute (AFI) classics to cult films like "Abbott & Costello Meets Frankenstein", "Barbarella" to "Yellow Submarine" and "Zorba the Greek"! The Groovy Movies art exhibit at Del Ray Artisans features 2-dimensional and 3-dimensional visual art in the gallery space.
Reserve a ticket now for a half-hour viewing on opening day: Friday, November 5, 2021 between 12-9pm. Tickets are only offered for opening day and are not required, but ticket holders have priority access.
Gallery capacity is limited to 15 people at any one time. Face masks must be worn by all while visiting the gallery.
The exhibit runs November 5-28, 2021. Gallery hours are Thursday 12-6pm, Friday 12-9pm, Saturday 12-6pm, and Sunday 12-6pm. The gallery is closed on Thanksgiving day (Thursday, November 25). Typically the gallery is closed the last Sunday of the month, but this exhibit is extended through and open on Sunday, November 28 from 12-6pm.
More details on the exhibit at DelRayArtisans.org/event/groovy-movies-opens
Artwork Credit: The photograph "Technicolor 1977" is a self portrait by John W. Hiller (1935-2020) a longtime Del Ray Artisan member, cinematographer, producer and an Oscar and Emmy winner. In July 2021 Del Ray Artisans established the John W. Hiller Photography and Film Scholarship which will be awarded to a high school student for photography or film excellence. Donations are appreciated to help fund this new scholarship.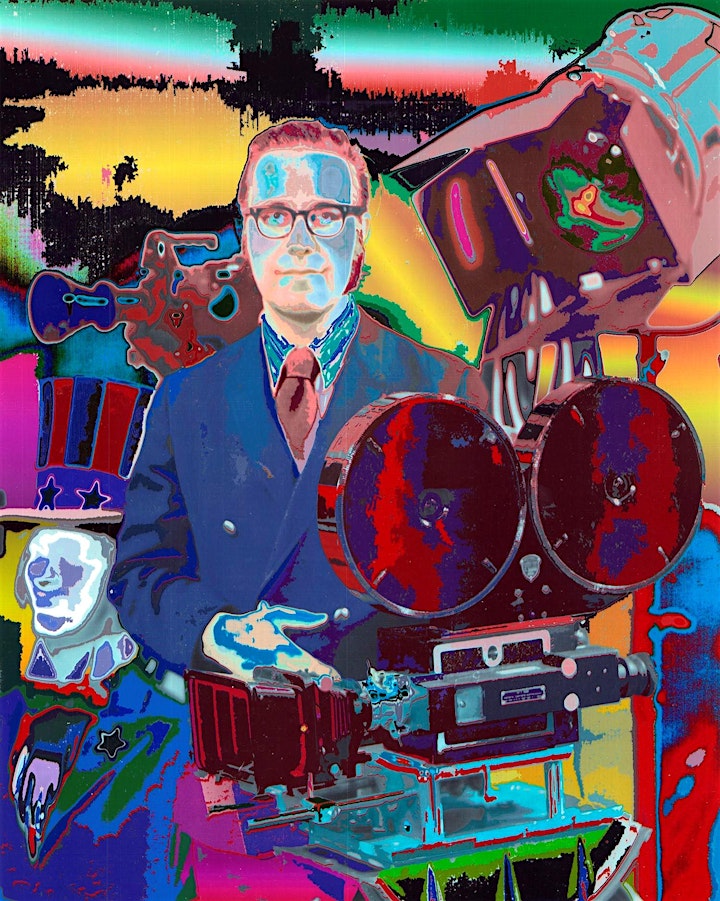 Organizer of Groovy Movies art exhibit opening day (Friday, Nov 5) tickets