5th Annual Groove in the Garden w/ Sarah Shook & The Disarmers, Kooley High, Hot at Nights Orchestra, Urban Soil, Arson Daily + more!
About this event
Groove in the Garden is an annual one day music festival featuring North Carolina's hottest acts on two stages. Produced in partnership by The Pour House Music Hall and Raleigh Little Theatre, Groove in the Garden is back for its 5th year at RLT's beautiful Stephenson Amphitheatre and Raleigh Rose Garden.
Gates open at 1pm.
Music from 2pm-8pm.
**************************************
MAIN STAGE LINEUP & SET TIMES:
**************************************
SARAH SHOOK & THE DISARMERS
7:00pm Main Stage | Outlaw Country | Watch | Listen
This North Carolina honky-tonk punk strikes a defiant onstage posture with a voice that goes right for the throat, a feral switchblade snarl that sometimes eases and glides but never softens...coming across as Chrissie Hynde with a drawl. — Rolling Stone
KOOLEY HIGH
5:45pm Main Stage | Hip Hop | Watch | Listen
North Carolina Super-Group Kooley High arrives on the scene with the mission to delight, electrify and ignite seas of listeners thirsty for something new from the world of Hip Hop. Since they began making music in 2007, the 5 independent members have been allowed and encouraged to let their individual talents and styles flourish, ensuring the sounds coming out of the Kooley High music factory are one-of-a-kind.
HOT AT NIGHTS 18 PIECE ORCHESTRA
4:30pm Main Stage | Jazz | Watch | Listen
The Hot at Nights were formed during the sweltering summer of 2010 in NC. Chris Boerner, Matt Douglas and Nick Baglio set out to explore the sonic possibilities of an eight string guitar based trio. The resulting sonic exploration was heavily influenced by the origins of jazz at the turn of the century, emblazoned by the raw and unbridled freedom of the 50′s and 60′s, and electrified by the external forcings of the 80′s. Since then the band has three LP's and one EP to their credit, as well as two collaborative releases with Nicolay of The Foreign Exchange.
The Hot at Nights Orchestra is their latest endeavor. Expanding from 3-piece to a full complement 17-piece jazz big band has been no small task. The resulting wall of sound has opened up new uncharted sonic territory for the group. Realizing some of The Hot at Nights' earlier compositions in this form, this orchestra is a feat to behold.
URBAN SOIL
3:15pm Main Stage | Americana, Soul | Watch | Listen
Influenced by early roots elements, Raleigh's Urban Soil weaves Americana, rock and soul into their explosive live shows and polished recordings. Their studio albums display the uncompromising energy that Urban Soil consistently delivers live, and are a stimulating representation of the band's skillful-yet–visceral sound.
ARSON DAILY
2:00pm Main Stage | Alternative Rock | Watch | Listen
Starting in 2014, North Carolina natives Arson Daily combine an alt-rock indie-garage sound reminiscent to the rage of bands like Cage the Elephant and Portugal the Man . Getting their early start performing in crowded basement shows in the mountains of Boone NC, the months spent playing these shows would only help contribute to their growth as performers. It's essential to let their energy encapsulate the listener, holding them hungry for the next show. They're on track to release their second full length album early 2020.
**************************************
GARDEN STAGE LINEUP & SET TIMES:
**************************************
CASEYMAGIC
5:15pm Garden Stage | Punk Rock Magic | Watch
Raised on the DIY ethics of punk rock, Michael's mind-boggling performances and conversational style have made him a favorite among musicians. In addition to being the personal magician to Dierks Bentley and Sheryl Crow, Michael finds that performers such as Joe Walsh, Brad Paisley, Gavin Rosdale, and Chris Stapleton all count themselves fans.
CLINT ROBERTS
4:00pm Garden Stage | Modern Americana | Watch | Listen
Clint Roberts is a Roots Rock artist hailing from the Blue Ridge Mountains of North Carolina. In 2017, Clint released his first solo Album entitled Hamlet Blues. Hamlet Blues speaks to themes of heart break and existential crisis, while delivering it in a rootsy package with pop sensibilities. Since it's release, Roberts has frequently toured much of the south, sharing the stage with acts such as The Wood Brothers,The Steel Wheels, and Cris Jacobs.
INTO THE FOG
2:45pm Garden Stage | Newgrass | Watch | Listen
Brian grew up in Wake Forest, North Carolina and moved to Wilmington in 2011 to study at UNCW. His first exposure to playing music was going to the Campbell Folk School and other folk music camps across North Carolina with his grandparents playing the dulcimer. At the age of ten he picked up the guitar, and started writing songs a few years after that. His style is that of a folk/country singer-songwriter and much of his musical influences come from exposure at a young age to outlaw country and the rock of the 60's and 70's by his father Mark. By the time he got to UNCW, he had picked up playing the banjo and mandolin. Then exposure to newgrass and jam bands developed his style further. He's looking forward to taking the next step in his musical career and exploring the country.
**************************************
TICKET PRICES:
**************************************
Advance Single Ticket - $15
Advance Four Pack of Tickets - $45
Day Of Single Ticket - $20
Kids 5 & Under - Free
**Advance priced tickets are available until September 20 at 11:59pm.
**************************************
A HUGE THANK YOU TO OUR SPONSORS & PARTNERS:
**************************************
Beer Sponsor: Mims Distributing & Foothills Brewing Company
Presenting Sponsor: Alt 95.3 FM, Capital Chrysler Jeep Dodge, CSL Plasma
Media Partner: WKNC 88.1 FM, WUNC
Garden Stage: Citrix Cycle
Vendor Village: GoRaleigh
Kids Zone: O2 Fitness
Friends of the Garden: Alamo Draft House, 2112 Percussion, Sonitrol Security, Raleigh Heating & Air, Weaver Street Market, Monarch Realty Co., Logan's Trading Company, Stuff To Do In Raleigh, Unleashed , The Dog & Cat Store, Friends of the Library
**************************************
PARKING:
**************************************
The Raleigh Little Theatre parking lot will be reserved for vehicles with disability parking placards only.
General Parking is available on the streets surrounding the Raleigh Little Theatre campus and nearby parking lots.
Click here for a map to free nearby parking lots.
**************************************
DRINKS & FOOD:
**************************************
Food Trucks: Pie Pushers, Long Leaf Swine, Baguettaboutit, Goodberry's
Foothills draft beer, red & white wine, Larry's Iced Coffee & water are available to purchase in two locations:
1) Next to food trucks & box office 2) Next to the Garden Stage & Vendor Village.
Valid ID required to purchase beer and wine.
No outside alcohol is allowed.
You are welcome to bring your own non-alcoholic drinks into the venue.
No glass bottles allowed.
**************************************
GENERAL INFO:
**************************************
Groove in the Garden is All Ages.
The theatre and security staff reserve the right to check coolers and personal belongings.
Dogs are allowed (yay!!) but must be kept on a leash and be well-behaved.
Bringing blankets or chairs makes seating more comfortable. Lawn chairs or the folding chairs that come in a bag work well. There is grass between the concrete benches and chairs fit well in those spaces.
Indoor restroom facilities, which are wheelchair accessible, are available at the Sutton Theatre lobby entrance. Port-a-potties, which are also wheelchair accessible, are located to the left of the stage near the ramp and by the food trucks.
**************************************
VENDORS:
**************************************
We have an incredible selection of 40+ vendors this year curated by our friends at Raleigh Night Market!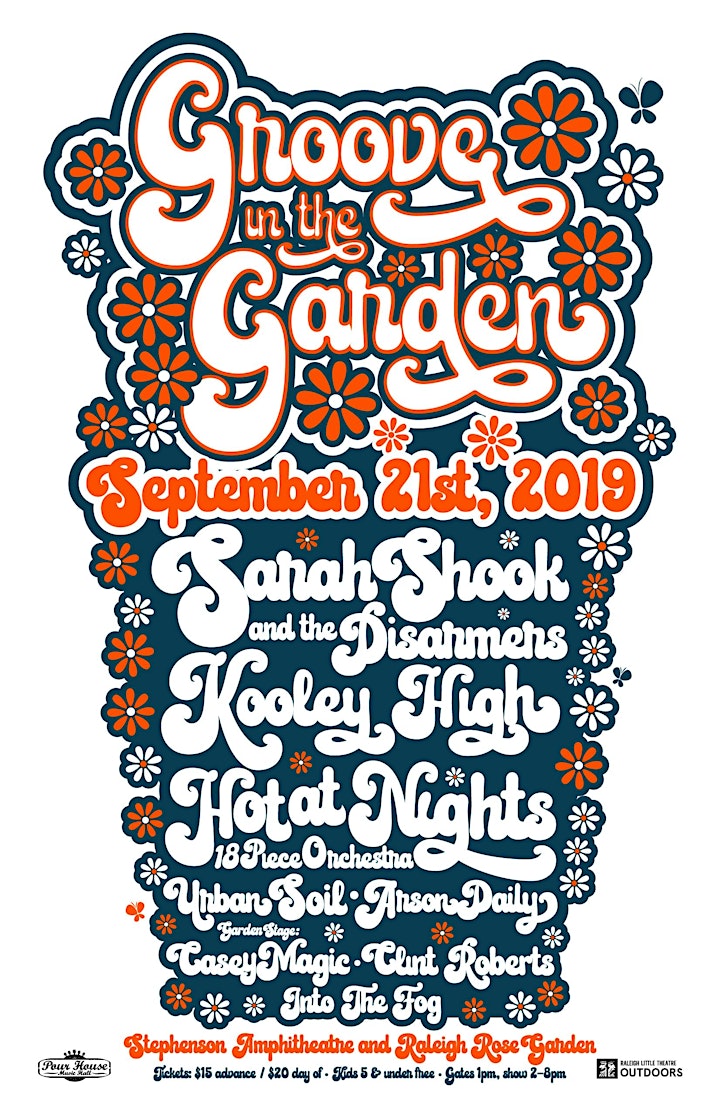 Organizer of Groove in the Garden 2019