Groove & Graze, 1969 Rock & Beer Tasting | The Craft & 'Que Series
Description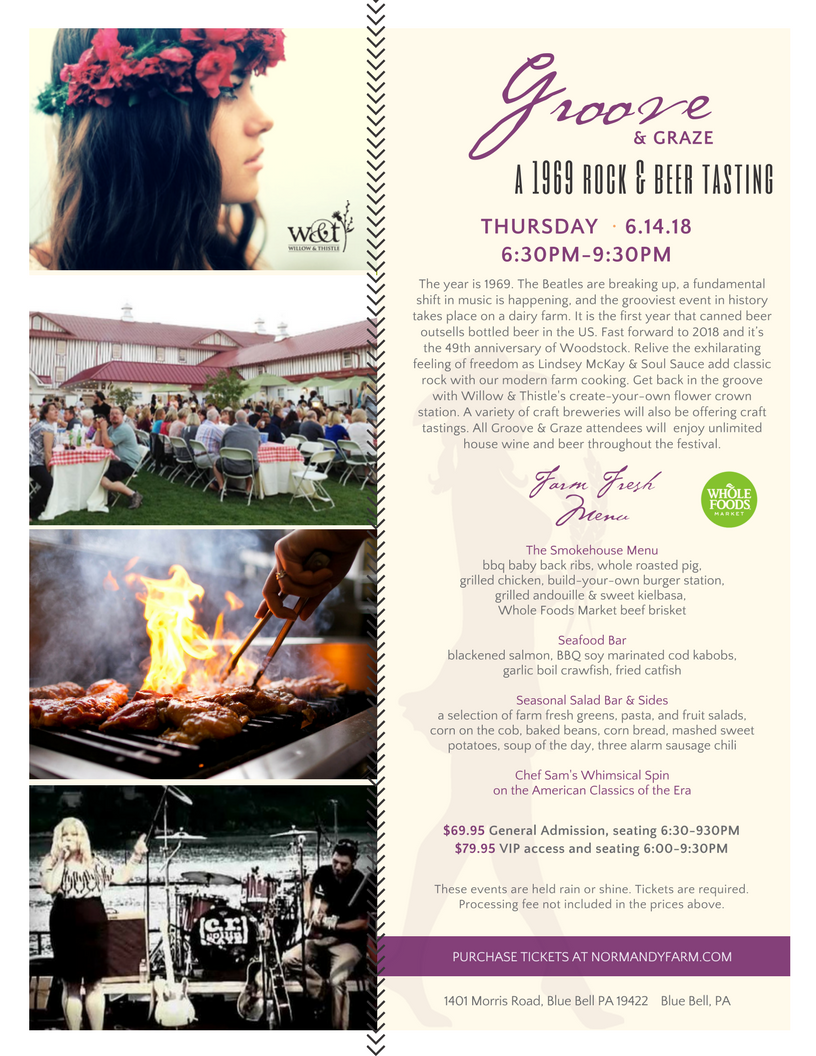 Groove & Graze (June 14th, 2018)
The year is 1969. The Beatles are breaking up, a fundamental shift in music is happening, and the grooviest event in history takes place on a dairy farm. It is the first year that canned beer outsells bottled beer in the US. Fast forward to 2018 and it's the 49th anniversary of Woodstock. Relive the exhilarating feeling of freedom as Lindsey McKay & Soul Sauce add classic rock with our modern farm cooking. Get back in the groove with Willow & Thistle's create-your-own flower crown station. A variety of craft breweries will also be offering craft tastings. All Groove & Graze attendees will enjoy unlimited house wine and beer throughout the festival.
Farm Fresh Menu:
The Smokehouse Menu
BBQ Baby Back Ribs, Whole Roasted Pig, Grilled Chicken, Build-You-Own Burger Station, Grilled Adnouille & Sweet Kielbasa, Whole Foods Market Beef Brisket
Seafood Bar
Blackened Salmon, BBQ Soy Marinated Cod Kabobs, Garlic Boiled Crawfish, Fried Catfish
Seasonal Salad Bar & Sides
A Selection of Farm Fresh Greens, Pasta, and Fruit Salads, Corn on the Cob, Baked Beans, Corn Bread, Mashed Sweet Potatoes, Soup of the Day, Three Alarm Sausage Chili
Dessert featuring Chef Sam's Whimsical Spin on Classics of the Era
Tickets are $69.95 for General Admission, 6:30 p.m.–9:30 p.m., or $79.95 for VIP access, 6:00–9:30 p.m.
This event will take place rain or shine.
Tickets are required. Processing fee not included in the prices above.