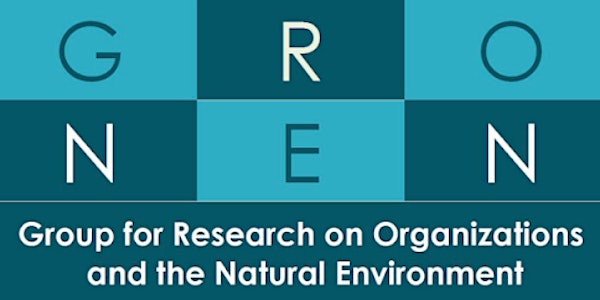 GRONEN 2022 - Keynote panel: Sustainability in Context - Zooming Out
Keynote Panel Discussion: "Sustainability in Context - Zooming Out" - hosted by GRONEN Research Conference 2022 at University of Amsterdam
About this event
Register here for the Keynote Panel Discussion: "Sustainability in Context - Zooming Out", as part of the GRONEN Research Conference 2022, hosted by the Amsterdam Business School, University of Amsterdam.
This plenary session will discuss how innovation and scaling relate to each other, and what organizations need to consider in order to achieve an effective pathway to impact. These ideas will be contextualized by two industry leaders who will discuss their learnings and perspectives of scaling impact and building ecosystems.
Keynote panelists:
Johanna Mair is a Professor of Organization, Strategy and Leadership at the Hertie School in Berlin. She is the academic editor of Stanford Social Innovation Review and co-directs the Global Innovation for Impact Lab at the Stanford Center on Philanthropy and Civil Society. At the Harvard Kennedy School she has co-directed the Social Innovation + Change Initiative. Her research is published in leading scholarly journals and she serves on the board of foundations and advises companies and governments on social innovation. Before earning her PhD in management from INSEAD, she was involved in executive decision-making in international banking. From 2001 to 2011, she was a member of the Strategic Management faculty at IESE Business School in Barcelona. In 2008, the Aspen Institute recognised her as a "Faculty Pioneer" in Social Entrepreneurship Education.
Tatiana Glad is an entrepreneur, sustainability practitioner and change strategist with a focus on impact entrepreneurship, social innovation, and sustainable business. Tatiana is Executive Director of the global Impact Hub network and co-founder of social enterprises Impact Hub Amsterdam and Waterlution. She has a MSc in Responsible Business Practice, is on the University of Amsterdam Honours Programme Sustainability Board and previously served as an appointed expert to the City of Amsterdam's Social Entrepreneurship action program and as Supervisory Group chair of AIESEC International. As a steward of the Art of Hosting, participatory community building is at the core of her work. Tatiana is Canadian, based in Amsterdam.
Eva Gouwens has 18 years of experience in the consumer goods business, and joined Fairphone at the end of 2017 where she took over as CEO in 2018. Eva brings her natural ability to inspire and empower people, and transform Fairphone's impact goals and strategy into actions. She hopes to make the world a bit more beautiful by supporting the growth of social enterprises within the Netherlands, and by inspiring an industry to make a positive change in how we care for people and the planet.
Chair:
Willemijn van Dolen is Professor of Marketing at the University of Amsterdam. She also serves as a member of the supervisory board of AFM and a member of the board of Grachtenfestival. Her research focuses on social media and responsible marketing and consumption. Willemijn is a member of the organizing committee of the GRONEN 2022 conference.
Time: Thursday June 2, 10:45am-12:15pm CEST // 16:45pm-17:15pm SGT
Format: Online via Zoom (link will be sent separately)