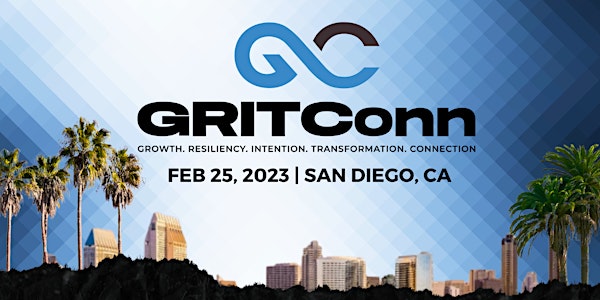 GRITConn - San Diego 2023 (A KORE Women and Launch Team Consulting Event)
GRITConn offers an experience to inspire and empower people who envision new beginnings and want to create meaningful connections.
When and where
Location
LUCE on Kettner 2310 Kettner Boulevard #Suite A San Diego, CA 92101
About this event
GRITConn is a conference experience that will highlight Growth, Resiliency, Intention, Transformation, and Connection through high energy, creativity, storytelling – the journey.
Who is this for?
Individuals looking for career growth and leadership in their current organization so they can level-up
Emerging entrepreneurs
Active duty, separated and retired military seeking a career change or wanting to start a business
Military spouses
People looking to pursue their second career or to curate a new professional path
Folks looking to start their new journey with new skills, innovation, and a can-do mindset
Action-takers ready to lean-in and learn more about what GRIT is and how to apply it to their next steps
Individuals that want to go beyond networking to create meaningful professional and personal relationships
Who is this not for?
Individuals who are not ready to create the change that they have been dreaming about
People who are not ready to elevate their personal and professional vision for themselves
Professionals that are not open to the idea of curating a path that aligns with their values
Individuals who choose to remain still and not take the action to live a different path
Our incredible speakers will get you pumped-up, inspired, engaged, and excited about starting your new journey towards making your dreams a reality, starting that new career, taking the exciting steps into entrepreneurship, and ready to take the leap into your new journey!
GRITConn is a KORE Women and Launch Team Consulting Production
Tickets
VIP Tickets include (limited number available)
Table close to the front
Red carpet access
(2) Drink Tickets for the after party mixer
Business name on event program
General Admission
Admission to the event and after party
Early Bird
Discounted ticket for admission to the event and after party
Take advantage of this special pricing as Early Bird sales end on Saturday, December 17, 2022.
Q & A
Q: What time does registration begin?
A: 9:30am to 10:30am (PST)
Q: Will there be a red carpet event?
A: For all VIPs and Sponsors, there will be a red-carpet event during registration from 9:30am (PST) to 10:30am (PST).
Q: What time does the event go until?
A: The conference will go until 6:30pm (PST) and there will be a mixer with a DJ, cash bar, photobooth, and snacks from 6:30pm - 8:30pm (PST), where all attendees are invited.
Q: Will there be lunch?
A: Yes. Lunch will be served by Phil's BBQ, where there will be a meat and vegetarian option. The lunch will be a pulled pork sandwich to include sides or a vegetarian burger. If you want the vegetarian option, please let us know by emailing: GRITConn@gmail.com.
Q: What are our parking options?
A: Parking options below:
Self-Park & Pay (Day-of) Option: no reservations needed! Guests can self-park and pay at either Laurel Airport lot (1025 W Laurel St Suite) or Aladdin Airport lot (2548 Kettner Blvd), less than a 10-minute walk from the venue. Visit their website or contact them directly as rates vary.
Reserve in Advance (Self Park): you can reserve and prepay for spaces in advance with Richard at the Aladdin public lot (2548 Kettner Blvd). Contact him directly for rates/availability: rabdala@spplus.com.
Valet: Aloha Valet is partnering with the Aladdin Airport lot for valet services. Guests can pull up to the front of the venue and valet will park cars at Aladdin. Please reach out to Fred with Aloha for rates and availability: Fred@alohavaletservices.com.
Q: What are some of the hotels in the area?
A: A few hotel options:
(Please make sure to book your room as soon as possible as room availability is going very quickly.)
Q: How can I be a sponsor of GRITConn?
A: Contact the GRITConn Team at: GRITConn@gmail.com
Pre-Conference Mixer
What: Time to get together, have some fun, and meet other attendees before the GRITConn event.
Where: To Be Announced (Downtown San Diego)
When: Friday, February 24, 2023
Time: 5:30pm to 8:00pm
(More Details to Follow)
Meet Our Speakers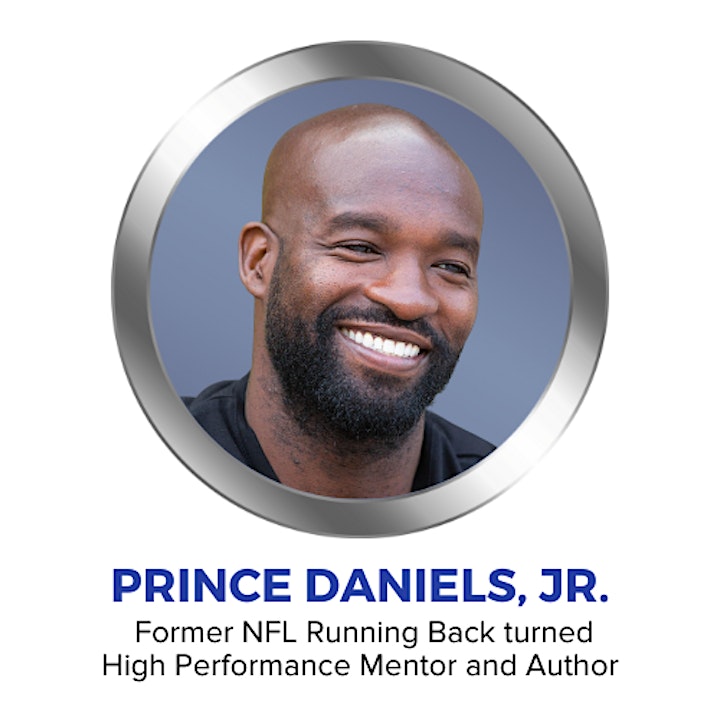 Some call him half human, half monk, Prince Daniels Jr. is a former NFL Running back and high-performance coach who works with high achievers and athletes to unlock their peak performance. He is the author of Mindfulness for the Ultimate Athlete: Mastering the Balance Between Power and Peace and the creator of the Unlocking your Peak Performance masterclass. Prince is also the founder of Game Beyond the Game, an ecosystem helping athletes find their purpose and vision in life beyond the game. From an athlete who realized his dreams of playing in the NFL, using meditation as the tool for recovery from his depression and loss of identity and going on to live a thriving and purpose-driven life, Daniels's message is nothing short of inspirational.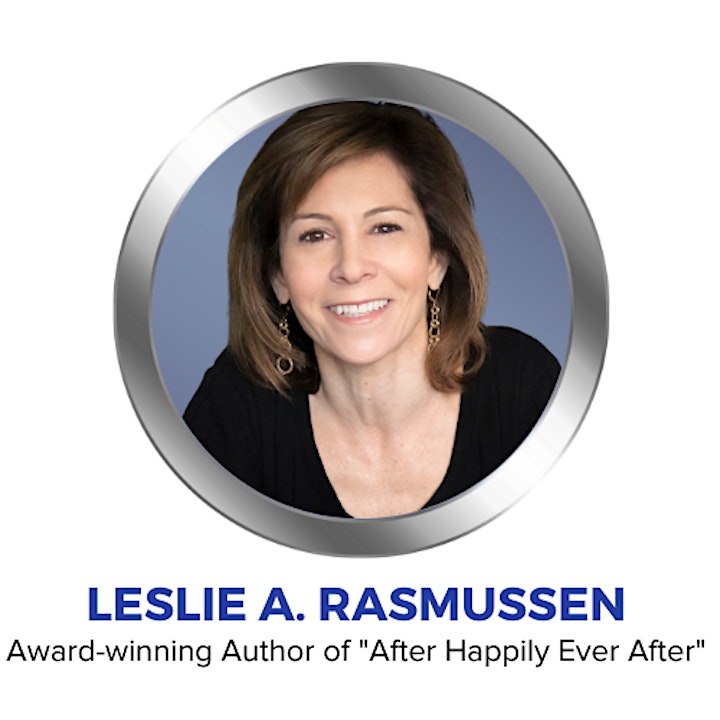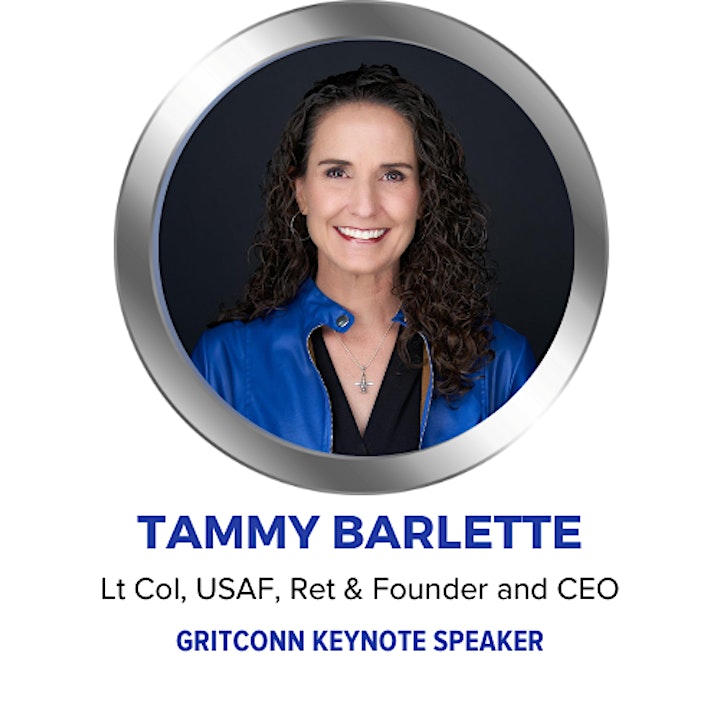 Tammy Barlette, a US Air Force fighter pilot, retired in 2018 as a Lieutenant Colonel. Upon retiring she became a professional speaker and founded Athena's Voice, a speaker referral business featuring female military pilots from around the United States. She is also a mental performance coach for aviators, specializing in the art of perseverance. Tammy served in the US Air Force for over 20 years, flying multiple aircraft, to include the T-37 Tweet, T-38 Talon, A-10 Warthog, MQ-1 Predator and MQ-9 Reaper, accumulating more than 3000 total flying hours and over 1500 hours of combat support time assisting and protecting troops on the ground in both Iraq and Afghanistan. She is also a graduate of the prestigious US Air Force Weapons School and has a Master of Arts in Christian Ministry. Tammy is married to a US Federal Agent and has three children.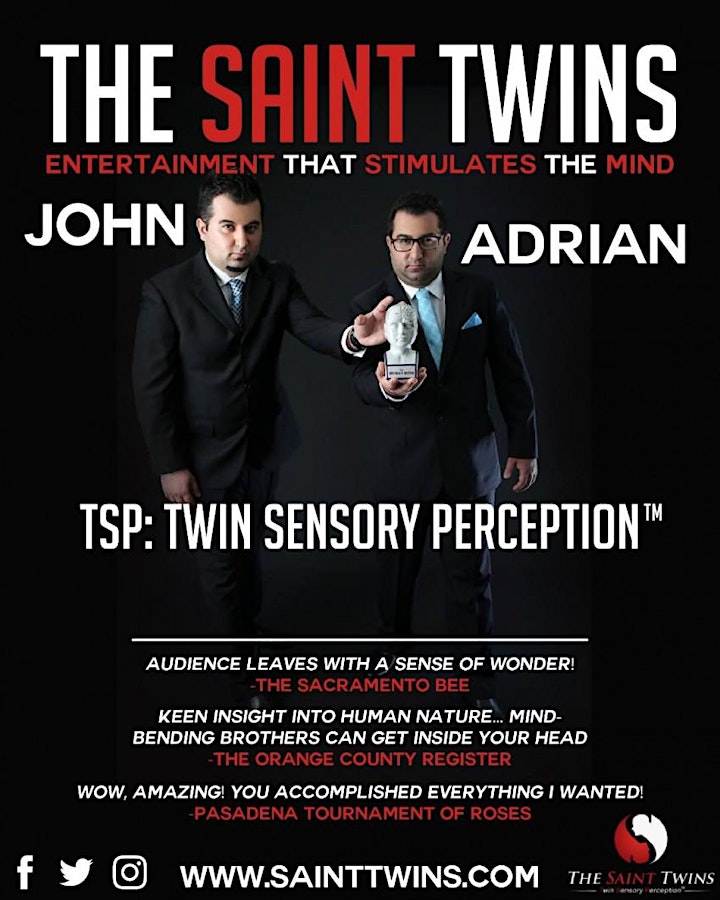 Adrian & John - The Saint Twins offer a truly unique entertainment experience unlike anything else you've ever seen before. Their mind blowing & astonishing 30-75 minute interactive "TSP: Twin Sensory Perception™" show involves many random members of their audience in mesmerizing and high energy demonstrations such as twin mind to mind telepathy, thought projection, thought reading, persuasion, hypnosis & much more that leave people in utter amazement!
During their "TSP: Twin Sensory Perception™" show, the Saint Twins involve the entire audience in fun "mind games." Think of any thought: Important names, moments, or places in your life, it doesn't matter what you think of, the Saint Twins will tell you what it is! The name of your first love, special dates or even your most precious and important childhood memory - it's no challenge to the Saint Twins. If the thought exist in your mind – the Saint Twins can reveal it in an entertaining and amazing way. Predictions made weeks before the show are revealed and...well basically you have to see it to believe it! Your audience will be entertained and astonished.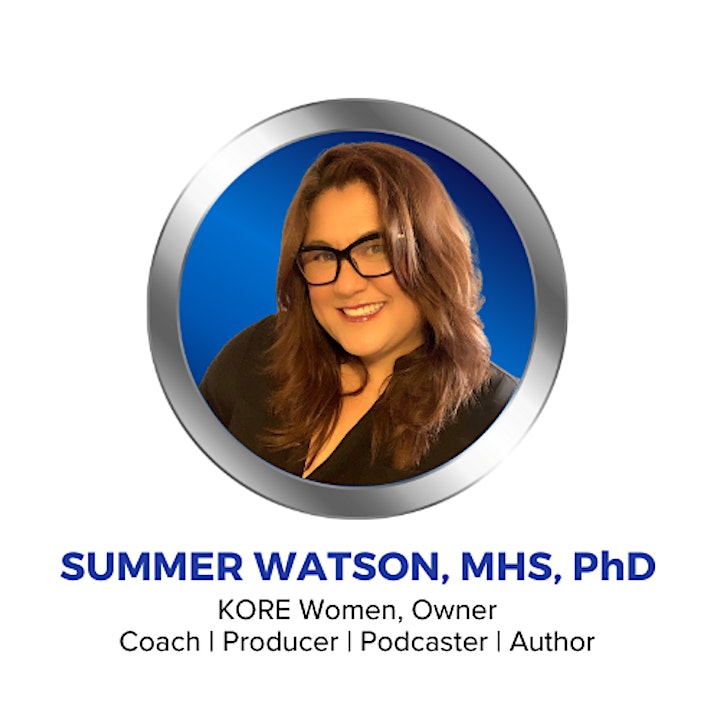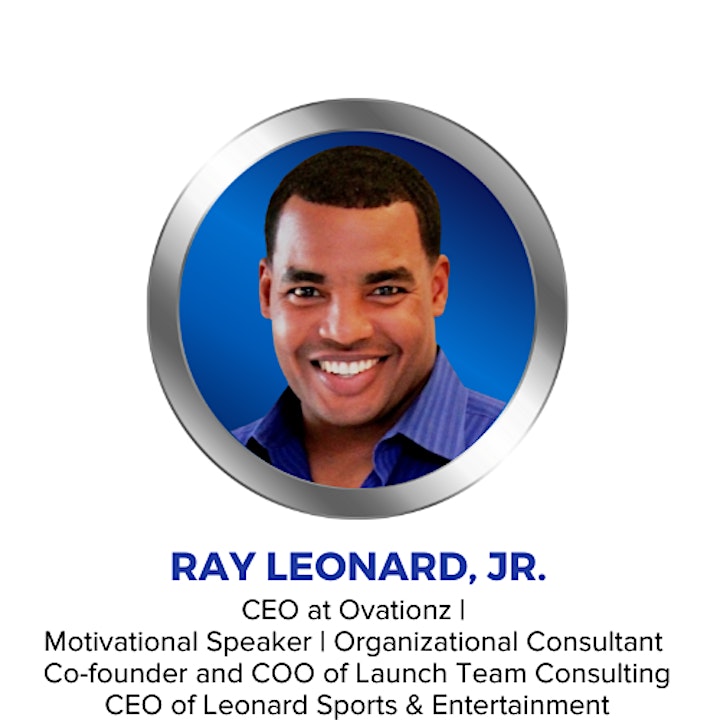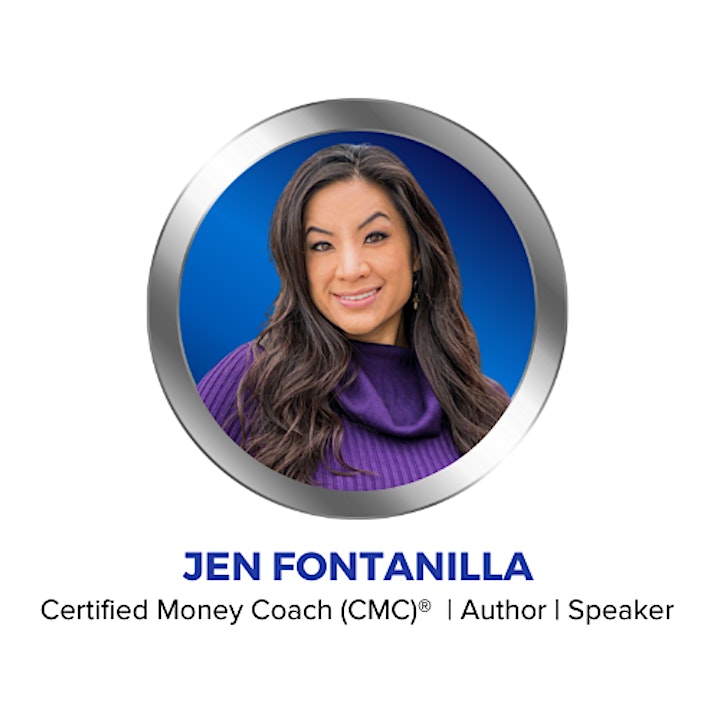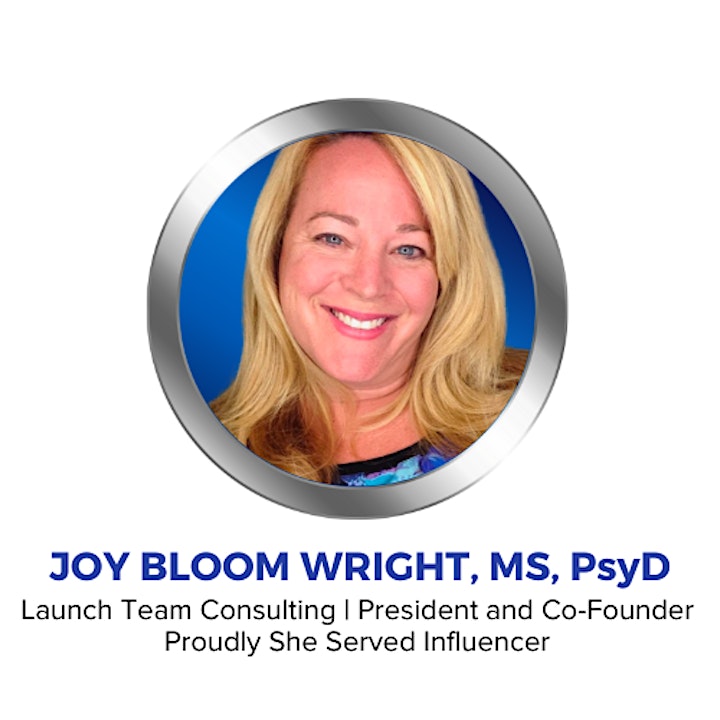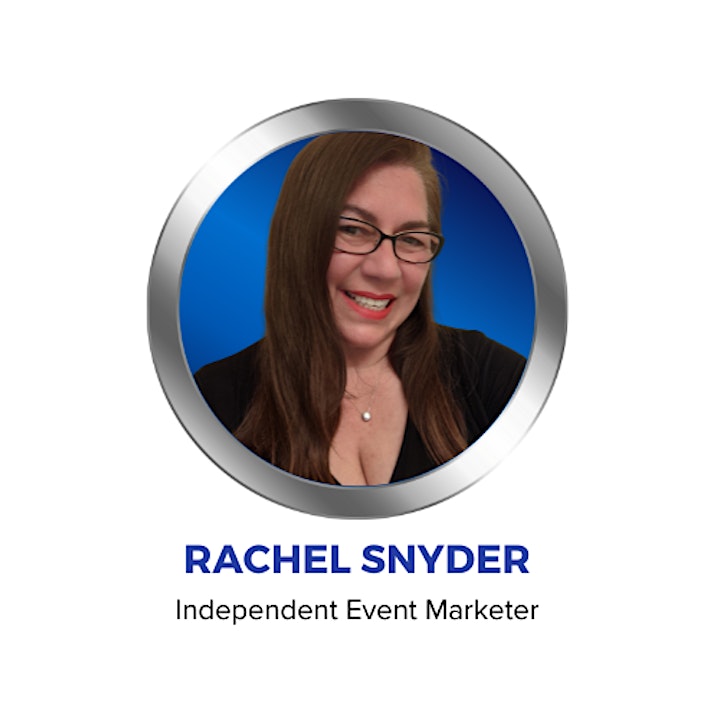 Disclaimer: By attending this event you hereby consent to having your photo/likeness/recordings posted publicly and on social media. These images will be used by KORE Women, LLC and Launch Team Consulting to share news about the GRITConn event and to publicize our future events. Images may be used in press releases, printed publicity and published on the KORE Women, LLC website and social media pages, the Launch Team Consulting website and social media pages as well as on the GRITConn social media pages and landing page. All images will be stored securely. There will also be a photobooth at the GRITConn event, where you will have access to the photos you have taken with your group.
Disclaimer: All speakers will receive attendees' e-mail contacts.
GRITConn is an experience where your new journey begins!