Description
Canva is transforming the way the world designs and creates content with their amazingly simple graphic design software. Backed by leading US investors, Canva is recognised as Australia's fastest growing startup.
Canva is currently in hyper-growth mode, with 18 million users and over 100 team members. Barely three years old, more than 40,000 people sign up to Canva every day and two designs are created every second.
Mahesh Muralidhar, Canva's People Lead, is visiting Auckland this Friday and we're stoked to be hosting him for a roundtable event. Mahesh will take us through Canva's impressive growth journey, sharing lots of startup and scale lessons along the way.
This will be an awesome opportunity to learn more about high growth startups. The session will run as follows:
8.00am | Chats and bagels.
8.10am | Presentation begins
8.30am | Q&A session
8.45am | More time to chat
9.00am | Event wraps up
Canva are always looking to attract more engineers and designers to join their team. There'll be time after the session to also ask questions about recruitment, career opportunities and company culture.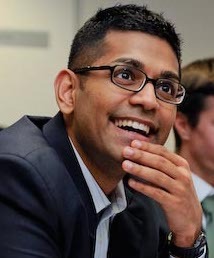 About Mahesh:
Mahesh leads People Operations at Canva. Mahesh kicked off his career in Auckland in talent acquisition. He has had the opportunity to work across different US, Tokyo, India, NZ and Australia. Post his MBA he worked in strategy consulting, worked in strategy roles in consulting an in house and then bootstrapped his own startup in the talent space. Post exit, he has joined Canva to make it the best place in the world to work in. He is a proud Kiwi and a huge Mehrts fan.
How to get here:
There is a lot of construction happening around GridAKL at the moment which can make it a little tricky to get here. This how to get to GridAKL page will help you find your way.
G.R.I.T (Get Really Inspired Today) is a speaker series bought to you by GridAKL.