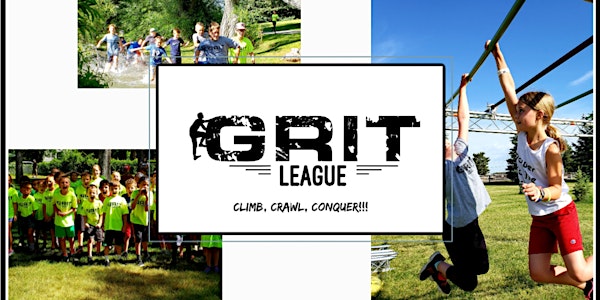 Grit League 2023
Kids' Obstacle Races in Idaho Falls!
Refund Policy
Refunds up to 7 days before event
Eventbrite's fee is nonrefundable.
About this event
63 days 3 hours

Mobile eTicket
For 2023 we will be holding 8 kids' obstacle races in Idaho Falls plus our awesome MUD RUN for the whole family at Sandy Downs in Idaho Falls!
This year there are new obstacles, new challenges, and new prizes to be won. We'll have cool awards that can be earned by our Grit League Obstacle Racers. Races in Idaho Falls will be Monday mornings during June, July and August. In Idaho Falls we'll use Ryder Park, Sandy Downs, Freeman Park and Tautphaus Park.
You can see our most recent Newsletters at www.gritleague.com/newsletters.
SCHEDULE
June 5 (IDAHO FALLS-Tautphaus Park)
June 12 (IDAHO FALS-Ryder Park)
June 18 (IDAHO FALLS-Freeman Park)
June 26(IDAHO FALLS-Sandy Downs)
July 17 (IDAHO FALLS-Tautphaus Park)
July 24 (IDAHO FALLS-Freeman Park)
July 31 (IDAHO FALLS-Ryder Park)
August 7 (IDAHO FALLS-Freeman Park)
August 12 (FAMILY MUD RUN-Sandy Downs)
COST:
COMPETITIVE DIVISION (8:00 AM)
SINGLE RACE: $20
3 RACE PACK: $50 (Includes T-Shirt and Swag)
6 RACE PACK: $90 (Includes T-Shirt and Swag)
9 RACE PACK: $120 (Includes T-Shirt and Swag)
NOTE: Competitive Division Race is a 2 lap (longer course/harder obstacles) race where prizes are awarded to 1, 2, and 3 place in each age/gender division. Competitive racers may also run at the 9:00 Open to complete laps toward badges. Entry into competitive races, includes free entry into the Open Division).
OPEN DIVISIONS (9:00 AM and 10:00AM)
SINGLE RACE: $15
3 RACE PACK: $40 (Includes T-Shirt and Swag)
6 RACE PACK: $75 (Includes T-Shirt and Swag)
9 RACE PACK: $100 (Includes T-Shirt and Swag)
NOTE: Open division participants are allowed to have help and/or skip obstacles if needed. They will have approximately 30 minutes to complete as many laps of the course as they can, earning points toward our "Grit Badges".
RACE AND TRAINING TIMES
JUNE-JULY-AUGUST (Monday Mornings):
IDAHO FALLS
8:00 AM Competitive
9:00 AM Open
10:00 AM Open Jr.
COURSE INFORMATION
Open Obstacle Courses will be approximately 400 yards long, with 5-10 obstacles. Courses will be different in terrain, difficulty, obstacles, etc. each week. Parks used will be Freeman Park, Tautphaus Park, Sandy Downs Park and Ryder Park in Idaho Falls. Obstacles include Walls, Monkey Bars (and monkey bar like obstacles), Tires, Cargo Nets, Crawls, Carries, etc. Kids will do a 15 minute warm-up/walk through and then have approximately 30 minutes to run as many laps as they can.
Competitive Courses will include all of the open course distance and obstacles, but will include at least 400 yards more running and at least 1 challenging obstacle as well as other additional obstacles. The competitive course will be run as a 2 lap race. No help is allowed. Failure to complete an obstacle will result in a penalty loop or other penalty. Divisions will be EXPLORER (3rd-4th Grades); ADVENTURER (5th-6th Grades) ; ULTRA (7th-12th grades)
Each week we will send out a Newsletter with a challenge that can be completed at home to earn a special Grit League Wristband. Newsletters will also have information about upcoming events, maps for upcoming races, and any other information we need to get to you.
Kids of all abilities are welcome to participate in our obstacle races. We are happy to make accommodations for any kids that have special needs to allow them to participate at a level their abilities will allow. For Open divisions, and especially Open Junior Divisions, parents are allowed to accompany the participants through the course. Just remember to keep it positive and fun.
AWARDS INFORMATION
For 2023 we will have a recognition program for completing laps. Each lap completed will earn 1 point.
For attempting your first race (obstacle or trail) you will receive an "Explorer" award.
For each lap you complete you will get a point toward our other awards:
10 points="Adventurer"
20 points="Ultra"
30 points= "Beast Mode"
40 points="Destroyer"
and more!
BONUS INFORMATION
All Participants that sign up for at least 2 races will get a Grit League T-Shirt, and a metal Grit League Water Bottle.
All participants can complete weekly challenges to collect wristbands and earn the awards designated above.