Description



Jane Ella Productions is back with a NEW experience. This time around, we are taking over BLAIR in Wicker Park! Oh ladies, this is not a panel discussion. Grit and Grace is an intimate chat that follows the stories of three ambitious leaders in three uniquely different industries. Hosted by Cherish Brown.
5:00PM - 6:00PM - #POWERHOUR featuring Jane's Boozy Bar sponsored by our participating partner. Complimentary crafted cocktails for your boozy pleasures.
Enjoy nibbles in the nook while mingling OR join featured life, brand and business coach Lisa Guillot for a personal branding exercise.


THE DEETS:


6:00PM - 6:20PM
Rashada Dawan, Lion King
Rashada served as lead vocalist in numerous bands including the innovative Concept Live, toured with the Tom Joyner's Fantastic Voyage Cruise, sang in the FAMU Gospel Choir, joined Delta Sigma Theta Sorority, Inc. and served on the University's Royal Court as Senior Attendant all before graduating with her degree. After graduating from FAMU, Rashada returned home to look for work. She eventually got a call from her best friend to audition for a children's show at Chicago's eta Theatre. From there, she quickly got casted in productions with some of Chicago's finest theatre companies including: Bailiwick Chicago, Chicago Shakes and the Black Ensemble Theatre. By day, she worked in a mental health community center as a Training Director; by night, she was a star.
Rashada went on to receive her graduate degree in Human Performance and Training Consulting while starting her own production company to later showcase her two original pieces– Israel's Daughter and For Colored Girls Who Dance Instead. After deciding to pursue acting full time, Miss Dawan received a Black Theatre Alliance Award for Best Leading Actress in a Musical for her portrayal of Aida in Bailiwick Chicago's Aida. After Aida closed, she and over 500 hopefuls auditioned for Disney's The Lion King. After waiting for at least 5 hours as #407, Rashada auditioned and was asked to come back to read for the role of principal character "Shenzi." 2 months later, she was asked to join the Lion King Las Vegas cast and eventually to join the Lion King Gazelle National Tour.
She is currently performing on various stages throughout the nation. Be sure to check the "Performances" section and stay tuned for a show near you!


6:30PM - 6:50PM
A'DARAH, Queensview Creative Studios
A'darah is something like a creative genius and undeniably, a serial entrepreneur. She is CEO and Lead Visual Brand Strategist of Queensview Creative Studios, a creative design, consulting, and photography studio, specializing in amplifying small brands. She is also the Founder of IAMQUEEN, a women's support group, and its subsidiaries, The Breaking Conference and #BRKN.
Through her work, A'darah seeks to provide jobs for other creative entrepreneurs as well as be a catalyst for change through music and events. Most recently, she made her debut as an urban Christian vibe singer with her single, "Break," which discusses the idea of being broken from things that no longer serve you along the journey to healing.
A'darah earned a Bachelor of Arts degree in Business Management from Saint Xavier University. In addition to her business endeavors, she enjoys working with her son, Jaiden Perez, who has developed a keen interest in entrepreneurs


7:00PM - 7:20PM
Jessyca Dudley, The Building Fund
Jessyca Dudley, MPH, is public health practitioner, researcher, and recognized non-profit leader. She is the Founder of The Building Fund, a non-profit organization dedicated to providing children with access to education in West Africa. Jessyca is dedicated to creating collaborative and transformational change for communities and has been awarded for her research and leadership.
Since 2005, as the Founder of The Building Fund Jessyca has secured support from individuals and organizations, including Google, The Nathan Cummings Foundation, and Books for Africa. These collaborations have led to the advancement of educational opportunities and the completion of infrastructure projects in support of the organization's mission. In 2011 Jessyca received the Promoting Education for All, African International Achievers Award (AfIA) in recognition of her efforts.
Jessyca holds a MPH in Maternal and Child Health from the University of Illinois at Chicago, a BA in Women's Studies from Skidmore College and is a Certified Health Education Specialist (CHES).


7:20 - 7:40PM
Live Q&A
Shout it. Text it. Tweet it.


7:40PM - 8:00PM
Photos, Exchanges & Goodbyes


Surprises? Yes, we have a few.
We encourage women of all industries to attend this chat.


A Jane Ella Production.


[Jane Ella Productions creates unique experiences for young professional women. Each event is hosted at a non-traditional venue space featuring noteworthy frills, blissful booze and stellar vibes. We encourage you to rethink experiences. Think. Jane.]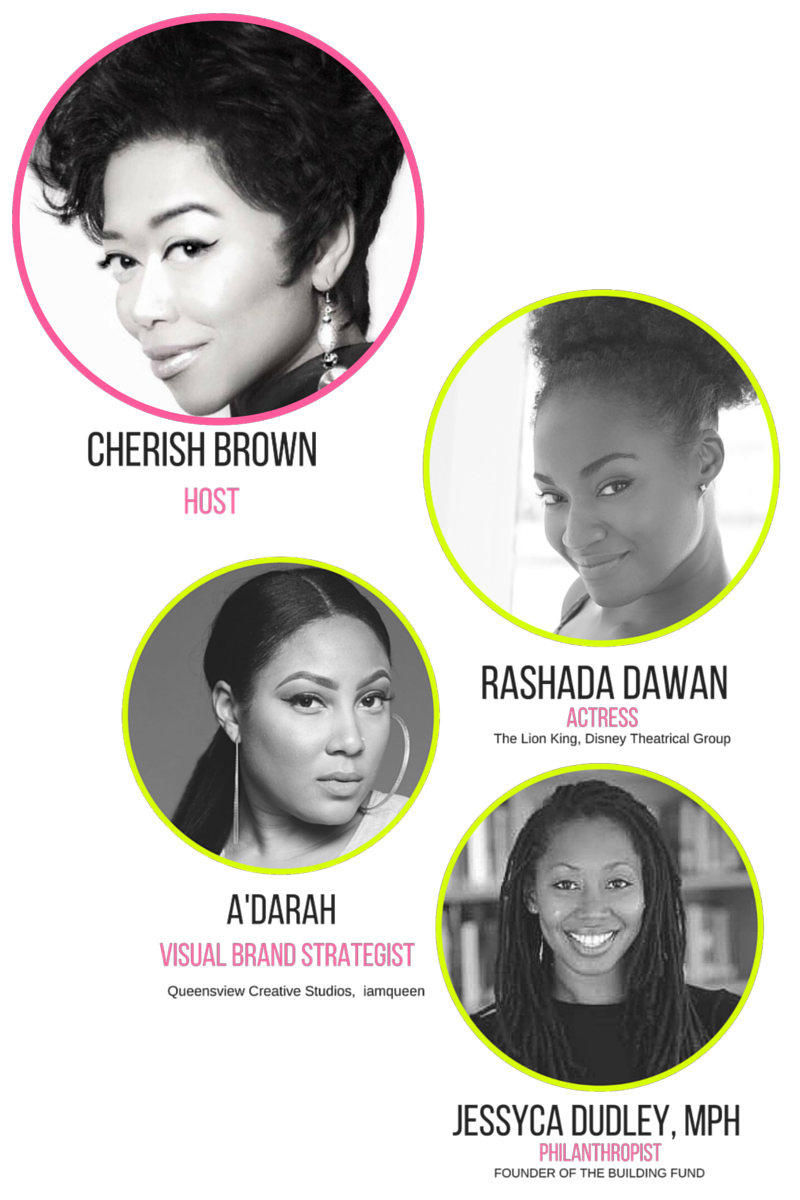 Questions or concerns?
afoy@janeellaproductions.com or info@meetalicefoy.com