Sales Have Ended
Ticket sales have ended
If you have any questions about the event, the table packages or tickets work please feel free to email the event organizer at JVprpr@gmail.com Please put GRILLSDALE 2021question and your name in the subject space. We will get back to you as soon as we can. Thank you!
Sales Have Ended
Ticket sales have ended
If you have any questions about the event, the table packages or tickets work please feel free to email the event organizer at JVprpr@gmail.com Please put GRILLSDALE 2021question and your name in the subject space. We will get back to you as soon as we can. Thank you!
Saturday night Sep. 4, at Taconic Ridge Farm join us for our Winner's Dinner by Grillsdale's 2018 Champ Chef Bobby Hellen of Otto's Market.
About this event
Love the fresh food from the Hudson Valley? Have holiday weekend guests? Need an epic dinner experience for your group of visitors? If so then read on!
Grillsdale celebrates its sixth year with a special Labor Day Weekend of events. On Saturday night September 4, we present an epic menu for our first ever Winner's Dinner featuring the 2018 Grillsdale champ Chef Bobby Hellen of Otto's Market of Germantown at Taconic Ridge Farm in bucolic Hillsdale, NY. There are two ways to dig into the delicious dinner for this unique event.
The first ticket is designed to enjoy this dinner on the farm picnic style (feel free to bring a blanket and find a spot in our picnic meadow.) Or you can request your dinner be packed "to go" back home to your guests or take it to a friend's house. One order/ticket is a feast for two adults.
The second way is to purchase the Table Ticket/Package. This includes a decorated table for 8 people and it is set with two complimentary bottles of chilled wine. These group tables will be set on the gorgeous Taconic Ridge Farm grounds around or inside the main barn and also in semi-private garden spaces. This ticket is designed so you can bring your group of friends or house guests and enjoy the entire evening at the farm dining and strolling the property.
There are a limited number of these special table ticket packages and the price is set based on the decor, wine, and family-style meal that will serve eight adults. Please let us know what time your party can arrive in your purchase notes...we will get back to you with a set time close to your desired arrival time so we do not back up the kitchen and chef.
Chef Bobby Hellen's Grillsdale Winner's Dinner Menu:
Appetizers: 
Pane e Tomate, Ottos bread/heirloom tomato/Garlic scape
Salchipapas, Northwind farm kielbasa/salt-roasted potatoes
First Course Starters:
Tomato Salad, Sparrowbush olive oil fried bread/charred scallion, and basil vinaigrette
Roasted Corn Salad , Miso romesco/green onion/fennel/arugula
Warm White Bean Salad en Cocotte , Fennel confit/Charred lemon/Parsley
Second Course Mains:
Banana leaf wrapped Piri Piri HV trout/Summer escabeche
Coal roasted & Smoked Chicken-rice/Ginger.Garlic.Scallion/poor devil chili sauce
Dessert
Goat milk Torrijas/Peaches/Sweet Freedom Farms syrup
Please note: minus the table package's complimentary bottled wine, all beverages alcoholic and non-alcoholic (wine, craft beer, water, and soft drinks) at this event will be sold on the premise in the Shed Barn Lounge by the venue. Beverages are not included in the dinner order/ ticket price for dining on the farm. Please also note: there will be no outside beverages allowed on the property. That said do feel free to purchase beverages in the Shed Barn Lounge when you are picnicking at the farm or while waiting to pick up your "to go" dinner.
About Chef Bobby Hellen: Growing up in a large Italian family in New York City, Chef Bobby Hellen has always felt most at home in the kitchen. Influenced by his grandmother, a devout Mets fan from Brooklyn who used to take pride in her homemade pastas, sausages and cured meats, Hellen found cooking at a young age and learned to love the controlled chaos of a kitchen. After graduating from the CIA in Hyde Park, Hellen worked for Jean Georges Management at V in New York City, The Ritz-Carlton Naples in Florida, and L'Auberge Carmel in California before heading back to his hometown to join the opening team of Resto.
Working his way up to the executive chef position, Hellen quickly became known for his nose-to-tail expertise and gained attention as one of the first chefs in New York City to cook whole-animal feasts. It was at Resto that Hellen was named StarChefs Rising Star Chef and called a "meat prodigy" by the James Beard Foundation. In 2011, Hellen went on to open the meat-centric The Cannibal Beer & Butcher and then went on to open GG's in NYC where he returned to the roots of his culinary drive: local ingredients, comforting food, New York City pizza, and a lifelong enthusiasm for the Mets. Now at Otto's Market in Germantown, Bobby is working on building their community through a sustainable food program that uses as much local produce and meats as possible.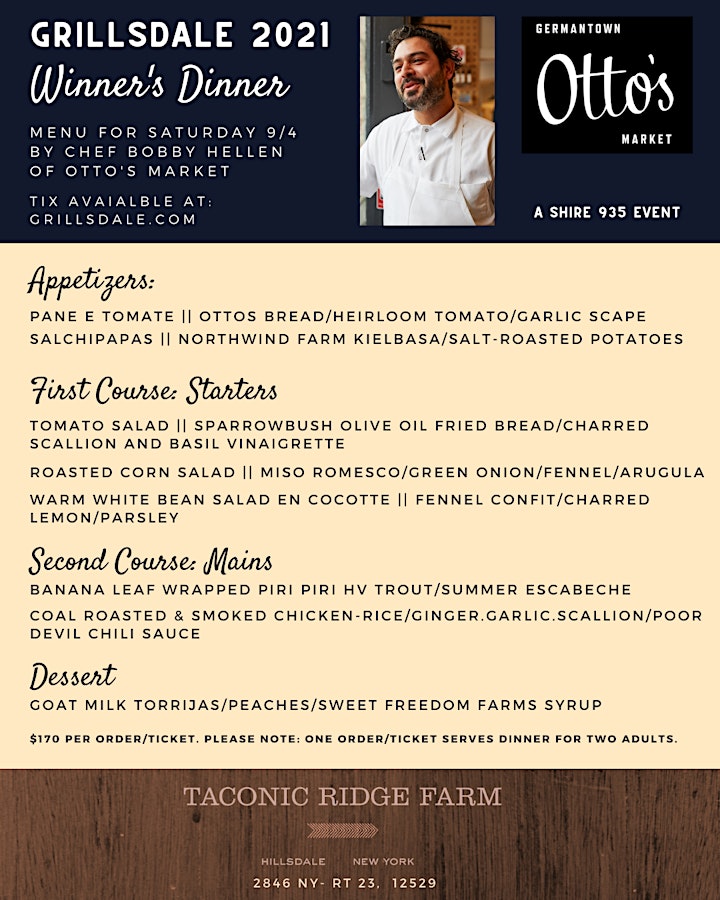 Organizer of GRILLSDALE WINNER'S DINNER with Chef Bobby Hellen of OTTO's Market
About Shire 935 Productions: The Shire 935 Productions LLC is comprised Hillsdale residents and partners Barbara Olsen Pascale and Joanna Virello Together they bring many years' experience in event production and logistics, food and beverage marketing, and garnering exposure for clients across a variety of new and traditional media.