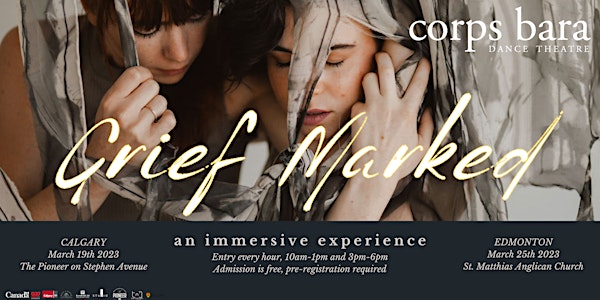 Multiple dates
Grief Marked, Calgary
Grief Marked, a captivating immersive experience which guides audiences through the changing atmosphere of an inner world of grief.
By Corps Bara Dance Theatre
When and where
Date and time
Sun, Mar 19, 2023 10:00 AM - 7:00 PM MDT
Location
The Pioneer 117 8 Avenue Southwest Calgary, AB T2P 1B4 Canada
About this event
Corps Bara Dance Theatre presents Grief Marked, a captivating immersive experience which guides audience-participants through the changing atmosphere of an inner world of grief. Grief Marked invites guests to travel alongside the dancers as they weave through textures of fabric installations, visual imagery, live sound compositions and movement. Grief Marked draws us nearer to the soul-nourishing beauty nestled inside the universal experience of grief, making way for healing and fierce hope as we gather in community.
Grief Marked premieres in Calgary at The Pioneer on Stephen Avenue, the historic former home of the Calgary Herald, on Sunday, March 19th. Entrance times occur every hour from 10:00pm-1:00pm and 3:00pm-6:00pm. Admission is free, however pre-registration is required.
Following our run in Calgary, Grief Marked will tour to Edmonton on Saturday, March 25th, at St. Matthias Anglican Church.
Please be aware that Grief Marked will require audiences to move to different locations within the space in small groups of up to 30 audience members. Audiences will be in close range with the performers and there will be simple, guided interactive elements. There will be limited seating for folks with mobility issues or those who cannot stand/walk or sit on the floor for the duration of the piece (approximately 40 mins). Please be in touch with any specific accessibility needs so we can accomodate in advance.
Frequently Asked Questions
What is Grief Marked?
Grief Marked is a single-track linear immersive experience, which means that the audience-participants follow the performers together through a set path in the venue. There are opportunities for audience-performer interaction at set points in the experience.
Where is the venue?
In Calgary, The Pioneer is located at 117 8th Ave SW, Calgary, AB. Please note that Stephen Avenue/8th Avenue is a pedestrian street, which means that cars are not permitted to drive up to the entrance of the building. The venue has accessible entrances and washrooms.
How can I get there? What about parking?
There are a number of parking options located in convenient walking distance from The Pioneer, including:
Le Germain Hotel
Hyatt Regency Hotel
Telus Convention Centre
Calgary Tower Parkade
Limited street parking on 9th Ave SW
The Pioneer is also a few steps away from the TD Free Fare Zone on C-Train downtown. Passengers can disembark at 1st Street Station westbound or Centre Street Station eastbound to get to the venue.
How long is the experience?
Grief Marked is approximately 40 minutes in length. Audience-participants will be walking through the main floor of the space and standing for the duration of the experience, with very limited seating areas. We encourage you to make your footwear choices accordingly!
What time should I arrive?
We recommend arriving 5-10 minutes early to check-in and get situated in The Mill, the adjoined foyer area where our team will welcome you. Once your entry time begins, we will orient you to the experience and how you can participate as you journey through Grief Marked before entering the installations.
Can children come?
While we welcome audiences of all ages to the Corps Bara Dance Theatre community, please be advised that Grief Marked contains mature themes, language, and loud noises that may not be suitable for young children. If you are unsure about attending with a child, please email us at deannawitwer@corpsbara.com to consult further.
Other things to note:
At key moments during the experience, you will have the opportunity to engage with integration materials designed by Heather Frayne (BSW, RSW, MA, RTC, Expressive Arts Therapist). As you enter the final environment and exit Grief Marked, we will also have contact information and resources for local grief-focused mental health counselors and resources.
I still have questions…
We encourage you to email Artistic Director Deanna Witwer at deannawitwer@corpsbara.com or DM us at @corpsbaradance on Facebook or Instagram with any other queries, and we will get back to you as soon as we can!
About the organizer
Corps Bara is a thriving contemporary dance company that explores life's meaningful questions.
We develop and invest in artists, facilitating an expansive, holistic dance practice to create and present work which engages our diverse audiences.
We Value:
Creativity
Inspiration
Spirituality and faith
Collaboration
Individual Growth
Our Impact:
Our dancers have stability.
Our dancers are challenged.
Our audiences are our champions.
Our partner and collaborator relationships are mutually beneficial.
Our partner and collaborator relationships are stable and ongoing.
The spiritual lives of our dancers, audiences, and partners are enriched.