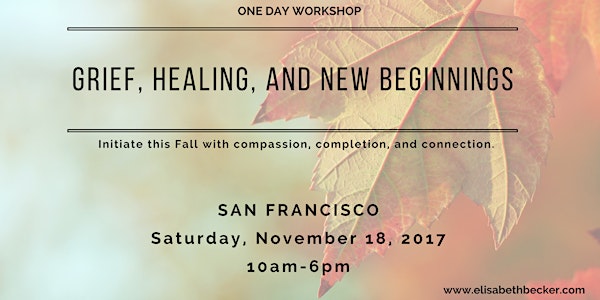 Grief, Healing, and New Beginnings
When and where
Location
San Francisco TBD San Francisco, CA
Refund Policy
Refunds up to 7 days before event
Description
Initiate this Fall with compassion, completion, and connection. In this process-oriented workshop you will consciously grieve, release, and heal with compassion and unconditional love in a safe space.
Grief shows up in many forms and for many reasons. The loss of a parent or caregiver, the loss of a child (including miscarriages), a divorce/breakup, a major life transition, the loss of a job, a sick or dying loved one, the loss of an identity, the death of a beloved pet, or even a challenging political situation.
This day is designed to explore different aspects of grief through visualization, writing, and drawing. You will intentionally ignite grief to find it, feel it, and face it with gentle kindness and compassion. You will get to deeply rest and digest what you've experienced, letting it integrate into your body and life. The day will be concluded by welcoming the new beginning you are stepping into moving forward. You will uncover what inspires you and what brings you joy. You will leave with new tools to feel better and build resilience moving forward as you cope with the ongoing waves of grief.
Space is very limited and registration is filling up on a first come, first serve basis. All genders, races, religions, and sexual orientations are welcome. All income is welcome and I have some sliding scale spots available, contact me directly to inquire- elisabeth@elisabethbecker.com. You deserve a safe space to grieve, release, and heal. Imagine moving through life with a new sense of lightness and completion.

Hope to see you there!
~~~~~~~~~~~~~~~~~~~~~~~~~
Participant Testimonials:
"I highly recommend attending Elisabeth's Grief Workshop. She holds a safe, supporting and growth potential space for reflecting on such an integral aspect of our lives- Grief. Especially in this day and age, we need to go there to be able to feel and grow with love. Elisabeth is strong, fierce, and so nourishing. She is simply authentic and has the gift of tapping into her own experience as she guides others to do the same." -Joanna H.
"I attended Elisabeth's "Grief, Healing and New Beginnings" workshop in January 2017. I went into not quite sure about what grieving I needed to do (no one close to me has died in recent years, for example), but I found that I had there were other areas of my life that I needed to grieve the loss of. Through her gentle guidance and clear vision about the process, I was able to tap into those parts of me I had been not aware that I was covering up. By the end of the day I had released much of the deeper wounds I had been carrying. I was truly surprised at the huge shift I had in my own healing. Elisabeth is the perfect person for grief counseling -- she is knowledgable and caring, and I highly her to anyone seeking help with the transition of loss." -Michelle P.
"Elisabeth's presence and compassion with individuals and groups is truly remarkable. I attended her "Grief, Healing and New Beginnings" workshop and the space she held for me and the group to be authentically and vulnerably expressed was truly remarkable. No matter what I was facing, her care, warmth and support was present throughout my process. She is gifted can powerfully channel her gifts into the support she provides." -Trevor J.
"I just went to a Grief Workshop that Elisabeth led in mid-January and it was AMAZING! At first I thought I didn't have anything grieve over since no one in my life died recently, but there is actually so much else to grieve over than a loved one passing. There's grieving over big life transitions, losing your job or house, losing a relationship, etc.

I got so much out of working with Elisabeth for myself, I got to start the new year off feeling 10 times lighter! Plus, she offers ongoing support in addition to day workshops. If you're thinking of doing grief counseling for ANY reason, Elisabeth is your woman!" -Kerry S.