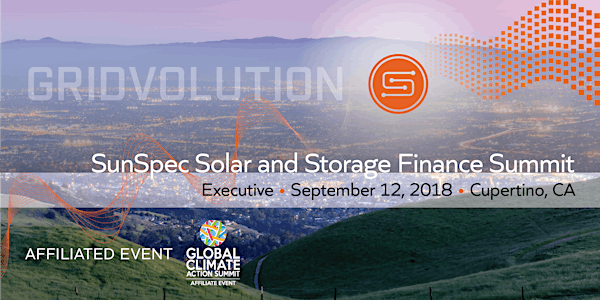 Gridvolution, a Global Climate Action Summit Affiliated Event by SunSpec Alliance
When and where
Location
Hilton Garden Inn Cupertino 10741 North Wolfe Road Cupertino, CA 95014
Description
SunSpec Solar Finance and Asset Management Symposium
September 12, 2018
Hilton Garden Inn - Cupertino, California
Gridvolution by SunSpec Alliance gives voice to distributed energy resource (DER) stakeholders working to digitize information and interoperability of energy assets. This platform for the "electricity grid in evolution" brings together those creating our digital energy reality with standardized data communications touching every aspect of residential, commercial, and industrial solar and energy storage.
Gridvolution, a Global Climate Action Summit affiliated event, showcases high level stakeholders shaping the digital energy DER ecosystem. Senior executives will address opportunities in four major sectors of the digital energy grid, then weave them together as leaders envision the future taking shape in California today:
Agenda
8:00 AM: Registration, Coffee & Networking

9:15 AM: Welcoming Remarks, Thomas Tansy, Chair, SunSpec Alliance

9:20 AM: Streamlining Financial Market Availability of DER Assets through Orange Button

Charlie Isaacs, CTO for Customer Connection, Salesforce.com

Jon Previtali, Director of Technology & Technical Services, Wells Fargo

Michelle Savage, Vice President or Communications, XBRL US

David Sykes, Partner, Chapman and Cutler LLP

10:00 AM: Break

10:15 AM: Writing Code, Establishing the Orange Button Developer Community

Jonathan Xia, Applications Team Lead, kWh Analytics

Jan Rippingale, CTO, Blue Banyan Solutions

Jessie Deot, Lead Engineer, SunSpec Alliance

Orange Button Platform Demo by kWh Analytics

11:15 AM: Building the Digital Grid - CA Rule 21 and Interoperability

Bob Fox, Head Engineer, SunSpec Alliance

Poormehr Honarmand, Director of Product Management, Sunrun

Justin Regnier, Senior Utilities Engineer, Grid Planning & Reliability, California Public Utilities Commission

Alan Saunders, Vice President, Sales and Business Development at Clean Power Research

12:00 PM: Lunch Provided & Networking

1:00 PM: Addressing Safety Mandates - Communication Interoperability Solutions for NEC 2017 Rapid Shutdown Compliance

Zvi Alon, Chairman and CEO, Tigo Energy

Clark Cogan, Product Manager – Data, Communications & Services, Solar Energy,

Fronius USA

Hannes Knopf, Head of Business and Portfolio Strategy, SMA Solar Technology AG

Ralf Muenster, Director of CTO Office, Texas Instruments

2:00 PM: Break

2:15 PM: Cyber Security – Ensuring DER Systems on the Grid are Secure

Jay Johnson, Principal Member of Technical Staff, Sandia National Laboratories

Max Pala, Principal Security Architect, CableLabs

Candace Suh-Lee, Principal Technical Leader - Cyber Security, Electric Power Research Institute (EPRI)

Alfred Tom, CEO, Wivity Inc.

3:15 pm: Gridvolution – Bringing Digital Energy to Life: An Interactive Exercise to Envision the Future of Energy

4:00 PM: Networking Hour with Drinks and Light Snacks

5:00 PM: CLOSE
About the SunSpec Alliance
SunSpec is an alliance of 100+ solar and storage distributed energy industry participants, together pursuing information standards to enable plug & play system interoperability. SunSpec communication standards address operational requirements of solar PV power and energy storage plants on the smart grid—including residential, commercial, and utility-scale systems—to reduce cost, promote technology innovation, and accelerate industry growth.