Description
Bringing Together The Movers Who Are Reshaping The Northwest Electrical Grid
Introducing GridFWD 2018 on October 10-11, 2018, organized by Smart Grid NW. Join leaders from regional utilities, solution providers, regulatory agencies and governments who are working together to effectively manage the region's energy systems.
At GridFWD 2018, you will participate in practical discussions on how to best deploy and optimize technology and solutions here in our region. These tracks will be organized by outcomes that diverse regional stakeholders are working toward: building flexibility into the energy system, increasing resiliency of the grid, optimizing operational efficiency for grid managers, and assisting the de-carbonization of energy in the wider economy.
Within these tracks we will explore a host of technology solutions including:
Demand side management programs

Energy storage

DER integration

Advanced metering

Distribution automation

Voltage management

Various ways to leverage analytics

And much more
Come share and discuss the policy and market mechanisms need to realize the full value of grid modernization value in the Northwest. These tracks will encompass keynotes, case studies and lessons learned, with policy and regulatory issues on one day, and market, business and finance topics on the following day: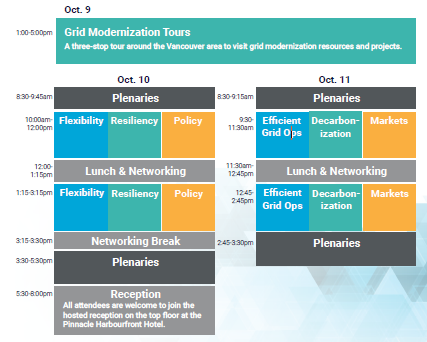 In addition, on October 9th from 1:00-5:30pm, join us on a fascinating tour of some of Vancouver's grid modernization assets, including a stop at Powertech Labs. We will meet in downtown Vancouver to see an innovative waste to energy recovery system. Then we'll hop on a bus and go tour some unique grid modernization assets outside the city, returning back to the downtown area in the early evening. Space will be limited for tours so get your ticket early.
*Please note that all ticket prices are listed in $USD.
Questions? Contact:
Bryce Yonker, Executive Director, at: by@smartgridnw.org
- OR -
Lauren Bhaskar, Event Coordinator, at: lauren@smartgridnw.org
Smart Grid NW thanks the following sponsors for their support of GridFWD: