Description
September 26th | Hosted at CET | 12 - 4PM
Join us afterwards for Happy Hour!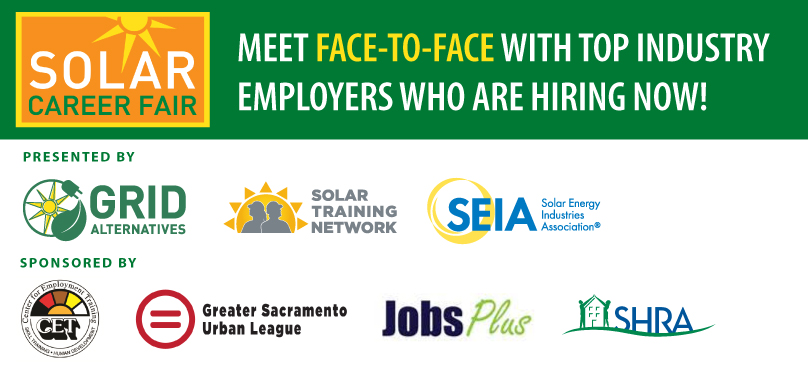 Don't miss your chance to participate in the Solar Career Fair to network, gain access to solar recruiters, apply for solar jobs, and sharpen your career development skills! Presented by GRID Alternatives, hosted by CET, and in partnership with Greater Sacramento Urban League, Jobs Plus, and Sacramento Housing and Redevelopment Agency, this fair offers an excellent opportunity to connect with local employers and learn more about GRID's training programs.
This free event will feature career development activities such as a resume building workshop, mock interviews, and free professional portrait photos. Come network with solar employers, and find your place within the booming solar industry!
Questions? Contact Tommy Minor at tminor@gridalternatives.org or 916-620-9807.
Thank you to our sponsors: The Honnold Foundation,Citi, JPMorgan Chase, U.S. Bank, Wells Fargo and the Solar Training Network!
---
Apply to join the GRID Alternatives Resume Bank!
GRID's installation training programs offer job seekers hands-on and advanced training to further develop their skills and prepare for opportunities in the growing solar jobs market. The GRID Alternatives Resume Bank offers a direct connection between employers who are hiring and the GRID community. Upload your resume today!
---
About GRID Alternatives
GRID Alternatives is a non-profit organization that makes renewable energy technology and job training accessible to underserved communities, bringing together community partners, volunteers and job trainees to implement solar power and energy efficiency for low-income families.
About Solar Training Network
The Solar Training Network is a U.S. Department of Energy SunShot Initiative program that connects solar employers with job seeker and training opportunities. It is led by the Solar Foundation, an independent nonprofit organization with a reputation for excellence in solar jobs research and workforce development.
About Solar Energy Industries Association (SEIA)
Celebrating its 43rd anniversary in 2017, the Solar Energy Industries Association® is the national trade association of the U.S. solar energy industry, which now employs more than 260,000 Americans. Through advocacy and education, SEIA® is building a strong solar industry to power America. SEIA works with its 1,000 member companies to build jobs and diversity, champion the use of cost-competitive solar in America, remove market barriers and educate the public on the benefits of solar energy. Visit SEIA online at www.seia.org.