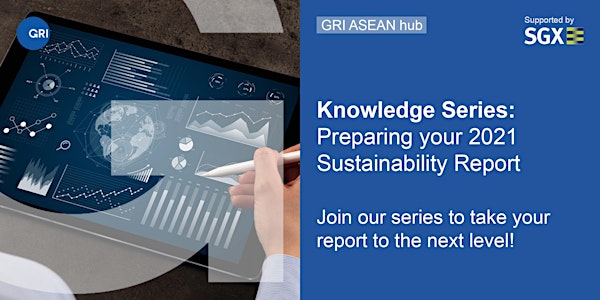 GRI Knowledge Series: Preparing your 2021 Sustainability Report
Register for all 5 sessions at once at a 20% discount.
About this event
Take your Report to the Next Level
COVID-19 has changed the world as we know it and your business as well. How you deal with customers, manage employees and handle your supply chain are only a few things that are now dramatically different. One of the best and most important ways to document and showcase the measures and initiatives you adopted amid COVID-19 is through your sustainability report. Your shareholders, lenders, insurers and other stakeholders will be looking to your report for details about how your business pivoted to meet stakeholder needs during the pandemic.
GRI is pleased to deliver a series of Knowledge Webinars on Sustainability Reporting supported by SGX. We have specially curated this series of webinars to help you advance your Sustainability Reporting and accelerate your Sustainability journey.
GRI provides the world's most widely used standards for sustainability reporting and disclosure. GRI works with a growing community of companies doing reporting in over 100 countries to increase the value of sustainability reporting. Over 90% of SGX issuers used GRI standards to disclose their sustainability performance in 2018.
Each year is an opportunity to improve your sustainability performance and transparency through reporting. So please join us along with expert sustainability leaders as they share their unique insights and learnings.
Agenda
Registration
Discounted registration fee for the series of 5 webinars: EUR 120/SGD 200*
Rather sign up for individual webinars (EUR 30/SGD 50), please click on the session hyperlinks under 'Agenda'
By registering for this webinar series you agree to the Terms & Conditions (privacy policy, cancellation, VAT rules, recording, liability disclaimer, etc.).
Note: While relevant to all reporters this series is targeted at organisations in Asia.
For any questions about the GRI Knowledge Series webinars, please contact Michele Lemmens at lemmens@globalreporting.org.
We look forward to connecting with you online!
About the organizer
GRI is an independent international organization that has pioneered sustainability reporting since 1997. GRI helps businesses and governments worldwide understand and communicate their impact on critical sustainability issues such as climate change, human rights, governance and social well-being. This enables real action to create social, environmental and economic benefits for everyone. The GRI Sustainability Reporting Standards are developed with true multi-stakeholder contributions and rooted in the public interest.